Administrating passwords may sound like a piece of cake, but it really isn't. Having a tool that can automatically update your passphrase with regularity and provide other security layers, like VPN encryption, multi-factor authentication, and others; is what separates the rookies from the pros when it comes to online safety.
LastPass, 1Password, Dashlane, Keeper Password Manager & Digital Vault, RoboForm, Sticky Password, and KeePass Password Safe are the best password managers for iOS devices, and they are all reviewed in this article.
LastPass is still among the most reliable password managers for iOS even though its price doubled from $12 to $24 per year. However, it is still competitive cost-wise, even topping some of the most crucial competitors. The free edition is very good though.
The LastPass password manager is easy to use, functional, and secure. It can store unlimited passwords, memberships, IDs, and software keys while filling up your credentials in websites and apps with Face ID and Touch ID.
LastPass helps users create long, unique, and secure passwords while automatically storing them. The app has suffered quite a few security issues over the years, though, but the team usually makes sure to patch them.
LastPass comes with AES 256-bit encryption, multi-factor authentication, and password syncing across multiple devices.

AES 256-bit encryption

Multi-factor authentication

1 GB of secure online file storage

Competitive free edition
Wide range of features

Easy to use
1Password is considered by many as the best password manager app for iPhone overall. It is known for its security focus and provides an option to save and manage an unlimited number of passwords, credit card pins, addresses, and other bits of information.
It provides the chance to generate robust passwords with truly unique combinations. It is powered by Amazon Web Services, and it helps you create memorizable passphrases for your online accounts as hints, categorize logins, credit cards, bank account information, driver's license, and more; and share passwords and other data bits with friends and family.
1Password comes with AES 256-bit encryption but doesn't offer a free version. It does have a 1-month trial, though. The service costs $3.99 per month for one account, and $6.99 for a family of five people.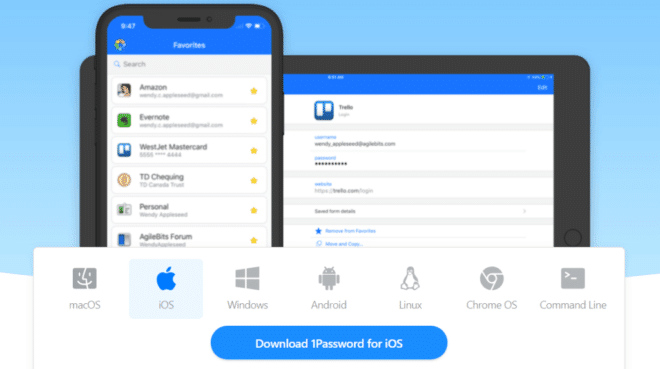 You can save an unlimited number of passwords

Password sharing

AES 256-bit encryption

Powered by Amazon Web Services
No Support For BlackBerry and Windows Phone

No automated password
Dashlane is, without a doubt, one of the best password managers for iOS, but it is also among the priciest. It lets you sync across all your iOS, Android, MacOS, and Windows devices while offering the basic features.
Dashlane comes with a VPN included! It can also capture online shopping receipts and scan the dark web in search for compromised or dangerous accounts.
The downside, as explained, is that it is quite expensive, even more, if you already have a VPN (it would be redundant.) It costs almost $60 per year ($59.88,) but the features make it a worthwhile investment.
Dashlane is a well designed and executed password manager that has already cemented its place among the elite for iOS users.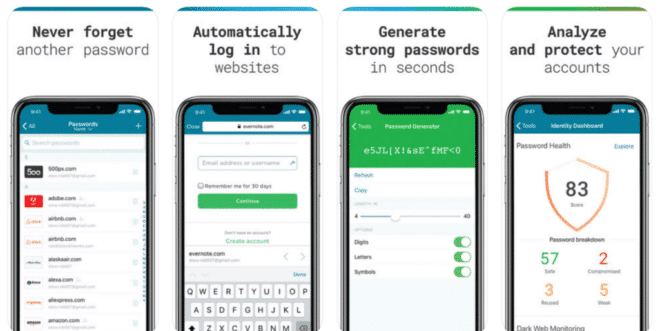 VPN service included

Cross-platform syncing

It can capture online shopping receipts

Dark web scanning
Very pricey

Nonstandard logins have no special handling
4. Keeper Password Manager & Digital Vault
Buy here
At $29.99, Keeper Password Manager & Digital Vault remains one of the best passwords managers for iOS when considering a combination of features offered and price. It can support all the major operating systems and web browsers, with two-factor authentication, secure password sharing, and inheritance.
Keeper Password Manager and Digital Vault can retain the full history of passwords and files. The service is security-focused at a good price, with optional secure file storage.
It has some drawbacks, though: password updates aren't fully automated, and the web form filling service can be considered limited considering other alternatives.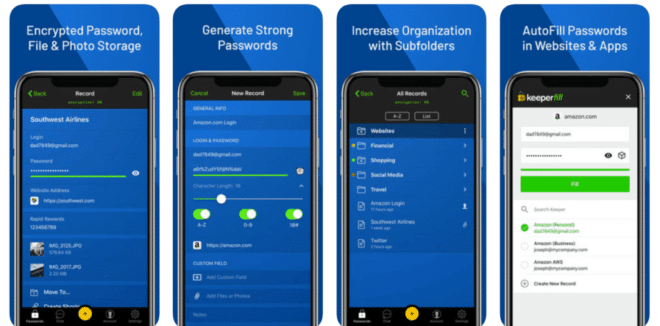 Good price-features relationship: one of the best values for the cost

It can retain full password history

Optional secure file storage

Two-factor authentication
Password updates aren't fully automated
For people that prioritize ease of use, RoboForm is the perfect choice for iOS. Although the desktop client can be somewhat of a hassle, the story is different for the app designed for iPads and iPhone.
It can fetch the "favicon" for the page you are storing, with the intention of smoothening the scroll process and making it easier for you to locate what you need. It can support auto-fill, storing passwords and identities and having the system doing all the work the moment you sign up.
iOS comes with a free plan available, with unlimited entries, but no ability to use it in more than one device. You can upgrade and enjoy multi-device sync, though. Cloud backup, offline access, and a 20 percent discount for acquiring the service for five years are other enticing offerings. The price is $39.95 per year for 1-10 users.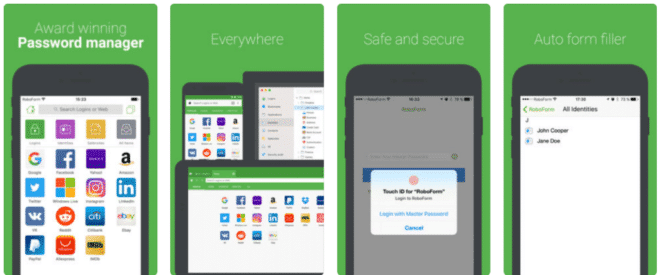 AES 256-bit encryption: passwords are also hashed with PBKDF2-SHA256

Easy to use for iOS

Robust security measures

Cloud backup

Offline access
The desktop app is fairly complex
Sticky Password is a perfectly reliable password manager option, without the flashlights and noisy features that some of the top-ranked alternatives can brag about. It is safe, easy to use, and cheap.
It offers one-click login, with a system rating the strength of your password. There are no automatic updates for passwords, though.
It offers users the chance to decide whether or not to auto-sync updates to Dropbox or the cloud. However, no support for saving attachment is present, and there is no documents saving option either.
You can access the free plan, available for just one device, but the premium license is available at an affordable $30 per year. You can also select a lifetime subscription for $120.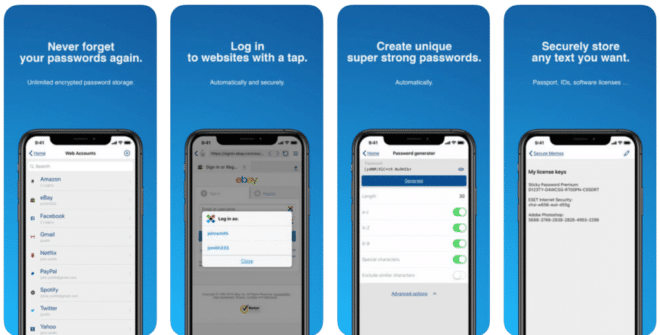 Very good price

A free and a premium plan

Offers the chance to configure auto-sync updates to the cloud

It can support up to 16 different browsers on four operating systems (Windows, Mac, and Android, and iOS)
A bit lacking feature-wise

No automatic password updates

No support for saving attachment
It is a highly customizable password manager that is suitable for more experienced users because it can be a bit tricky for beginners. It is very effective, though, offering a fantastic password generator, excellent security, and downloadable plugins to broaden your horizons.
The Internet has some sites with very specific login requirements, but KeePass Password Safe can produce what you need to enter those accounts safely. It has portable installation (it can be launched via a USB port) and lots of configuration options available.
It is an open-source project, which means that the code can be audited by virtually anyone to check for potential vulnerabilities.
Lots of configuration options

Portable installation

Open-source
Not the prettiest app: it isn't aesthetically attractive

Can be a bit tricky for beginners
What is a password manager and why you need one?
Password managers are useful online resources that let people create and remember a robust, difficult-to-crack, and unique passphrase for every website or account. Several online services require a password to access them, and most people use an easy-to-remember one (like a birthday, the name of their son, or "123456", for example.) Others use the same for every login, which isn't recommended from a security standpoint.
Hackers are skilled enough to guess your password if it isn't secure enough. And if you have the same one for every site and account, all of them may be compromised. That is why using a reliable password manager for iOS has become such an important thing.
A password manager is usually a browser plug-in that is designed to handle password capture and replay. The system offers to save your username and passphrase and, at the moment of going back to the site, fills in the information.
Here are some of the offerings that password managers have
Multiple account login options
Saved logins
Password change detection methods
Recoding of credentials during the process of signing up for a new secure site
Automation of the password-change process
Random password generator
Synchronization across operating systems (Windows, Mac, Android, and iOS)
Fingerprint authentication
Two-factor authentication
Conclusion
In conclusion, if you don't protect your password, you may have your credit card information or social media accounts login information stolen, and consequences can be devastating. And while iOS is a relatively secure operating system, you can use all the protection you can get: the best password managers in Apple's mobile OS are LastPass, 1Password, Dashlane, Keeper Password Manager & Digital Vault, RoboForm, Sticky Password, and KeePass Password Safe.