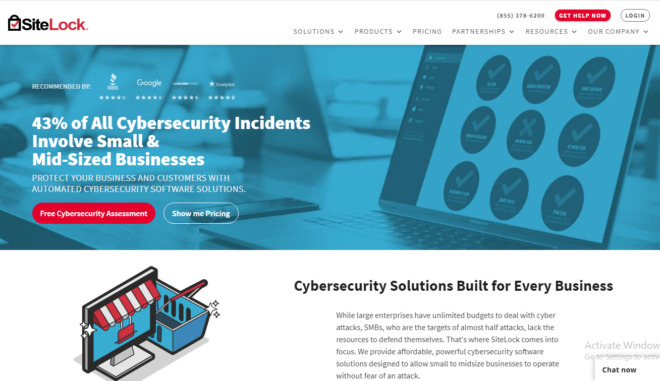 Do you think your website is safe from malware and other digital threats? These days, businesses, big and small, need an online presence. It's the most efficient way to advertise their brand and reach new clients. But websites are almost always at risk — and this is where SiteLock proves valuable.
SiteLock is a website security service. The company launched back in 2008 with the promise of delivering excellent cybersecurity services at an affordable price. Thus, SiteLock is designed for small and mid-sized businesses. It helps entrepreneurs and startups save money and avoid building dept in their early stages.
But what does SiteLock have to offer specifically? Website security entails different aspects that require distinct approaches. Malware is a huge deal and new types appear all the time — but malware is but one kind of cybersecurity threats. There are DDoS attacks, spam, and unwanted bots to keep in mind as well.
With all these cybersecurity threats, how well can SiteLock keep your website safe? Are its many features truly beneficial to bloggers and businesses alike? Find out on our detailed SiteLock review below.
Pricing
SiteLock has Personal Plans and Business Plans, both of which have four plans each. You can pay monthly or annually. And whichever plan you choose, the annual payment will always get you two months' worth of Sitelock for free compared to paying monthly.
Except for the cheapest SecureBlog plan, all plans come with anti-malware tech, SiteLock Trust Seal, 24/7 customer support, and a CDN to ensure quick load times and reduced bandwidth. The seal doesn't reinforce site security but it's there for another important purpose: to reassure site visitors.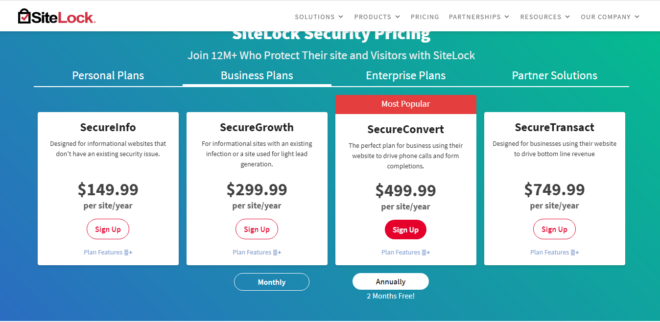 Personal Plans
SecureBlog
There are four personal plans: SecureBlog, SecureBlog+, SecureInfluencer, and Secure Custom. The first plan, SecureBlog ($9.99/mo or $99.99/yr), is the cheapest and is basically a scanning solution. It's most suitable for individuals looking to protect their personal blogs from daily threats of malware and spam.
Also, SecureBlog includes daily risk assessment analysis, weekly security reports, monthly network and application vulnerability scans, and a one-time scan for XSS and SQL vulnerabilities. The only things this lacks from other personal plans are emergency hack repair and blacklist removal, which is honestly fine.
SecureBlog+
If you need those two aforementioned expert services, then SecureBlog+ ($29.99/mo or $299.99/yr) is for you. It's a steep increase of $20, but you'll have automated CMS and plugin patching, SSL support, website acceleration, bad bot blocking, and traffic filter — and all the features under SecureBlog.
Moreover, this plan safeguards sites from the OWASP Top 10, which are made up of the 10 most crucial security risks. But the main reason to get SecureBlog+ instead of SecureBlog is that it can remove existing malware on your website. So if your site is currently infected, this is your cheapest option.
SecureInfluencer and Secure Custom
Bloggers with the aim of building revenue should consider SecureInfluencer ($49.99/mo or $499.99/yr). It's another $20 increase but you'll need more security features to build partnerships and drive revenue. Apart from DDoS protection, the plan scans for malware and removes them from all databases.
SecureInfluencer blocks both database and backdoor attacks. Thus, it prevents unauthorized access to your site and any possible deletion of data. Likewise, the plan ensures that your blog complies with PCI (Payment Card Industry) requirements, which you need to accept and process payment cards.
And as its name implies, Secure Custom is a customizable plan to suit your specific security needs. You should inquire about this plan if you have many sites. The company can give more security measures.
Business Plans
Unlike the Personal Plan, there's no custom subscription plan here. But there are still four plans: SecureInfo, SecureGrowth, SecureConvert, and SecureTransac.
SecureInfo and SecureGrowth
SecureInfo ($14.99/mo or $149.99/yr) is designed for informational websites with no current security problems. With it, you get automatic malware removal and detection of threats, and XSS and SQLi vulnerabilities. It also has SSL support, website acceleration, bad-bot blocking, and traffic filtering.
If your info site has to generate a few leads or has an existing infection, go for SecureGrowth ($2.99/mo or $299.99/yr). It's an additional $15 per month. But aside from the removal of existing malware, you get automated CMS and plugin patching, emergency hack repair, and blacklist removal.
SecureConvert and SecureTransact
If your company is investing quite a lot to drive traffic to the site for lead generation, SecureConvert ($49.99/mo or $499.99/yr) should prove valuable. It's meant to safeguard your database from malware and prevent DDoS attacks that inconvenience visitors and hurts your site reputation.
The most expensive plan is SecureTransact ($74.99/mo or $749.99/yr). If the site is for product-suite logins or for building bottom-line revenue, this is the ideal plan. Instead of daily threat detection and malware removal, these features work continuously — ensuring site security around the clock.
Features
WordPress Security: A huge chunk of websites are built on WordPress. Thus, it makes sense to pick a security solution that knows how to handle the platform.
One advantage of using WP is its seemingly infinite plugin offerings — but these can harbor security risks. SiteLock offers WP-specific plans so you can just focus on SEO. A SiteLock WP plugin means you don't have to open two things to secure your WP site.
Joomla Extension: Like WordPress, Joomla is another favored content management system (CMS). With the SiteLock extension, you can evaluate your site's security on the Joomla dashboard. The extension can even detect spam and check your SSL certification, which improves site reputation.
PCI DSS Compliance: PCI DSS compliance is essential to sites processing payment card transactions — but you have to answer 280 questions. With a SiteLock compliance scan product, you'll only have to answer as few as 20 percent of the questionnaire. This saves you a lot of time so that you can focus on your site.
SiteLock VPN: A virtual private network (VPN) is important to keep safe online even if you're using public networks. It encrypts your online activities from cybercriminals and ISPs, some of which throttle user bandwidth.
SiteLock VPN has 24/7 support and costs $9.99/mo per license. If you're intent on using the VPN for at least a year, consider the yearly ($71.88) and biennial ($95.75) plans to save money.
Hosting Provider Solutions: If you're a hosting provider, you have many things to worry about. You have a ton of websites on your server to monitor — and each experience over 50 attacks daily. Rampant bots affect bandwidth and resource use. Likewise, customer sites can get blacklisted or remain down for days.
Partnering with SiteLock helps hosting providers deal with the aforementioned issues with relative ease. They can even earn from supplying security services to customers.
Website Vulnerability Patching: Strong code is essential to site security. Unfortunately, many websites have code issues. If a hacker sees this, they can exploit it to gain unauthorized access to your site. SiteLock has a dedicated vulnerability scanner to automatically detect and fix these weaknesses.
You can have the SiteLock SMART/PATCH vulnerability scanner to secure your CMS. It offers daily scans and works on various CMS sites: Drupal, Joomla!, PrestaShop, Magento, and WordPress. For server-wide scanning, get the Patchman scanner.
Customer Support

Help Center
If you have any issues or curiosities, chances are that you can find an answer at the Cybersecurity Information & Help Center.
It's a page with many answers to questions from various categories: website security, new customer set-up, dashboard navigation, account navigation, SiteLock and web hosts, billing & payments, and picking the right plan.
The only downsides to this help center are that it currently lacks content and some items require proper formatting. As of writing, nothing appears when you click on "Navigating your account". Likewise, not all items have the same format style — a few entries have different line spacing and shorter margins.
24/7 Support
If you need immediate assistance, you can rely on the US-based SiteLock team. No matter the time of day, someone is readily available to respond. The solutions team, support team, and billing team each have their own phone number. Thus, you won't wait long even if other users are calling.
Also, you can contact the support team through live chat. You can see the chat feature at the lower-right area of the website. What's great about it is that the support team takes the initiative. Someone will ask you if you need any assistance as soon as you visit the site.
Moreover, users can go to the Contact page. There they'll find different phone numbers. Plus, you can send a message to the sales, support, or billing team from there. You just have to input your name, contact details, and your concerns. Then the support team will contact you shortly after.
Money-Back Guarantee
While you won't find anything about money-back guarantees on the pricing page, SiteLock does allow refunds. As of writing, you can find the details by clicking on "Terms of Service" at the lowermost part of the website. From there, just scroll down a bit and click on "Customer Agreement" to open the PDF file.
The SiteLock Customer Agreement, which was last updated in February 2019, has 34 sections. Under Section 16 (Refund Policy), it states that a customer may request a refund of all or a part of the subscription fees if SiteLock services fail to do their job or you want to discontinue services early on.
Section 16 says that "any refund request must be made, in writing including the reasons for the refund, within thirty (30) days of signing up for the services." It also mentions that the company may be unable to pay back the taxes paid. However, the refund won't apply if you violated the terms of service.
Conclusion
SiteLock is undoubtedly one of the most comprehensive cybersecurity solutions providers today. And what's great about it is how it caters to a variety of people. While other cybersecurity companies focus on deep-pocketed businesses, SiteLock has solutions for bloggers and small to mid-sized businesses.
With its combination of varied pricing plans and a multitude of features, SiteLock is an intriguing option. It doesn't matter if your site is currently safe or not — it can deal with existing security issues. To be fair, the help center isn't as extensive as it is so far, but that will surely only improve with time.
Overall, we can recommend SiteLock without worry. Whether you have a personal blog, a business site for lead generation, or you're a hosting provider, SiteLock has nifty, essential security features for you. We suggest you browse its security solutions and products — and find the plan that suits your needs.