Are you having a hard time managing accounts across several social media platforms? While it's alright to update these accounts manually, it's far from being the most efficient method. If you want to better tap into the huge market on Facebook and Instagram, you need a reliable social media management tool.
With this kind of software, you can schedule your posts for the day — or even for the whole week. Plus, it can customize a single post to make it look great whether it's on Twitter, Facebook, or Instagram. It can even help find new content that's relevant to your audience. And so with that in mind, here's our top picks for the best social media management tools.
Crowdfire is one of the most popular social media tools in the world. With over 19 million users, it has a proven capacity to handle an extensive amount of concurrent activity. And if you're new to using such a tool, you can browse through all the educational videos on their website. So while you schedule your posts for the day, you can learn how to take full advantage of Crowdfire's many features.
The software can automatically scour the web for interesting content. In fact, it goes beyond text — Crowdfire can also look for images that would suit your Instagram account. All you have to do is select the topics you want the tool to search for. As for scheduled posts, there's no cause for worry about the time. Crowdfire can recommend you the best time to post on each social media platform.
Pricing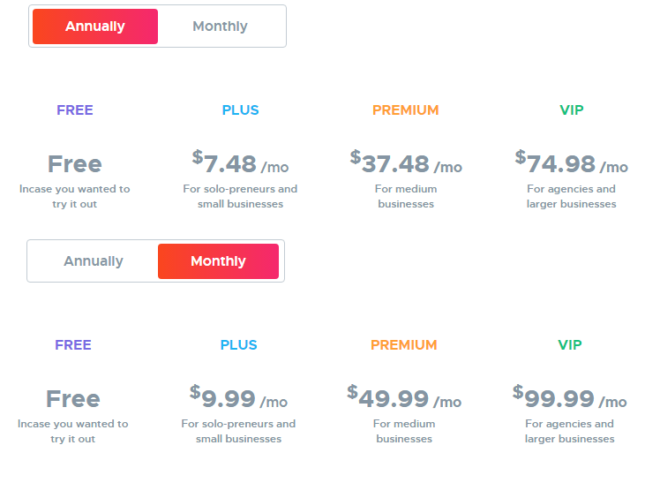 Crowdfire allows users to pay on a monthly or annual basis — with the latter providing the most savings. If you're an individual blogger and just have a single account per social media platform, you can get avail the free plan. It offers support for four networks: Twitter, Facebook, LinkedIn, and Instagram. Once you get any of three paid plans starting at $7.48 per month for an annual payment, you'll get support for a fifth platform, Pinterest.
Image and article curation

Free and affordable monthly plans

Comprehensive performance and engagement analytics

Free educational videos

Impeccable Twitter management and user engagement

Chrome extension
Recommended articles not always useful or relevant enough

Fairly limited options for curated content
It may seem minuscule when Agorapulse states they have more than 6,000 social media managers using their software, but that's not a low statistic upon a closer look. Unlike Crowdfire that caters to individuals and teams alike, Agorapulse is designed for companies. It won't help you manage Pinterest accounts, but it can handle YouTube.
The app works with Bitly to help you know where the traffic comes from. Plus, you won't ever miss any Facebook comments — Agorapulse syncs every single one of them. The app can place all mentions, direct messages, and comments across platforms into one neat place. You can set it to detect spam and assign queries to the right person or department.
Pricing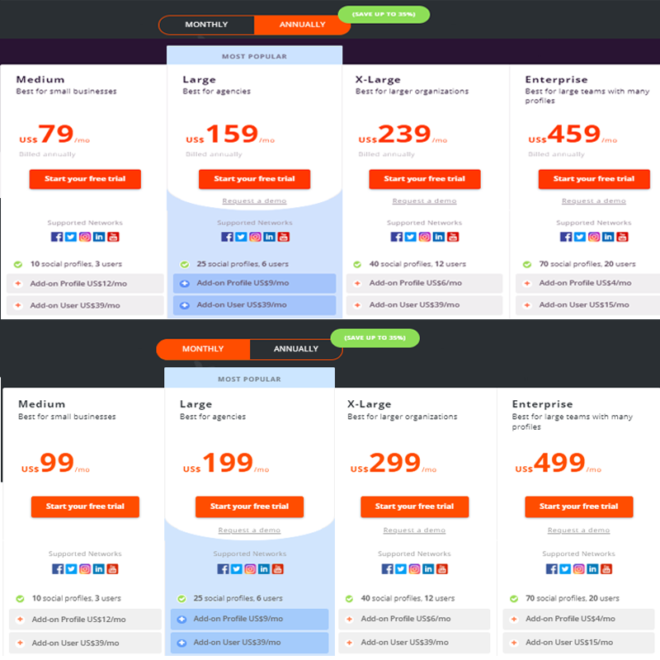 Unlike Crowdfire, Agorapulse has no free user plan. What it does offer is a free 28-day trial period. If you like it, you can choose any among four plans. The prices may seem steep, but they're made for the business industry. The cheapest plan starts out at $79 a month while the enterprise plan costs $459 a month for annual billing.
Content curation with location and language in mind

Reports on the performance of Facebook competitors

Metrics report for each platform

Automatic detection of top fans and followers

Mobile app for on-the-go moderation
Steep pricing plans unsuitable for the average solo user

Lack of Pinterest support
SocialPilot serves upwards of 85,000 people around the world as it strives to uphold its principles of transparency and simplicity. A notable strength is it supports six platforms, including LinkedIn and Google My Business — although Instagram isn't eligible for analytics here. SocialPilot allows you to save drafts, post evergreen content repeatedly, and place all messages from your Facebook pages in one place.
The app can show which posts people respond to the most. And if you're working with a team, you can grant inbox access to them to promptly deal with customer concerns. SocialPilot even allows users to respond with GIFs, screenshots, and memes, which should appeal to younger audiences.
Pricing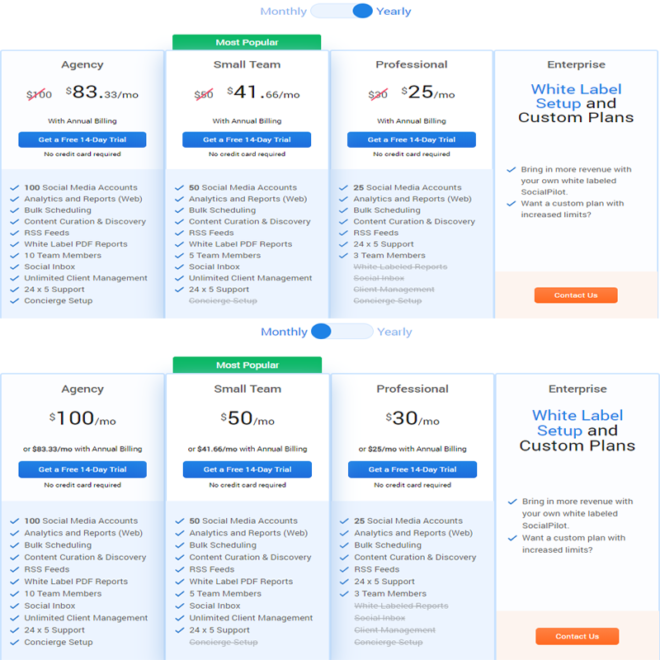 SocialPilot is still more expensive than Crowdfire, but it offers cheaper plans than Agorapulse and has a free 14-day trial period. The professional plan costs $25 per month with annual billing, with the next plans coming in at $41.66 and $83.33 a month, respectively. Interestingly enough, the enterprise plan doesn't have a price — your business can contact SocialPilot to breach limits and set up a custom plan.
Queueing of up to 500 posts

Helpful blog posts and ebooks available

Share social media analytics to clients with PDF files

Support for Google My Business

Browser extensions available in Chome, Firefox, and Safari
No Instagram analytics

14-day trial period could be longer
Don't let its minimalist site make you think it can't compete with the other entries. SocialOomph has been around since 2008 and has garnered long-term clients with its impressive service. Signing up is free, but the best thing about SocialOomph is its wide array of support. It offers support for eight social media platforms, including Discord, Mastodon, StockTwits, and Reddit.
If those weren't enough, SocialOomph can help you manage four blog platforms: Shopify, Tumblr, WordPress.com, and WordPress.org. This is a forward-thinking social media management tool that sees which new services need support. You can even set certain posts to get deleted after a certain period.
Pricing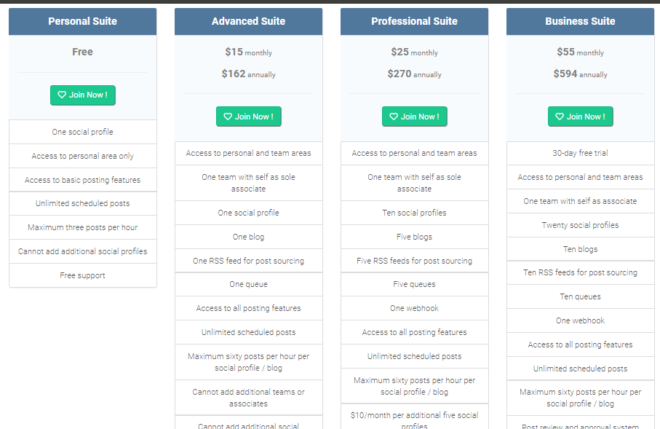 SocialOomph is in the same lane as CrowdFire when it comes to pricing. For one, it also offers a free plan that already comes with unlimited post scheduling and customer support. The next plans have monthly costs of $15, $25, and $55 each — with the last one having a free 30-day trial. Plus, SocialOomph has a 30-day refund and you can cancel your plan whenever you want.
Support for 8 social media platforms and 4 blogging services

Post control feature to avoid posting too many at a time

Privilege assignment to team members for efficient account use

Timed deletion for outdated posts

Affordable monthly plans
Bulk upload does not include images and videos

No Instagram support
More than 200,000 businesses use Tailwind, which is specifically built for Pinterest and Instagram. It's made to cater to companies who want to break into the most visual social media platforms today. Thus, it can handle bulk image uploads, which SocialOomph cannot do. There's a browser extension that works with both repins and regrams on Pinterest and Instagram, respectively.
Furthermore, Tailwind provides a calendar feature. This can help users know whether they have posts set up for each day or if they have blank dates. And if you have successful evergreen posts, the app can publish them at a frequency that won't annoy your followers.
Pricing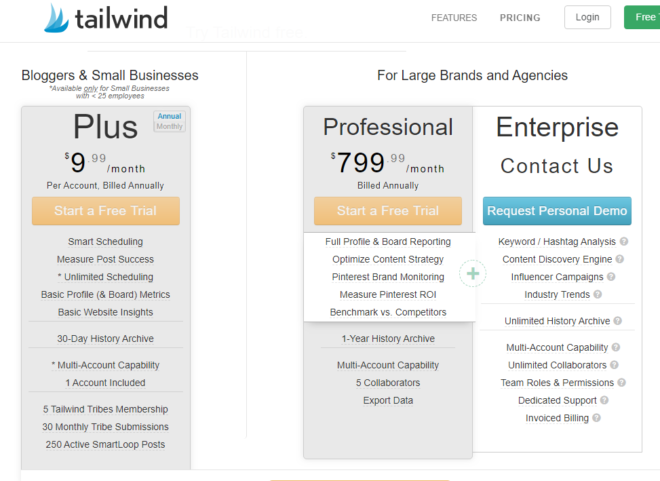 Tailwind's free trial doesn't have a time limit. Instead, there's a post limit: 30 for Instagram and 100 for Pinterest. You don't even need to present a credit card to avail the trial. The Plus Plan is the cheapest, which comes to $9.99 with annual billing. Then there's the Professional Plan at $799.99 a month. If your business needs more, you'd need to inquire Tailwind about the Enterprise Plan.
Bulk image uploads on IG and Pinterest

Instagram hashtag recommendations

Plan ahead with the digital calendar

Customizable enterprise plans for the biggest brands

Pinterest and Instagram API integration
Users can cancel their plan at any time

Limited platform support
Factors to Consider in Getting a Social Media Management Tool
Before investing in a specific app, take note of a few things. These will help jumpstart your social media marketing drive. Hopefully, you won't have to cancel plans and go back to searching for alternative social media management options.
Platform of Choice
Where are your social accounts located? Not every social media management tool offers support for YouTube or LinkedIn. There are also tools that support Instagram but cannot provide analytics for it. If you want Discord support, go to Social Oomph — but you can't rely on it for Instagram. Read up on which platforms a tool works with.
Familiarity with Using Digital Tools
Is it your first time using a social media management tool? Choose those that offer extensive free trial periods so you can learn before choosing a paid plan. There are also apps like CrowdFire and SocialPilot offering educational content for beginners. When you're just starting out, don't overwhelm yourself with all the specific features. Focus on the basics first, like scheduling posts and activating content curation.
Pricing Options
Not all tools offer pricing plans cheap enough for individual bloggers and businesses that are just starting out. CrowdFire and SocialOomph are some of the best options for those on a tight budget. On the other hand, pick tools with scalable plans if you expect robust growth or you're part of a big company.
Summary
In order to efficiently promote your brand in the digital sphere, you have to embrace digital tools as well. If you've got the budget to automate daily monotonous tasks, do it. Use a social media management tool not only to save time but also so that you can focus instead on the more complex parts of your project.
All in all, there are many apps that can help you manage all your social media accounts. Whether you want to reap more followers on Twitter or get more inquiries in LinkedIn, there's a social media management tool out there that can get the job done. What's important is to identify your objectives to determine which one suits you the most.