Which file-hosting service do you use? Some use Google Drive while others prefer the Apple iCloud or Microsoft OneDrive. But while all these are great choices, it cannot be denied that Dropbox is what many others prefer. It offers the most storage per dollar, easy to use, and it isn't associated with a tech giant.
As of 2018, there are at least 500 million active Dropbox users — proving its popularity not only among individuals but organizations as well. Still, Dropbox in itself isn't perfect. There are ways to improve the service. What if you didn't have to place your files in the Dropbox folder for syncing to take place?
This is where Boxifier comes in. Simply put, it's a program designed to enhance the file-syncing capability of Dropbox. With it, you can store all the information to your Dropbox account whether they're from an internal or external drive. Plus, anyone can use it no matter their technical know-how.
Given what it sets out to do, is Boxifier worth downloading? And should you opt for the paid plans rather than the free version? To find out, we've conducted a comprehensive review, which you can read below.
Interface and Ease of Use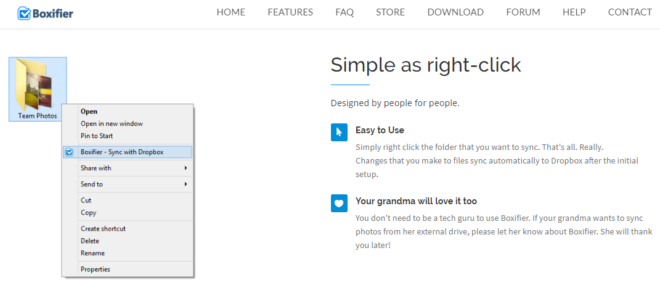 If you're used to using Dropbox, then you have nothing to worry about Boxifier. Sure, it's another app on top of the file-hosting service you already have, but it works the same way. If you want to sync any folder to your Dropbox account, you just have to right-click it and enable the sync feature.
Once the sync feature is enabled, you don't have to do any right-clicking anymore. Whatever file you put into that folder is synced and delivered to your Dropbox account. What Boxifier simply does is to make syncing more efficient for Dropbox users.
Boxifier wants to keep your Dropbox experience as familiar as possible. Once you've picked a folder for syncing, its files will also have green checkmarks — just like with any files in a Dropbox folder. Likewise, the so-called boxified folders feature the share and copy link menu items you get from Dropbox as well.
But what should you do if you want to view a boxified folder using another computer? You just have to open Dropbox and check the Boxifier folder. That's where you'll find the boxified folder no matter which computer you open your Dropbox account in. There's no need to install Boxifier on all the computers.
Pricing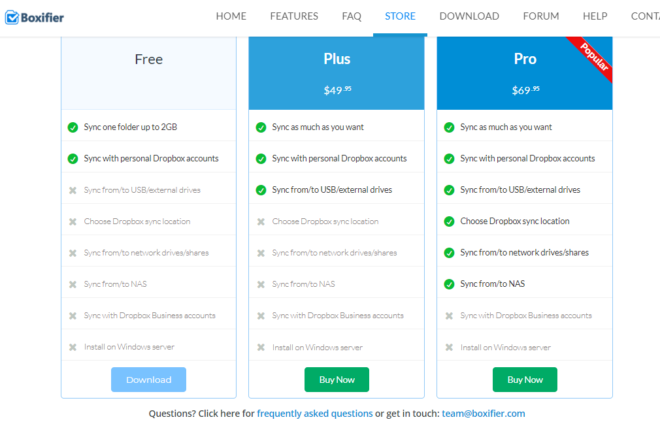 Boxifier offers a variety of pricing plans divided into three main categories: Home, Business, and Server. Likewise, one characteristic they share is that they all have both one-year and lifetime licenses. Let's go through each category to assess their features relative to the cost.
Home
What sets the Home category is that it's the only with a free Boxifier option. That's right: You can choose to get a one-year or lifetime license of the product at no cost. The free plan has the most restrictions, understandably.
For one, you can only sync a single folder — and the maximum space allotted is 2GB. Second, you only get to sync your files with a personal Dropbox account. Still, this is already a good option for people who don't have a lot of files to keep in the first place. If you do like the service, try the next two options.
If you get the Plus variant for your Dropbox Plus account, you have to pay $49.95 for an annual license or $199.95 for a lifetime license. With the Home Plus plan, there is no storage limitation for file syncing. You also get to sync using your flash drive or external storage device.
The priciest option is the Pro plan, which is the most popular choice. The yearly license costs $69.95 while the lifetime variant will set you back $299.95. You get all the perks of the Plus plan and pick the Dropbox sync location. Also, you can sync using network-attached storage (NAS) and network drives.
Business
For professionals and companies who have Dropbox Business accounts, there's the Business plan. Just like in the Home category, there's a Plus plan. It's available for $129 for a yearly license and $699 for a lifetime license.
With Business Plus, you can select the Dropbox sync location — a feature that's unavailable in the Home Plus plan and is in the Pro plan instead. Also, you can sync to and from external drives and USB storage devices. And as expected, you get to use sync with either your personal or business Dropbox account.
Then there's Business Pro. Paying $299 gets you the one-year license while the lifetime license requires a whopping $1,499. Is it worth the financial risk? We think so. The Business Pro version allows you to sync using network drives and NAS, which are pretty standard IT hardware among contemporary businesses.
Server
What if you had a Windows server and you wanted to connect it to your Dropbox account? Well, this is the pricing category for you — just ensure you have a server license in the first place. For starters, there's the Business Server plan which costs $399 for a year and $1,995 for the lifetime license.
This may seem like a huge investment, but the added features are worth considering. Apart from the usual premium features like syncing with external and network drives, the Busines Server plan allows Windows Explorer integration, status icon syncing, and the ability to install on your Windows server.
As of now, Boxifier's most expensive plan is Power Server. A one-year license is at $499 while the lifetime version costs $2,895. This plan has everything Boxifier has to offer. Aside from the perks in the Business Server plan, you also get to run Dropbox as a service and run it without logging in to your user account.
Boxifier has big plans ahead. In the future, users can also choose the Home Server plan. This has every feature the Business Server plan has except for the ability to sync with your Dropbox Business account. Once released, we're sure people with personal servers will opt for this more affordable server plan.
Trial Period
The free version of Boxifier is available for download at any time. With it, you can use every premium feature for a limited time. In particular, you get 30 minutes to test out these nifty features. If you like them, that's when you consider the premium plans. You may also send an email to request a free trial.
Duration and Transfer of License
What does a lifetime license exactly mean? If you only have a one-year license, your copy of Boxifier won't work after a year — and this includes updates. You won't lose the files you synced to Dropbox with Boxifier, but you won't be able to sync any more files.
Once the license expires, you have to get a new license. Automatic renewal isn't possible. So if you're happy with the program and you don't want to deal with manual renewal and not having software updates, the lifetime license is your best bet.
As for license transfers, you can do this whether you have a one-year or a lifetime license. The difference is that the former only allows a free transfer once. On the other hand, you can transfer licenses as many times as you want if you have a lifetime license.
However, you shouldn't transfer the license too quickly. Any license transfer you do after the first one within 18 months will come with a fee. So while you can transfer it repeatedly if you opted for the lifetime license, you have to think things through unless you're willing to pay the transfer fee.
If you need help in license transfers, you can email customer support. Likewise, you should select the correct license type before buying any plan. If you want the license to work on several PCs, get the multiple-computer license.
Features
No Extra Space Necessary: Just because you have Boxifier doesn't mean you need more storage space. A boxified folder does not put any files into the Dropbox folder. Instead, it automatically syncs the files from there. Thus, you don't double the number of files in your PC when you sync using Boxifier.
Works with External Drives and NAS: Aside from the free basic plan, you can sync to and from external drives with Boxifier. If you have a flash drive or an internal drive, that will work too. The software ensures that Dropbox file syncing works whether you're using an external drive, NAS boxes, a laptop, or a PC.
Built-in Protection: Boxifier allows users to sync to Dropbox using external storage devices. Even if you eventually remove the drive, your files are safe in your Dropbox account. The boxified folder works whether it's in an internal or external drive.
User Privacy and Security: Safety is a big deal, especially when it comes to files. Unlike other third-party apps, Boxifier does not require you to give your Dropbox account information. The software does not need your username or password to function since it's integrated with the Dropbox client on your PC.
Customer Support
Email Support
If you have any questions, you can always send the Boxifier team an email.
FAQ Section
There's also a FAQ page on their website that should help users learn the basics of the app, its cost, and its Dropbox syncing feature.
Help Center
This is divided into three sections: Installation, Synchronizing Folders and Using Boxifier. Thus, there are numerous ready-made articles to help you whether you've just downloaded the app or you're already using it and need some help with the features.
You can send a request through the Boxifier Help Center if you have a particular topic you want more information on.
Forum
The forum has been around since 2014 and most threads are categorized for easy viewing. The only issue with the Boxifier forum is that it isn't that active. There are barely any users and only a few threads have more than ten replies. Many threads have no replies whatsoever, so don't expect lively discussions.
Compatibility
Boxifier is currently only available for Windows PC. If you're a Mac user, you'll have to wait a little more. There are plans for it. If you need updates, you can subscribe to the newsletter and be the first to know about the Mac version.
Conclusion
Dropbox is one of the best file-hosting services in the world, but there's always room for growth. While it's already competitive in terms of pricing and features, Dropbox isn't at its most efficient state. This is why third-party apps are still essential — and we think that Boxifier is the most important Dropbox tool.
Boxifier does what Dropbox should've been doing in the first place. It allows users to sync their files without having to move them to a specific Dropbox folder. Plus, it retains the look we've been so used to in Dropbox. There are still green checkmarks and the usual menu items we see in Dropbox folders.
Sure, Boxifier will cost you a bit more, but there are many pricing plans to choose from. You can get a one-year license or save in the long run with a lifetime license. There's even a free basic plan. All in all, Boxifier is a simple yet clever app that streamlines Dropbox to boost productivity and collaboration.