We all wish Macs could come with unlimited storage, seeing as our storage needs keep increasing day by day. Unfortunately, that is not the case. Apple does try to ensure you never run out of space by providing an in-built Optimized Storage feature that lets you store data in the cloud. But even with this feature, it's not unusual to get that error message informing you the disk is almost full.
Your Mac begins to become sluggish due to the build-up of junk files and cache in the nooky and cranny spaces of your hard disk. At this point, there is nothing one can do except free up some space, which is all but difficult. Junk files are typically hidden and spread across your disk space, making it tedious to identify and delete them.
This is why you need a disk analyzer/cleaner utility app to do all the grunt work for you. Disk analyzers map out your disk space and show all files and the corresponding space taken. All you have to do is select the unnecessary ones and authorize their deletion. DaisyDisk is a market leader in this section, but what exactly does it have to offer?
What is DaisyDisk?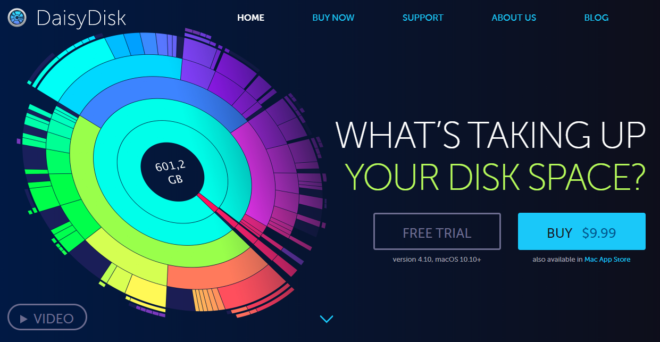 DaisyDisk is a disk analyzer tool designed to help Mac users get rid of the junk files. It is well known for its distinct sunburst-themed display of files contained on a hard disk. The app shows previews of files using the Quick Look preview feature in Mac. You can also check the specific file directly in the file manager and GUI shell Finder.
App Pricing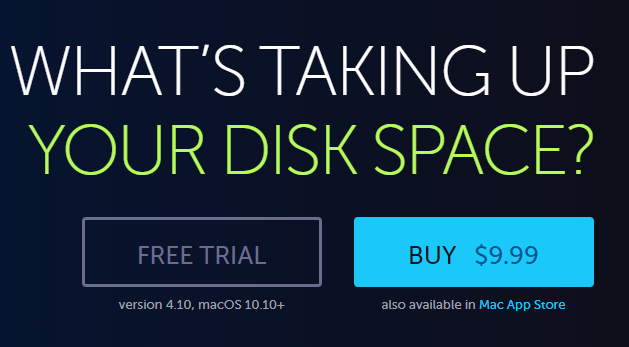 The DaisyDisk app is available for a one-time fee of $9.99. You can test it by going for the Free Trial of the app (v4.10). The Free Trial version, however, has few capabilities compared to the paid-for version. Features such as personal email support, freedom from registration reminders, and access to its app deletion are reserved for the paid-for full version.
You can find the app on the website, the Mac App Store, or the iTunes Store. The upgrade to a higher version is free. You can also get the legacy versions if your Mac runs on OS X 10.5—10.9. The legacy versions do not get updates but will ensure your disk and general hardware remains healthy.
Here are the legacy versions available depending on the OS:
Original, OS X 10.5 – DaisyDisk 1.5.3
OS X 10.5 – DaisyDisk 2.0.7.2
OS X 10.6 – DaisyDisk 2.1.2
OS X 10.7 – 10.9 – DaisyDisk 3.0.3.1
App Editions
"Why are there different editions of the DaisyDisk app?" is probably the most asked question by Mac users interested in the app.
DaisyDisk explains, "Mac App Store edition of DaisyDisk has a few less features, in order to comply with Apple's app submission policy. Mac App Store users can get these features free of charge by installing the standalone version of DaisyDisk along with the one they purchased from Apple. Also, they can get a free standalone license."
Features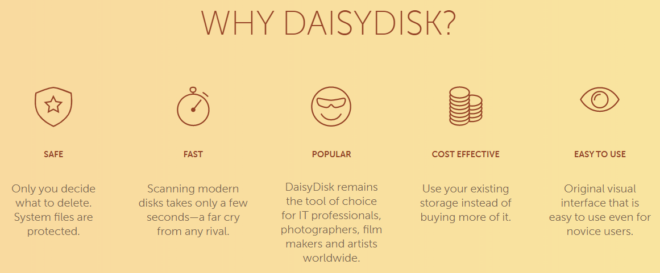 Scans
When you run DaisyDisk, it first scans your disk and displays all the files and folders. After the scan, the app will update the displayed information and reflect any changes made to the hard drive in real-time. This is useful especially when you want to know if there's enough space on your disk to download a movie /TV show or install a space-consuming software or game.
What's more, the app allows you to run scans on multiple disks simultaneously. Starting with V4.5 (March 25th, 2018), extended support of the new Apple File System (APFS) was added.
Interface
DaisyDisk's interface is easily its most striking feature. It displays files and folders using a color-coded sunburst representation. At the center of this sunburst diagram is the root of the hard drive. It is from this center where a hierarchical structure of the files originates. Color codes distinguish the various folders. The files, on the other hand, have a gray color.
Legend
A guide 'legend' to these color codes is provided on the right side of the app's interface. When you move the cursor over a folder/file, the legend updates with contextual information of that folder/file, including its location path. When you choose a folder in the sunburst diagram, a new daisy pops up with that given folder as the root.
Collector
The app also has a collector at the bottom end where you can drag and drop the unnecessary files you wish to delete. The collector appears as a large dot on the left corner of the interface. The app continuously calculates the space on the disk, so each time you drop an item on the collector, it will tell you how much space you'll be freeing up.
Disk Selector
Besides analyzing your Mac's hard disk, DaisyDisk also goes over any other drives connected to your Mac and displays the folders and files in them. You can save time by directly focusing on an individual folder using the Scan Folder Tool.
Integration
By using the Quick Look feature, DaisyDisk smoothly integrates with other Mac features. The Quick Look preview function is included in all macOS versions starting from Mac OS X v10.5. The function is called by pressing the space bar when hovering over the displayed files and folders.
Suggestions
DaisyDisk also offers suggestions on which files are redundant or obsolete and can be deleted to clear up more storage space. This feature is useful, especially for new Mac users who may not be sure which files or folders need to be deleted.
Compatibility
DaisyDisk is solely designed for Mac, and the developer has no plans to build a Windows or Linus version.
How to use DaisyDisk to free up space in your Mac
Here's a step by step guide to clear up some space on the hard drive.
Install the app on your Mac and launch it once the installation process is complete
This is the first time you are using the app so you'll have to run an initial scan by clicking the scan button
After the scan, DaisyDisk will represent your disk files and folders using a sunburst diagram
Hover through the folders and drag the files you want to delete and drop them on the collector on the lower left
Delete all the items accumulated in the collector. You can alternatively open the collector and delete each item individually
Pros & Cons
DaisyDisk's Pros
Has a visual interface that is easy to go about even to novice Mac users
Has simple keyboard shortcuts for easier navigation
Has a simple drag and drop approach that lets you collect and delete items hassle-free
The app also lets a user star specific folders hence making it easy to scan them
Features multi-touch gesture
The app gives you a provision to preview files while retaining until you decide to delete them manually
DaisyDisk's Cons
DaisyDisk has a single functionality and thus not ideal for someone that prefers an all-in-one optimizing utility app
It doesn't display the date element i.e. date created, modified, or last viewed.
Customer Support
DaisyDisk has a FAQ section on its website with answers to common inquiries. You can get in touch with the support desk via the email address provided at the bottom of the support page. While there is Message Box to ask a question or leave a comment, the absence of telephone support is a letdown.
If you have forgotten or lost your license key, you can recover it from the support tab on the website under "Lost License Key".
Is DaisyDisk safe?
One can never be too careful when dealing with third-party software, as some may come with malicious codes or extensions. When it comes to disk analyzers and cleaners, you need to ensure that they are built by reputable developers and are trusted by other Mac users.
Disk analyzers deal with your hard drive and require permission to access almost every component of your Mac. The last thing you want is to give this kind of access to duplicitous apps. That said, you don't need to worry about DaisyDisk as it is built by a credible team of Mac developers. Besides, the fact that the app is available on the Mac App Store means it is thoroughly tested and safe.
We recommend getting the app from either the App Store or the app's official website to avoid downloading a sham app.
Verdict
From our DaisyDisk Review, this is one of those apps that "just do the work".  It not only makes decluttering your Mac simple, but also gives you control over the whole process. And although it lacks extensive functionality, it is a solid choice and your best bet if you are looking for an exclusive disk analyzer.