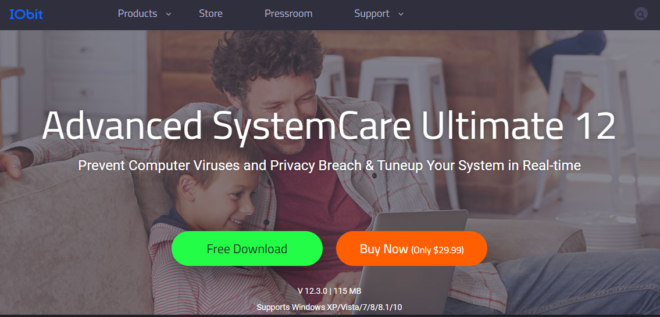 Protecting your files and your privacy online requires dedicated cybersecurity software.
Many websites offer links to supposedly give out anti-malware tools at no cost whatsoever. But if it's too good to be true, it probably is. You could even infect your PC with a virus because you clicked on a misleading link.
So what's the right approach? It's to learn all about the app before relying on it to secure your PC.
Now, the award-winning company IObit is no stranger when it comes to cybersecurity — and optimization. In particular, its Advanced SystemCare Ultimate product is designed to deliver on these two crucial aspects.
Is the Advanced SystemCare Ultimate worth looking into or should you look elsewhere? Find out with our comprehensive review below.
Features
Multiple Language Support:
It's not hard to understand how the program works even if you aren't that familiar with English. While the Beta version of the Advanced SystemCare Ultimate 12 is only available in English, the standard version supports over 30 languages including Korean, Japanese, and Ukrainian.
You don't have to ask customer support to have the language changed. There's also no need to reinstall the program. If you want another language, just go to Options and select from a variety of languages.
PC Optimization:
IObit knows that it's not enough to keep your PC secure. Thus, the program also strives to clean your PC and improve its response time. Unnecessary files and registries are removed to give your PC more space. Likewise, browser settings are modified to provide an optimal online connection.
Masking Your Digital Fingerprint:
Privacy is important, especially if you're on the Internet. You don't want anyone collecting information about you. So to keep hackers and companies alike from snooping on your browsing habits, this cybersecurity tool can conceal your digital fingerprint with a simple click. This feature is also one that earned Advanced SystemCare Ultimate a spot on the Best PC cleaner list.
Guarding Sensitive Information:
Your computer houses a lot of personal information. And it's not only you who is put at risk by hacking and malware. If your PC isn't protected enough, ill-intentioned people may get hold of your contact list. You can also have your emails and synced Google data exposed.
What the IObit utility suite does is create a security shield to prevent unauthorized individuals from accessing such information. If there is a loophole to your private data, the program will block it upon detection.
Bitdefender Engine:
The program uses the Bitdefender engine to efficiently detect and remove all sorts of virus and malware. If someone tries to intercept your PC, they will get immediately blocked.
Still, one problem with anti-malware programs is that not all get regular updates. Without developing the virus database, it becomes difficult to detect new forms of malware. Thankfully, the Advanced SystemCare Ultimate 12 has a massive virus database and is updated whenever possible.
Cryptomining Control:
Cryptocurrency has risen in popularity over the years. However, some sites use PCs to mine cryptocurrency — all without the users knowing. With Advanced System Care Ultimate 12, these can't infiltrate your computer system.
Browser Warnings:
Annoying popup ads are blocked not only to keep your browsing activity smooth but also because they often lead to malicious sites. Furthermore, you will get alerts if a website you're about to open is dangerous or if your homepage was changed without your permission.
Customer Support
24/7 Support
Tech support is available 24 hours a day — and there's no additional fee for inquiring for a diagnosis. If you do need further assistance, the representative may ask if you're willing to pay for certain services.
Feedback Forms
You can also send in a form if you'd like to write down your queries and suggestions. Pick a specific product. In this case, you should select the Advanced SystemCare Ultimate.
From there, you can choose the request type. This allows the support team to know if your message is about a lost license, registration failure, automatic renewal, program error, or product activation, among others. If you picked the right request type, the team can reply quicker.
FAQ
In some instances, there are user queries that already have answers. Check the FAQ section on the IObit website to see if you can resolve your problem without having to contact tech support or send a form. There are several FAQs about licenses, payments, and refunds.
Under the Advanced SystemCare Ultimate segment, there are multiple topics available. Just click on "Read All FAQs" to check them out. So far, you'll find more than 20 topics ranging from license codes to language changing and uninstalling the application.
Forums
Sometimes, it's a good idea to ask fellow users about Advanced System Care Ultimate 12. The official website has a dedicated forum section — but the discussion could be more lively. So far, there are only 18 topics and less than a hundred posts. Until more users arrive, you should try the other options first.
Compatibility
The Advanced System Care Ultimate is now on its 12th version and packs a ton of nifty features. But while we hope that Linux and macOS users can avail of the product as well, the app is only available for Windows operating systems: XP, Vista, 7, 8, 8.1, and Windows 10.
Furthermore, your PC should have at least 500MB free space. As for your screen, check if the resolution is 1024×768 or more. Otherwise, you'll have problems running the program.
You can install Advanced System Care Ultimate 12 even if you've already installed another anti-malware program. In this case, the IObit PC security and optimization package will run in Compatible Mode. Still, you should only have one such program to prevent errors.
If your PC is running at least the Windows 8 version and you have Windows Defender, there's also no problem if you install Advanced System Care Ultimate 12. But there's a catch: Windows Defender will shut down its real-time protection feature once it notices a different cybersecurity app in your PC.
Thus, you need to utilize Advanced System Care Ultimate 12 upon installation. If you don't activate its security features, you won't have any real-time protection even if you have it and Windows Defender at the same time.
Pricing
Free Download
Even if you don't pay anything, you can download Advanced SystemCare Ultimate 12. However, you can only use the program for 30 days. If you want to use the app for longer, you have to purchase a license.
Yearly License
The annual license for Advanced SystemCare Ultimate 12 costs $29.99 for three PCs. This is far cheaper than other similar products. For one, the Standard Norton Security Plan will set you back between $49 and $69 each year — and the premium version has an annual cost of $139.
Webroot offers its SecureAnywhere AntiVirus software for a sale price of $29.99 a year for one device. It costs the same as Advanced SystemCare Ultimate 12. But this is not the right comparison. The latter's features make it more comparable to Webroot's Internet Security Plus and Internet Security Complete.
The Plus plan starts at $59..99 a year for three devices while the Complete version is at $79.99 for five devices. Looking at the prices of these two cybersecurity packages from Webroot, we see how affordable Advanced SystemCare Ultimate 12 is.
Add-on Purchases
The Advanced SystemCare Ultimate 12 is already a comprehensive security and optimization tool — but you can also get the Download Insurance Service. It's an additional $12.99 on top of the $29.99 fee. Still, it allows you to download software at any point for 24 months or two years.
This may seem like a useless option but it gives users an easy way to get the software re-installed on their PCs. As its name implies, the Download Insurance Service ensures you can get the app even if you delete it by accident within the given timeframe.
Then there's the IObit Backup CD, which costs $9.99. This is a physical device IObit will send whether you are in Germany, the United States, or in any other part of the world that allows airmail orders. It could take up to three weeks for the CD to reach your home — and you cannot ask for a refund.
So what is the IObit Backup CD for? If you need to reinstall the Advanced SystemCare Ultimate 12, you can just do so with the CD. Just check the shipping details for it since they can't be changed after being sent. If this does happen, you have to contact IObit.
Payment Options
IObit accepts payments using Visa, MasterCard, American Express, JCB, and Discover. If you don't have these or you don't want to divulge your card information, you can opt to pay with PayPal instead. Also, interested buyers can pay through wire transfer.
Whichever payment option you choose, don't feel nervous about it. IObit utilizes 2Checkout to process all transactions. 2Checkout is one of the best monetization platforms in the world. It has the resources to handle tons of payments at the same time without compromising on privacy and overall security.
Money-Back Guarantee
The standard duration for the moneyback guarantee in the software industry is 30 days or a month. IObit knows that there is always room for improvement. Thus, they've doubled the duration to 60 days. With this, you can assess the app better and see if there are any aspects you don't think are worth the price.
Conclusion
Whether you're using your PC to play videogames or to finish your work projects, it's important to keep it safe from malware at all times. Keeping your device free of ransomware and crypto-mining malware, for example, allows it to perform its duties without any interruptions.
Likewise, you also have to optimize your computer to keep it running at its best state. You should delete junk files and correct al the browser and system settings. Otherwise, you can't fully utilize your PC. With the IObit Advanced System Care Ultimate 12, protection and optimization don't take much effort at all.
The software doesn't disappoint. It effectively blocks malware while safeguarding everything from your contacts to your browsing activities. What's even better is that it is affordable. You can secure three PCs for just $29.99 a year. All in all, the Advanced System Care Ultimate 12 is quite a steal worth considering.