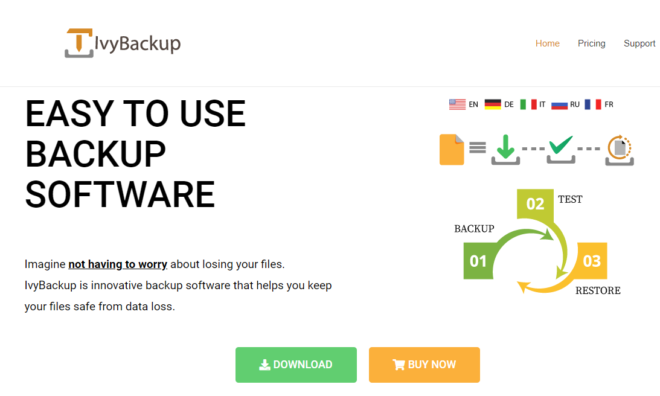 We all store important information on our computer, and it can be work-related, business-related, or personal information. If we lose this information then the impact can be quite severe, and we all know that computers do crash! Backing up our computer is very important, and we all know this.
However, manually backing up our computer can be hard! We are talking about a manual process after all, and we are prone to making errors. If you are disciplined, then you likely back up your computer regularly, and you spend significant time to do so. You will likely take full backups every time, and that might not always be the smartest thing to do!
What if the backups you take aren't encrypted? Well, if you lose the unencrypted backup data, then you are potentially at the mercy of cybercriminals. They might get access to your sensitive and confidential information, and you might incur financial or other losses!
All these considerations make backup tools very important to you, and the good news is that there are quite a few backup solutions in the market. How do you choose one, though? You need to consider various factors such as ease of use, security, ease of retrieving the backup, price, and more.
We have reviewed IvyBackup, a popular backup solution for Windows computers, to see how it fares in all the above factors. Let's see its price, ease of use, security, features, and other details, so that you can decide whether this is a good backup solution for you.
Interface and Ease of Use
Many computer users aren't tech-savvy enough to know the complex ways in which backup tools function, and if you belong in this category then you will prefer an easy-to-use solution. IvyBackup fares very well here, and you can see that as soon as you visit its website. The website is easy to navigate, and you can get started with the trial almost immediately.
Alternatively, if you have already decided to buy it, then you can do so immediately. Whether an expert with computers or a novice, IvyBackup makes it simple to take backups. You can easily schedule backups, and configuring various parameters for backups is equally easy.
With IvyBackup, managing your backup process is just about a few clicks. If you need help, you can select Help from the ribbon menu of the tool or just press F1. Moreover, you can easily locate learning resources, screenshots, FAQs, and support information on its website.
Pricing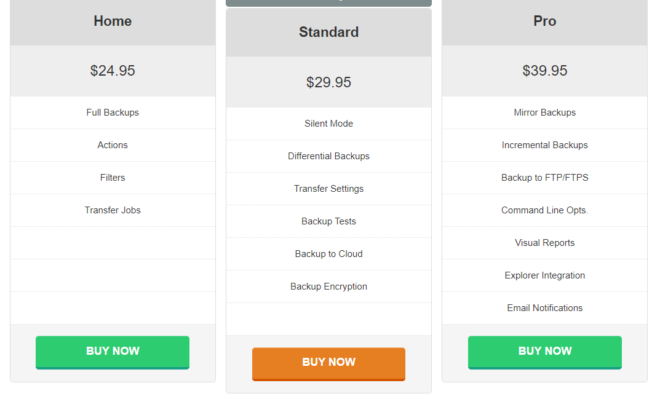 Pricing Plans: IvyBackup is from Kudu Computing Ltd, a Zambia-based company, and its pricing plans are clearly described on its website. There are 3 editions: Home, Standard, and Pro. The pricing plans aren't subscription-based and you get the fully functional product with lifetime license once you purchase any of the plans.
The Home edition costs you $24.95, whereas the Standard and Pro editions cost $29.95 and $39.95, respectively. All prices include free minor updates. IvyBackup offers additional features in its Standard and Pro editions, which explains the difference in price, and we will talk about the features shortly.
If you want to backup all computers in your organization, then you can contact IvyBackup and get a quote for an organizational license. There may be geography-specific taxes, like VAT for EU countries, and this will be an addition to the price.
Free Trial: IvyBackup offers a free trial, and the trial period lasts 30 days. For a backup tool, this is ideal since 2 weeks are more than enough for you to learn a tool and decide if you want to stick with it or not.
Payment Methods: You can buy IvyBackup using all major credit cards, PayPal, and wire transfer since the company supports 29 payment methods. IvyBackup supports 60 currencies for payment.
License Delivery: You get your IvyBackup license in an email as soon as the company receives the payment. The website of IvyBackup states that credit card transactions can take up to 24 hours, however, they normally take only a few minutes.
License Transfer: IvyBackup licenses are tied to one user or organization, therefore, this can't be transferred to another. An IvyBackup license for one computer can't be used on another computer.
License Upgrade: An IvyBackup license for one version of the product is valid for all releases in that version, i.e., an IvyBackup version 3 license will work for IvyBackup 3.1, 3.2, etc. However, it won't be valid for the next version of the product.
If IvyBackup releases a new version within 3 months of your purchase, then you get a version upgrade free-of-cost. This means that if you have bought a license for version 3, and IvyBackup releases version 4 within the next 3 months, you will get an upgraded license without any additional cost.
If the company releases a new version after 3 months from your purchase, then you will need to buy a different license if you want to use the new version. IvyBackup offers a discounted price in this case.
Privacy
When you want to purchase an IvyBackup license, the transactions go through 2Checkout, which is the eCommerce partner of IvyBackup. 2Checkout is a reputed provider of secure online payment services, and your transactions go through its secure SSL connection. 2Checkout has a PCI Level 1 certification, therefore, cybercriminals won't be able to make off with your personal information.
When it comes to the product, IvyBackup lets you choose your own storage option for backups, which ensures privacy. The Standard and Pro editions also offer encryption for your backups.
Features
Full, incremental, and differential backups: You can easily take a full backup with IvyBackup home edition, moreover, you can also take smart backups if you buy the Standard or Pro editions. Smart backups can be differential or incremental, and these are more efficient as far as storage space is concerned.
A differential backup backs up all changes since the last full backup, and you can avail this with IvyBackup Standard edition. IvyBackup Pro edition offers the incremental backup capability, which backs up changes since the last backup. In case of an incremental backup, the last backup can be a full, differential, or even incremental.
Specifying backup actions: IvyBackup lets you define actions that will trigger a backup process, moreover, you can also specify an action that will follow the backup process. E.g., the backup job can run on system start-up, or when you wake it up from hibernate. To take another example, you can specify that the computer should shut down after the backup.
Scheduling backups: You can opt for a single-click manual backup, alternatively, you can set up scheduled backups with the fully customizable backup scheduler of IvyBackup. You can schedule daily, weekly, and monthly backups, moreover, you can indicate whether the backups should run once or repeatedly. You can specify the day of the month, the day of the week, etc.
Filters: IvyBackup allows to include or exclude specific files or folders from your backup process. You can configure filters for this, and it's easy to do so.
Flexible storage for backups: IvyBackup offers several storage options for your backups. You can store the backups in another computer, alternatively, you can store them in a removable disk. Cloud storage options like Google Drive, Dropbox, OneDrive, etc. are available in the IvyBackup Standard edition. You can use FTP/FTPS to store your backups if you use the IvyBackup Pro edition.
Encryption: The Standard and Pro editions of IvyBackup offer high security with its industry-standard data encryption practices. The product uses 256-Bit AES encryption standard, therefore, your data backups are safe.
Zip backups: IvyBackup supports standard Zip files. It also supports Zip64 backups, which is useful when you need to create very large backups.
Backup tests: It's not easy to know whether the backup process works as desired. You might have scheduled backups, however, they might fail due to various reasons. It can be hard when you find out that you don't have backups, just when you needed them! The Standard and Pro editions of IvyBackup has backup tests, therefore, you will know whether your backup process is working.
Premium features exclusive to the Pro edition: If you buy the IvyBackup Pro edition, you get several premium features, e.g., mirror backups, which makes restoring your backups very easy. The Pro edition has integration with Explorer, and it offers command-line options. You also get visual reports and email notifications.
Customer Support
IvyBackup offers email and ticket-based customer support. Given the simplicity of the tool, you should normally find this enough. The ribbon menu of the software has a Help option where you can get valuable information, alternatively, you can press F1 for product help.
The IvyBackup website has a webpage that shows a very useful collection of screenshots, and that's quite helpful for a new user. The screenshots include the main window, various tabs, job window, backup actions, and settings, moreover, there are screenshots for various configuration actions.
Money-back Guarantee
IvyBackup has a 30-days money-back guarantee, and the company states on its website that there's no question asked for this 30-days money-back. For products of this nature, a 30-days money-back fits well with industry standards.
Compatibility
IvyBackup is for Windows computers. At the time of this review, the company doesn't provide a backup solution for Mac, iPad, or Linux. You can sign-up for its newsletter if you want to be informed when IvyBackup will be available for these other operating systems. IvyBackup is available in English only.
Conclusion
Backing up our computer is important, and managing this manually can be hard. You certainly need a good backup tool, and IvyBackup is a worthy choice, given the advantages it offers. You will need a simple interface, ease of use, useful features, extensive documentation, and sufficient support options in your backup tool, and IvyBackup ticks all these boxes.
It doesn't work with Mac and Linux computers, however, IvyBackup intends to support Windows and does it well. It offers noticeable flexibility, and its various editions are priced very reasonably for the features they offer. With its price points and features, IvyBackup covers a wide range of computer users like freelancers and small businesses, moreover, mid-sized businesses can get a customized quote.
We believe IvyBackup is an excellent backup tool with simplicity, great features, and the required customer support. Its 30-days trial period is sufficient for you to learn the tool and see if it works for you, therefore, we encourage you to use the trial period.
This will help you to see how easily you can take backups, schedule them, manage the backup process, and restore the backup.