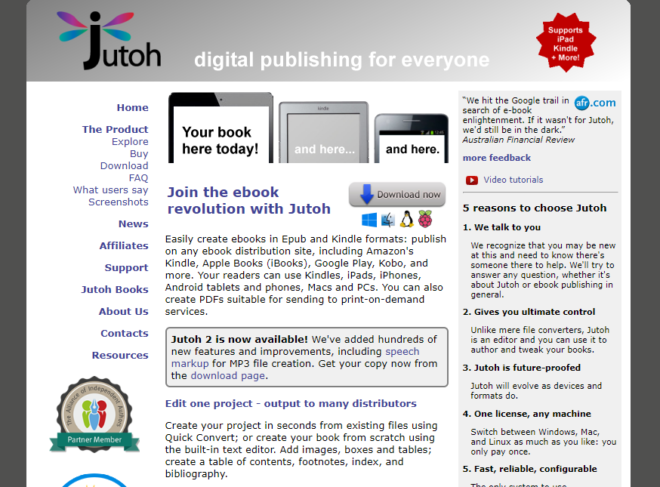 Do you write for a living? Perhaps you're interested in self-publishing a book of prose? Whether you're writing international breaking news or haiku, you'll need a way to effectively reach as big an audience as possible. While physical paper will always have its place among readers, you have to go digital as well.
It's easier for people to find your work if it's in a digital format, especially if it's on the Internet. But the problem is that there are many formats to consider. Similarly, people use different reading devices including smartphones, tablets, and laptops — so which reading devices do you cater to?
Thankfully, you don't have to pick a single digital format. There are now apps built for both designing and publishing ebooks in various formats for multiple platforms. One such software is Jutoh, which has the goal of streamlining digital publishing.
The Jutoh software from Anthemion Software Ltd. does look like a superb digital publishing tool, but is it as good as it seems? To find out, let's look into its features and other aspects.
Interface and Ease of Use
The Jutoh software serves both beginners and long-time users. When you open the software, you only see the tools needed to publish your ebook. You aren't bombarded with extra features and in-depth information. These are available as well, but they will appear only when you look for them.
Thus, you get a clean interface that makes it easy to navigate around and be familiar with the basics such as importing documents and uploading your work to a chosen distributor. Besides, Jutoh is remarkably quick, thanks in part to the fact that it was written in C++.
Pricing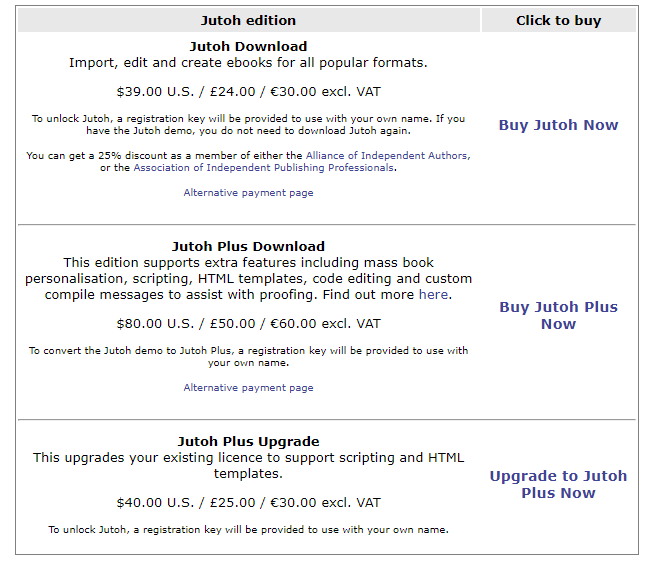 Buying Jutoh
Unlike other software applications, Jutoh doesn't make it unnecessarily complicated when it comes to purchases. The price remains the same regardless of your computer's operating system. You likely won't have to convert the price to another currency yourself.
Jutoh costs $39. In pounds, it's £24.00. And as for the euro, it's currently €30.00. Note that all these prices do not yet include the value-added tax (VAT). You'll know the purchase is successful if you receive a unique registration key attached to your name, which usually arrives in minutes.
Not everyone has to pay the full price. If you're part of the Alliance of Independent Authors, then you can get Jutoh with a 25 percent discount — and the same goes for any member of the Association of Independent Publishing Professionals.
Getting Jutoh for Free (Demo)
Not yet decided on buying Jutoh? You can still get the latest version of the software for free. The only difference is that you don't have a registration key, which places a few limitations. For one, the chapters you create will have a watermark of the software name located on the upper section of the page.
Another limitation is the number of documents you can publish — it's set at 20. Third, you might see some notifications asking you to have the product registered. Other than those, you get to check out if Jutoh does its stated functions. For a demo version, the restrictions are quite understandable.
We recommend downloading Jutoh even if you haven't even considered buying the software. Why? Apart from getting to publish several documents at no cost whatsoever, it'll be easier when you do buy a registration key. You can use the same Jutoh you downloaded as a demo and have that registered.
Concerns About Value Added Tax (VAT)
As we've mentioned, the price indicated on the Jutoh doesn't have VAT. You'll know the total price once you input your country — this is due to the differences in VAT rates and policies among nations. We can't blame the company as it's a normal part of the business to abide by the law.
However, there's an exception to this. If you want to avoid paying the VAT, you can add in a couple of details with your purchase: the name of your company, the particular VAT code for your country, and nine digits. You'll have to input these together, so don't put any spaces between any characters.
Features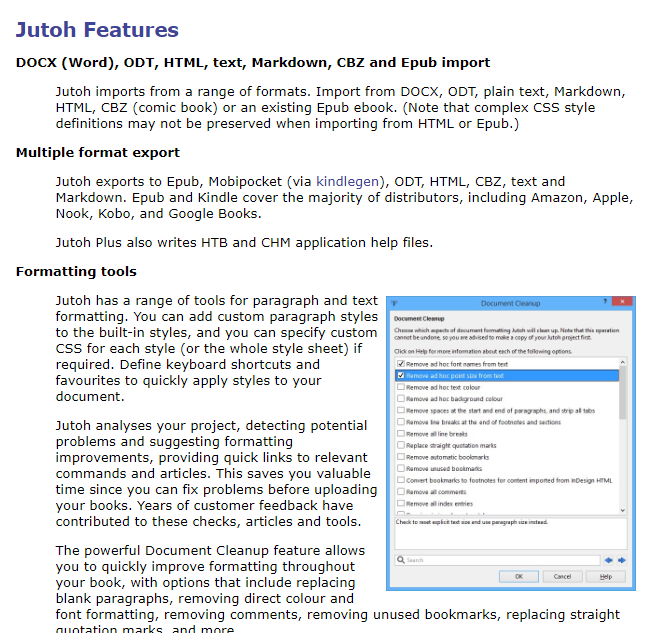 Various File Formats: You can import your projects to Jutoh as long as they're saved as DOCX, CBZ, Epub, HTML, Markdown, ODT, or text files.
Then you can export the ebooks or documents to CBZ, Epub, HTML, Markdown, Mobipocket, or ODT. These ensure that your work can be viewed on Google Books, Apple, or any Kindle device, among others.
Text to Speech: That's right — the software can use CereVoice, Windows SAPI, or any similar program to read and turn text into speech that you can then save as MP3 files.
Errors and Tips: If Jutoh detects that there's something wrong with the formatting or that it could be better, you'll receive a quick tip, warning, or a link to a helpful article. These can fix the simple yet easily preventable mistakes you may have skipped over.
Create Different Versions: Do you want to customize your book for a specific client or platform? Just go to the configuration facility and make new versions. You can easily change the book cover, title page, and you can even include text exclusive to one version.
Efficient Completion of Book Parts: Once it detects the chapter titles, Jutoh can generate the table of contents for you. You can then customize the page by picking a new style and adding select links.
You can import all your indexes, citations, and footnotes if they are in DOCX or ODT format. The software organizes the indexes alphabetically in mere seconds. Also, you can format and merge citations for your bibliography section. You even have the option to place the endnotes on a different page altogether.
Tables and Text Boxes: Apart from book parts, Jutoh also allows users to add in tables and text boxes. You can either import them or make some in Jutoh.
Extensive Formatting: Jutoh allows users to change how the paragraph and text look. You can create a custom style and apply it in an instant with a keyboard shortcut. Besides, there's a cleanup tool for deleting comments and fixing quotation marks.
Viewer Applications: It's not all about the content — your book must also look good whether it's viewed on a Kobo or a Nook. To check how your work will look on a platform, just add viewer applications.
Inspector: Apart from the usual Find and Replace tool, Jutoh has Inspector. This collects all instances of the word you're looking for and puts them in a list, which auto-updates as you add in more text. You can differentiate each same term since a snippet is included to show the words before and after it.
Knowledge Base: The Jutoh Knowledge Base supplements the user manual, which has more lengthy topics. Here, you get quick answers to a multitude of queries on using the publishing tool.
Don't feel overwhelmed by all the content. Simply press Alt + F1 or look for "Search Help" in the toolbar. The search function will pop up and you'll be able to find specific keywords and articles in no time.
Customer Support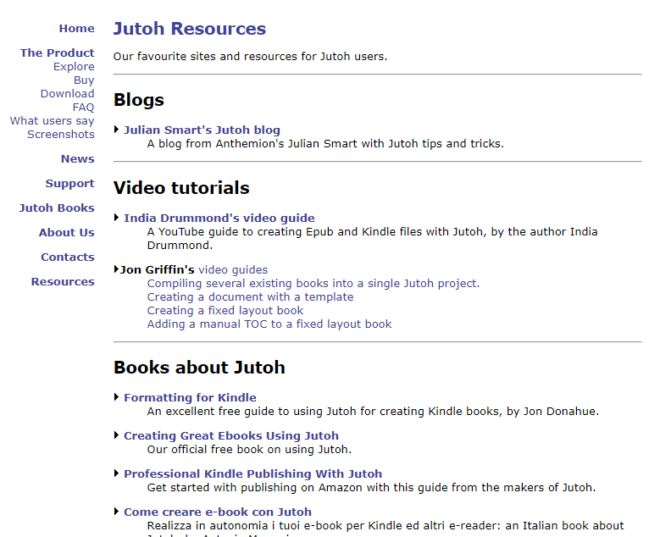 Extensive Assistance
While Anthemion Software Ltd. has a 30-day money-back guarantee, they also make it a priority to let users know that there may be a solution to their problems in using Jutoh. If you think there's a bug in the software, report it. Ideally, you'll receive a fix within 24 hours.
You can contact Anthemion Software Ltd. through phone, but that's not the most effective way to reach the team. Instead, they recommend Jutoh users to send them an email and to be part of the mailing list.
Project Consultation
When it comes to customer feedback, Anthemion Software Ltd. reigns supreme. If you need help, they'd be more than willing to do what they can — and that includes helping you publish your work. With your permission, the team will look into your work and then provide practical suggestions.
Numerous Jutoh Books
The comprehensive book titled Creating Great Ebooks Using Jutoh is available at no cost unless you get it on Amazon. It's available as an ODT, PDF, Epub, Mobipocket, or HTML.
And if you choose to read it in the online in HTML, you can have the text translated to a language you're more comfortable with. Not bad for a 200-page book detailing everything from ebook marketing to addressing ebook and Jutoh issues.
Then there's Professional Kindle Publishing with Jutoh, which is made specifically for authors who want to utilize the Amazon platform. You can get this for free if you have Kindle Unlimited. Other than this, there are also books about Jutoh written in German, Italian, and Swedish.
FAQ Section
The FAQ section for Jutoh is detailed and organized. If you want to know about Jutoh itself or how to register and seek customer support, go here. Then again, this is primarily for troubleshooting, which is why there are over 40 questions in the technical issues section.
As for the answers, they are written in such a way that even those who aren't tech-savvy can understand the explanation. File locations and commands, for example, are written in a different format. Plus, the FAQs include hyperlinks when necessary.
Blog and Videos
You can also check out Dr. Julian Smart's Jutoh blog or watching video guides from India Drummon and Jon Griffin on YouTube.
Money-Back Guarantee
If it turns out you don't like Jutoh or you just don't need such an app anymore right after your purchase, you can ask for a full refund. Similar to many other businesses, Anthemion Software Ltd. accepts refunds if they're requested within 30 days of buying the product.
However, your request may still get rejected even if you send it within the aforementioned period. One reason for this is if you didn't include the reference number, which is provided upon purchasing Jutoh.
Likewise, you won't get the refund if you didn't buy the software from Anthemion through their official payment services, namely, BlueSnap, Avangate, and FastSpring.
Compatibility
Windows OS
Unless your PC still uses Windows 2000 or any other Windows OS older than 2001's Windows XP, you won't have any problems using Jutoh. That's right — Jutoh works perfectly fine on Windows XP, Vista, 7, 8, and 10.
There are two versions available for Windows: the 32-bit and 64-bit Jutoh. Just because you have 64-bit doesn't mean you have to download the latter version. Similarly, the 64-bit Jutoh will run on 32-bit Windows.
In most cases, the 32-bit app is good enough. But if you're primarily working on huge files, the 64-bit version can better utilize your computer's RAM. There's even a portable version you can save on a flash drive and use on different Windows devices.
Mac OS X
For Mac users, they need at least the OS X 10.4 Tiger to download and use the 32-bit Jutoh. But if you have OS X 10.7 Lion or any later versions up to OS 10.14 Mojave, you should get the 64-bit version, which looks great on high-resolution retina displays.
Linux OS
One of the best things about Jutoh is that it doesn't limit itself to the two most popular operating systems in the world. So if you're using 64-bit Linux distributions like Debian and Mint 19, you're in luck — and even those who still use and prefer the old 32-bit Linux distributions can download Jutoh.
Raspberry Pi 2
It seems that Anthemion Software Ltd. made it their goal to make Jutoh as widely available as possible. The Raspberry Pi is an affordable, small computer that's useful for students and anyone interested in computer science. Its first iteration was released in 2012 while the Pi 2 entered the market in 2015.
Technically, this is still about Linux compatibility. But the Raspberry Pi 2 is a computer unlike any other, so it requires a specialized RPM, DEB, or tarball for installing Jutoh.
Pinebook
If this is what you're currently using, simply get the same links for downloading Jutoh for Raspberry Pi 2. The only difference now is that you must also install a few 32-bit libraries.
CereVoice Files
The Jutoh software offers support for the Cereproc CereVoice, which is a text-to-speech system available on Windows, Mac OS X, Linus, and other operating systems.
However, the CereVoice file for Mac OS X is only for 10.9 Mavericks. This means that you won't be able to utilize CereVoice on Mac OS X 10.4 Tiger even if that system is compatible with Jutoh.
Conclusion
There are risks and opportunities in being an author and opting to edit and publish your work on your own. You won't have the big-budget marketing push companies provide for their top writers. Still, the Internet and the popularity of ebooks have shown that there is a sizable market anyone can tap into.
To eliminate the risks in self-publishing, you need a digital tool. It must be a more practical, affordable option than paying hefty fees to editors — but it also must not skimp on quality. In the case of Jutoh, we argue that it exceeds expectations. For a one-time license fee, you get a reliable multi-platform software.
The Jutoh software is all you'll need to refine your project. You can customize the formatting as much as you'd like. Plus, the various tools here easily cut down on the editing time by a significant margin. The less time spent revising, the earlier you can publish your ebook.