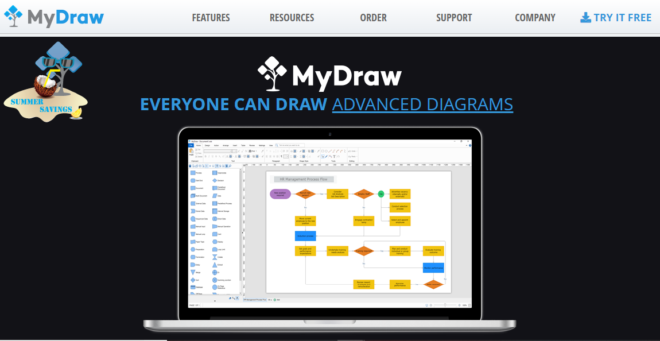 In the digital era, data is more valuable than ever. For one, some businesses thrive on selling big data, which then allows other companies to better know their target market. But data on its own isn't that useful to everyone — you have to know what to do with it as well.
Individuals and organizations alike should learn how to make sense of qualitative and quantitative data. Data interpretation, after all, is essential to sustaining shareholder and client relations. If you can explain company matters with ease, they won't feel out of the loop and will continue doing business with you.
With that in mind, how can you better illustrate data findings? Well, one effective way is to use diagrams. Whether you need flowcharts or Venn diagrams, there's always a diagram that will suit the information you want to visualize. The only dilemma now is knowing which app you should use to create them.
Now, there's a dedicated diagram software called MyDraw, which means that it's specifically designed to help users create even the most complex diagrams. But is it worth getting? Find out in our review below.
Interface and Ease of Use
What makes MyDraw a great alternative to even those who are new to creating diagrams is the fact that it features a familiar interface. In particular, the software is reminiscent of Microsoft Office — a product with at least 1.2 billion users around the world.
Thanks to an MS Office-inspired look, it'll be fairly easy for you to navigate through the app when you open it for the first time. What's even better is that MyDraw on Windows looks almost the same as the Mac version. Thus, there's no problem if you switched to a Mac computer or vice versa.
Furthermore, MyDraw isn't exclusive to English users. If you're not too proficient in English, the UI supports other languages: Bulgarian, Chinese, German, Portuguese, Russian, and Spanish. The software even comes with dictionaries for Bulgarian, English, French, German, Portuguese, Russian, and Spanish.
Pricing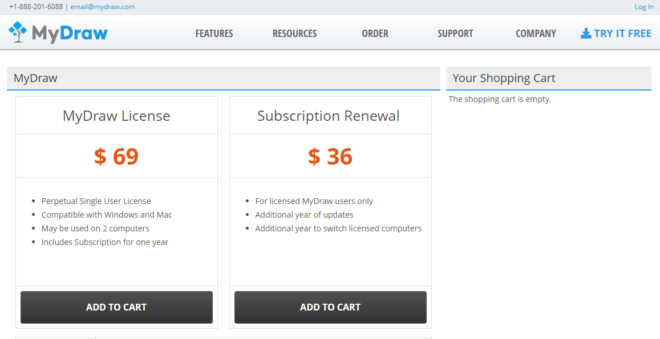 MyDraw caters to all, which is why there are four price categories: single-user, multi-user or enterprise, educational pricing, and government or nonprofit. Individual users pay $69 for the license — and that's it. The license is perpetual, which means there are no monthly or annual payments to worry about.
Still, one issue users may have is how the license is good for one computer only. Most would be fine with this, but those who have a desktop and a laptop may have to buy two licenses. Thankfully, you can just transfer the license from one computer to another if you don't want to spend more.
If you do need several licenses, you can avail discounts. There's a 10 percent discount for a minimum of three, and 40 percent off for at least 20 licenses.
Going over to the enterprise category, you can buy a single license to cover multiple people in one area, which is ideal for companies. It starts at $276 for five, but you save more per user with more people — $2,500 already covers 100 employees. You even get better technical support with free training sessions.
For those in educational institutions, governments, or nonprofit organizations, they understandably get the best rates. A single-user license costs just $48.30, which makes it a very good deal if you're qualified. Likewise, organizations will surely benefit from the $1,750 license good for up to a hundred people.
Of course, you can try the diagram software for free if you want. MyDraw has a 30-day trial period so that you can test all the features, although the drawing files will have watermarks on them. You can also ask to extend the trial by another 30 days if you need more time to check the software.
There are two payment methods accepted: credit card and PayPal. You do have to create an account on the MyDraw website to complete the purchase.
Key Features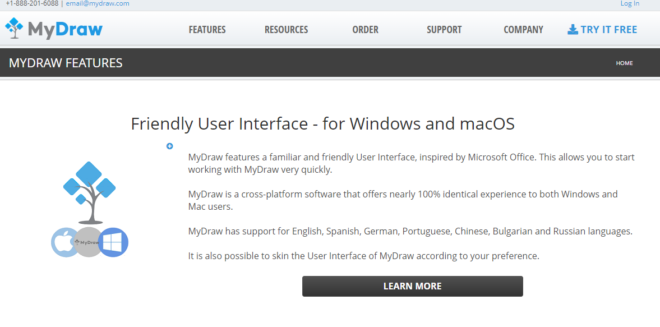 Automatic Layouts: Even if you import multiple diagrams across various sources, you won't have a hard time arranging. Whether big or small, the diagrams can be organized with the help of automatic layouts.
Barcodes: The app allows users to create both linear (1D) and matrix (2D) barcodes. Also, you can embed these barcodes in shapes and text with ease.
Data Import: Speaking of imports, MyDraw has no problems importing ESRI maps. Likewise, any GEDCOM files you need to access family tree data can be opened, edited, and saved using the software. Even flowcharts and organization charts you started in Excel spreadsheets can be imported here.
Diagram Templates and Predefined Shapes: With MyDraw, you don't have to create new shapes and diagrams on your own. If you have the data but you're unsure how to best portray them through visual means, just choose among numerous shapes and hundreds of well-designed diagram templates.
Image Generation: Do you want to save images in BMP, JPG, PNG, and TIFF formats? You can do so on MyDraw — and that's not all. If you prefer paths over pixels, you can also generate vector images in SVG, EMF, and DXF formats. SVG is great for Adobe Animate and GIMP while DXF is for AutoCAD software.
Printing and Export to PDF: There are handy print preview features on MyDraw, which accurately shows what the file will look like on paper. You can also check margins, the page size, and the overall layout on the print dialog. And if you'd like to view the page breaks, these are readily viewable in the drawing.
Moreover, MyDraw gives users the ability to exempt shapes and groups from being printed. You can also check your diagrams on Adobe Reader since files can be exported into the PDF format.
Rich Text Formatting: There's no scarcity in formatting options on MyDraw. You can arrange and edit both characters and paragraphs however you want. Plus, you can organize tables and group blocks. The software allows block formatting and outlining with the use of bullets and numbering.
If you want to enhance the visual aspect of your diagram, you can add images as well. MyDraw supports the following: BMP, EMF, GIF, JPEG, PNG, WMF, and animated images.
Smart Shapes and Connectors: Have you used the smart-shapes tech of Microsoft Visio? If you have, then you'll surely appreciate the fact that the shapes on this software have control points. These grant users the ability to customize the geometric aspects of the shapes.
MyDraw also allows its shapes to have both raster and vector images in them. Specifically, the former includes BMP, PNG, and JPG files while the latter refers to WMF and EMF files.
Vector Drawing Tool: Interested in creating vector drawings and shapes? There is an assortment of tools on MyDraw to help you whether you're working on lines and curves or rectangles and polygons.
Customer Support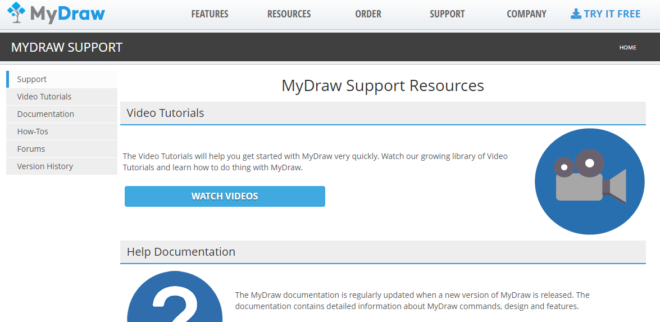 MyDraw offers customer support at no additional cost whether you paid for a license or you're testing the software out with the free trial. There is no live chat support at the moment, but you can reach the technical team through email.
You could also give them a call, but don't expect a quick response no matter the time and day. For now, they are only available from Monday to Friday, specifically from 3 AM until 1 PM EST. Also, the phone numbers are limited to users in Canada, Europe, and the US.
But don't worry — you don't always have to ask for help from the team. MyDraw prepared several other resources for you to troubleshoot issues. First, there's a comprehensive documentation page on their site. It's divided into multiple sections and covers everything from automatic layouts to file format.
There's a forum where users can interact with each other and report bugs. But it's not that useful for now simply due to how few there are in it, so there isn't much of a discussion going on. You can also check out the How To section, which offers visual step-by-step guides.
Now, the diagram has undergone several updates since its first version was released back in 2017. If you'd like to know what exact changes were done, just check the version history on the site. Likewise, the roadmap page outlines the features the team is currently working on.
Money-back Guarantee
If you somehow didn't like what MyDraw had to offer, you can ask for a full refund by simply sending a form online. However, you can only do this within the first 30 days, and the money-back guarantee only applies if you bought the license on their website.
If you got the license from the Windows Store or the Mac App Store, you'll have to contact them instead for the refund.
Compatibility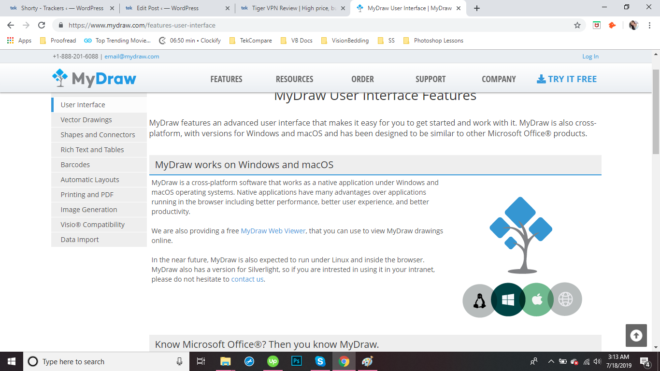 MyDraw works on both Windows and Mac, and there are no price differences between them. Thus, a standard single-user license will cost $69 whether you have the former or the latter.
If you were using Microsoft Visio beforehand, don't fret. Any drawings or diagrams you created in that app can be opened, edited, and saved on MyDraw as well. This works whether the file is in VSD, VDX, or VSDX format — and the same applies to any Microsoft Visio Stencils too.
Conclusion
Diagram software is a necessity if you need to create flowcharts, Venn diagrams, and even brochures and newsletters regularly. It can drastically cut the time spent on visualizing data for your clients and leads. And in the case of MyDraw, we think that it's a worthy investment for all the features it offers.
It may not be compatible with all operating systems, but it works well in those that do support it. Plus, the pricing options are reasonable and scalable, which is what startups and growing companies need in the long run. Also, the interface is well-designed — allowing new users to learn the software quickly.
Overall, MyDraw is an excellent diagram software with great customer support and just a few negligible drawbacks. We suggest using the free trial to explore it yourself. This way, you can see how seamless it is when it comes to data imports, vector drawing, and text formatting, among many other features.