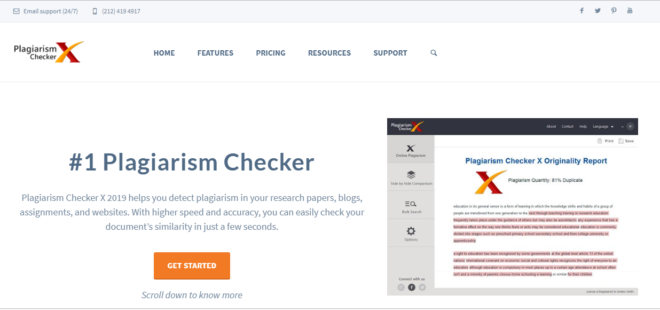 Whether you own a business, you are an independent researcher, or you are in charge of an educational institute, high-quality content is key for your brand value. In addition to high-quality content, you also need to establish a trusted relationship with the people that consume your content. Plagiarism-free content is very important for this, and you know that.
How do you ensure that the content you publish is plagiarism-free? With the amount of content in the digital world, you can't rely on manual effort, and you need a tool to check for plagiarism. While there are several such tools in the market including free tools, you need one that meets your requirements.
You need a robust plagiarism checker tool that's easy to use, fast, accurate, and reliable. Such a tool should have robust privacy features, moreover, you need excellent documentation and support. A robust plagiarism checker tool should also carry a reasonable price tag.
We have reviewed Plagiarism Checker X 2019, a popular plagiarism checker tool against all of the above criteria. It's a solution from Techroad Global, a privately held American company. Should you use it? You can find out in this review below.
Interface and Ease of Use
Plagiarism Checker X is a serious contender as the plagiarism tool of choice due to many reasons, and the interface is one of them. Let's start with its website. The first thing that will attract your attention is how easily you can navigate the site.
You can get started with the free version of Plagiarism Checker X almost immediately, moreover, you can easily find its features, documentation, pricing plans, and support information. Plagiarism Checker X isn't limited to English, and you can use it for Spanish, Dutch, French, German, Italian, and Portuguese.
Even if you are using a plagiarism checker tool for the first time, you will find this tool an easy one to use. Plagiarism Checker X has user-friendly menu options, and you can provide your content for plagiarism checking with only a few clicks. You can easily understand the results, originality report, summary report, etc.
Pricing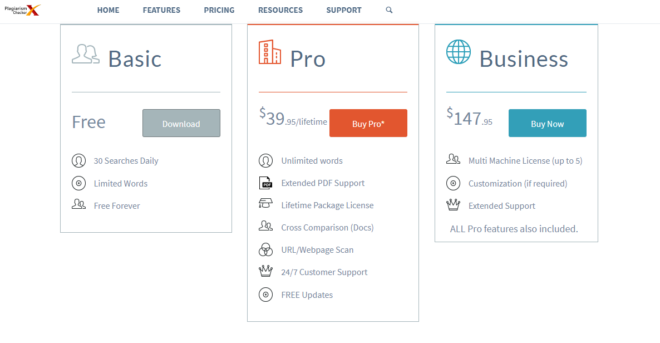 Pricing plans: The pricing plans for Plagiarism Checker X are clearly described on its website. It has a limited edition, which is free for lifetime. You can use the free edition for up to 30 searches daily, and it covers a limited set of words.
There are two paid editions, namely, Pro, and Business. If you decide to buy either of them, you get a lifetime license with a one-time payment, and there are no subscription fees. The Pro edition costs you $39.95, and it supports unlimited words for plagiarism checking. This edition offers extended PDF support, cross-comparison of documents, URL/webpage scan, free updates, and 24/7 customer support.
The Business edition, which costs $147.95, includes everything that Pro has to offer, moreover, this edition allows multi-machine license for up to 5 computers. This edition offers customization, furthermore, you can get extended support.
Discounts: Plagiarism Checker X offers a 20% flat discount for non-profit organizations, and you will need to demonstrate the non-profit status of your organization to avail it. There is also a bulk purchase discount if you buy 20 or more licenses, and you need to contact its support team for more information on this.
Free Trial: Given that there is a free edition of Plagiarism Checker X, the company doesn't offer any other free trial period.
Payment Methods: You can use 15 payment methods to buy Plagiarism Checker X, which include PayPal, Visa, MasterCard, Eurocard, American Express, and more. Techroad Global processes all orders with 100% security guaranteed. The company supports several currencies, and you can buy using the bank/wire transfer option if you don't have a credit card.
License Delivery: Once you make the payment, you will get the license delivered to you immediately via email. Apart from the license key, the email will also contain the payment receipt.
License Transfer: The Plagiarism Checker X licenses are of two categories, namely, individual, and corporate. You can't use an individual license for corporate use and vice versa.
License Upgrade: If you already have an old version of a premium Plagiarism Checker X, then you can upgrade your license at a discounted rate.
Privacy
When you purchase a premium edition of Plagiarism Checker X, your transaction goes through a secure payment handling service. The company uses industry-standard encryption to secure your transactions.
There is another aspect of privacy when you use a plagiarism checker tool. Many free plagiarism checker tools store your data and content, however, Plagiarism Checker X doesn't do so. This guarantees the privacy of your data and content.
Features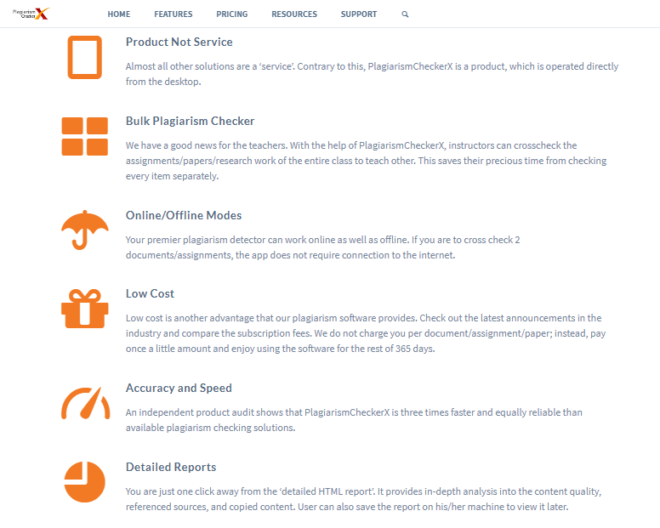 When you shop around for a plagiarism checker tool, you will surely evaluate its features. Plagiarism Checker X has useful features, and let's review them now.
Online plagiarism detection: You can use Plagiarism Checker X to detect plagiarism through multiple search engines. This tool can help you to detect plagiarized content by scanning through over 16 billion indexed web pages.
Side by side comparison: Content editors and SEO analysts need easy ways to find content that might have been copied. Plagiarism Checker X has a feature that enables you to view content on two windows side-by-side, making it easier to locate plagiarized content.
Bulk-cross comparison: You can use Plagiarism Checker X to analyze multiple documents within one or more repositories. It's a one-click operation, and you can check the originality of multiple documents quickly.
Fast and accurate results: A key feature of Plagiarism Checker X is its processing speed. The tool has algorithms that work fast, and its website claims that it can cross-examine up to 20,000 words in a second and provide accurate results.
Privacy: As we have noted earlier, Plagiarism Checker X doesn't store any user data or content. The company explicitly claims on its website that they don't copy, store, or sell the content you submit.
Unlike several plagiarism checker tools, you don't upload your content on its server. You copy and paste your content in its desktop application. This protects the security of your content, which is a key advantage over several other plagiarism checker tools, especially the free ones.
Compatibility: Plagiarism Checker X supports popular text-based formats like PDF, DOC, DOCX, RTF, and HTML. Bloggers, web content writers and publishers can use this tool, moreover, it supports all Windows editions.
Keyword analyzer: You can extract keywords from content using Plagiarism Checker X, moreover, it provides statistics about the keyword occurrence and keyword density. This helps the SEO experts.
Reports: Plagiarism Checker X provides comprehensive reports in PDF/DOCX formats, moreover, the reports use color-coding schemes. This helps you to quickly understand the extent of plagiarism in content.
Customer Support
You will certainly look for robust customer support when you buy a plagiarism checker tool, and Plagiarism Checker X fares well here. The company offers dedicated technical support 24/7, and you can contact its customer support team both via email and phone. Its website prominently displays its customer support email address and phone number, and that's an advantage.
Another advantage with Plagiarism Checker X is its extensive documentation. Its website has a collection of screenshots that explain the working of the tool, however, that's not all. The Resources page on the website explains everything that you need to know about using Plagiarism Checker X.
The documentation includes installation instructions and a quick start guide, moreover, it explains how to use the user interface. You can find guidance for all of the features like checking for online plagiarism, side-by-side comparison, bulk search, etc.
The Plagiarism Checker X website also explains the key registration process, how to delete browser history, etc. There is a detailed FAQ page and you can get answers to many common questions there.
Money-back Guarantee
Plagiarism Checker X has a refund policy where you need to return the product within 10 days of your purchase if you feel the software hasn't worked as promised. For a plagiarism checker tool, 10 days is a reasonable timeframe for you to decide whether it's working for you. The company states that they reserve the right to analyze your usage pattern before processing your refund request.
Compatibility
Plagiarism Checker X works on Windows computers. It supports both 32-bit and 64-bit versions of Windows 10, Windows 8, Windows 7, Windows Vista, and Windows XP. At the time of this review, there is no support for Mac and Linux.
As we have mentioned earlier, Plagiarism Checker X supports several European languages in addition to English. Its website details the minimum system requirements, e.g., processor, RAM, available disk storage, etc.
Conclusion

Publishing plagiarism-free content is important since it enables you to establish your brand value. It also protects you from legal issues, moreover, search engines won't penalize you if you publish original content.
You certainly need a tool to check for plagiarism in your content, however, free tools have limitations. E.g., the privacy and security of your content can be compromised if you use a free tool to detect plagiarism. This makes a premium plagiarism checker tool imperative for you.
Such a tool should offer the relevant plagiarism detection features, moreover, it should offer privacy and security for your content. You also need speed, accuracy, ease-of-use, flexibility, reports, great customer support, and excellent documentation.
Plagiarism Checker X fares well against all of these criteria, and it supports all popular document formats. Given its features, the price points for its Pro and Business editions are very reasonable. Mac and Linux users can't use it, and this can be seen as a limitation. However, Plagiarism Checker X supports all Windows operating systems and does it well.
We found that Plagiarism Checker X is an excellent tool that can help you to publish original content. Its free edition has limited features, however, it's enough for you to evaluate whether to buy any of the premium editions. We encourage you to start with the free version and check for plagiarism in your content, which will help you to decide whether it will work for you.