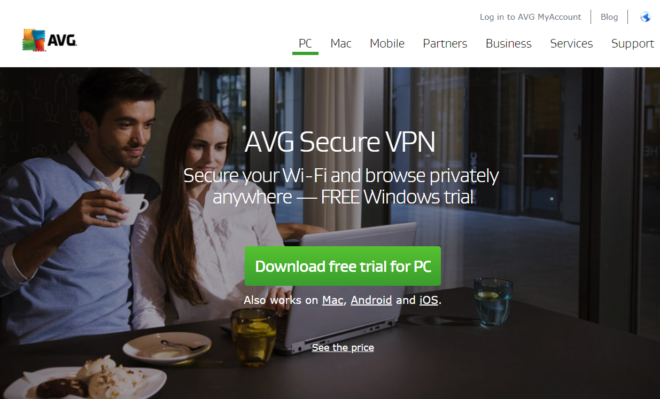 AVG Secure VPN is not one of the most widely known VPN companies out there in the market by itself. However, it is a product of a very highly regarded online security company, which is AVG (recently acquired by Avast, another popular brand when it comes to antivirus services).
However, the fact that its parent company is such a big entity in the online world doesn't necessarily mean that AVG Secure VPN is a must-have service. It does have its uses and strong points, as you are about to see, but for starters, the speeds are uninspiring and the server count is far too low.
Nevertheless, AVG Secure VPN is at least transparent when it comes to letting you know that it keeps data logs for a significant period of time. If you adjust your expectations a bit, you may be satisfied with the company's features, highlighted by the secure AES 256-bit encryption over the OpenVPN protocol.
Pricing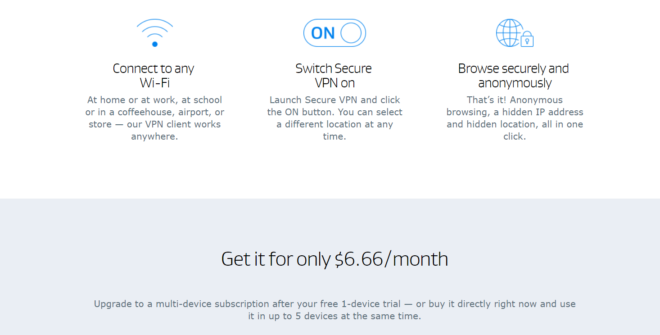 AVG Secure VPN pricing grid is somewhat tricky. In its website, the company prompts users to take the free trial (designed for one device only) and then upgrading to a full license, for up to five different devices at the same time. It also says that you can skip the trial and acquire the one for five gadgets up front.
AVG will tell you that the service costs $6.66 per month and $79.99 per year. However, there are no monthly commitments, as you can only acquire a yearly license and two and three year plans. The version that you can acquire by following the link on the front page is for only one device.
To get AVG SecureVPN cheaper, you need to download the free trial first and then, once you launch the app, manage your preferred plan from there.
Then you will have access to the three payment plans: the one-year subscription costs $47.88 (the equivalent of $3.99 per month), the two-year subscription checks in at $83.76 ($3.49 per month), and the three-year plan's price is $107.64 ($2.99).
One thing that AVG Secure VPN is severely lacking is multiple payment methods. Unfortunately, the brand only accepts PayPal and credit cards— there are no anonymous payments available.
Interface and Ease of Use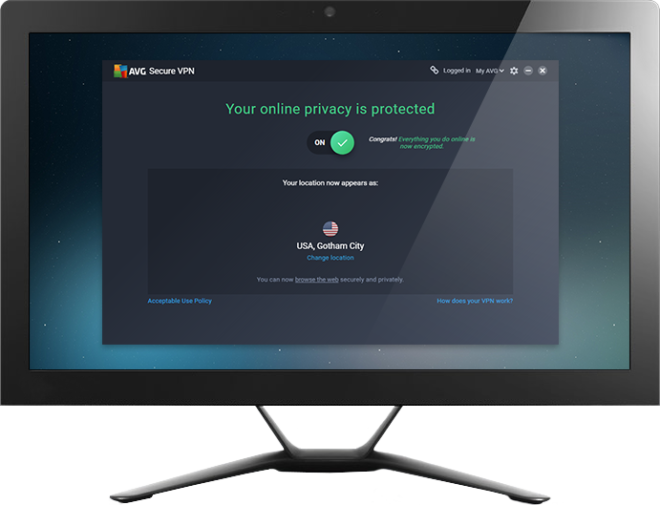 One of the positive aspects of AVG Secure VPN is its ease of use. The interface is friendly to the customer, and both the app and the website aren't too difficult to navigate successfully. The Windows and Mac clients are especially helpful to the user.
After the user installs and launches the app, it will show the location that will appear in the web, with a visible button to change it just below. To start the VPN encryption, toggle the button "On." If you don't select your preferred area, the system will connect you to an optimized server automatically.
Users can also select optimized servers for several activities, such as streaming and torrenting (P2P servers).
Going to the Settings sections means that you can see several options, including the choice to auto-connect to their servers at the moment of launching the app.
Generally speaking, AVG Secure VPN's app is easy to use, with just enough tabs for the user to go through and configure without much hassle and confusion. In the past, the brand lacked a kill switch, but it now has one for all apps.
Server locations
The brand has 50 server locations in its network. The company doesn't provide much info regarding this area, but it has servers in 21 nations around the world, in six big geographical areas: Asia Pacific, South America, North America, Europe, Middle East, and Africa.
Some of the countries offered are the United States, the United Kingdom, Brazil, Czech Republic, the Netherlands, Germany, Taiwan, Australia, Austria, Belgium, Singapore, Canada, Hong Kong, Denmark, and Finland, among others.
Privacy
Despite what you may think of a VPN with a parent company that focuses on online security products, AVG Secure VPN isn't necessarily the most protective and private VPN brand in the market. In fact, we shall point out that the firm is, at least, straightforward about which aspects of the users' details and connections are kept and for how long.
As per the company itself:
"We collect and use VPN Data for the operation of our business to:
Monitor the use of our network for technical purposes and to manage and improve our service;
Prevent and detect fraud against our service (e.g. credit card fraud);
Prevent and detect abuse of our network, such as spamming, file sharing, or other illicit activity.
Except in the limited circumstances described below, VPN Data is stored for between 2 and 3 months on our secure servers, after which time it is deleted, except in certain very limited circumstances (see below.) We delete VPN data on a monthly basis, so data is stored until the end of the second month after the month during which it is created. For example, all data created in January will be deleted on 31 March."
The limited circumstances that the company talks about are: a) breaking their EULA (End User Licensing Agreement) and b) if the user has tried to defraud the service.
Let's start with the obvious: AVG Secure VPN collects some user data. All of it, apparently (the brand doesn't go into detail about which data is kept), albeit for a limited period of time. The purpose of using a VPN is to remain private and anonymous on the web, but the fact that AVG Secure VPN knows exactly what you are doing (they say they want to prevent illicit activities, so doing the math, it means that they "need" to check on your traffic) doesn't precisely bode well for those purposes.
Data collection performed by a VPN should be limited to billing information, email address, and other small bits of data. Connection and usage logs are a no-no in our book, despite the fact that the brand is located at a convenient place for privacy, the Czech Republic.
Features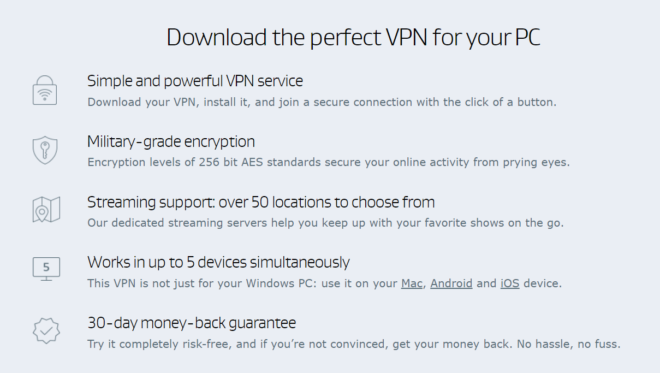 Easy to configure and use: AVG Secure VPN can be easily installed and set up in Windows, Mac, Android, and iOS. The design is intuitive and the interface is slick.
Military-grade encryption: AVG Secure VPN comes with AES 256-bit encryption, the best and most secure one in the market. It makes traffic nearly impossible to decipher by external agents. The brand uses OpenSSL for better protection.
Kill Switch: Users can have peace of mind knowing that, in the event of a VPN connection loss, AVG Secure VPN's kill switch will automatically disable the Internet connection so no unencrypted data is shared.
Up to five simultaneous devices: Users can acquire the AVG Secure VPN subscription and run the encryption in five different devices at the same time.
Free trial: Users can test the AVG Secure VPN features and services before deciding on an annual subscription. The company asks for the payment information first, though.
P2P connections: AVG Secure VPN offers eight servers optimized for the exchange of P2P activity: Prague, Amsterdam, Frankfurt, Miami, New York, Seattle, São Paulo, and London.
Good customer support: AVG Secure VPN is one of the few VPN companies that still offers phone support, For immediate help, users can call to these numbers: +1 844 259 8811 (USA), +44 (0) 800 652 4940 (United Kingdom), y +61 1800 429 319 (Australia).
OpenVPN support: Of all protocols, OpenVPN offers the best combination of speed and security/reliability. Fortunately, AVG Secure VPN offers it.
30-day money-back guarantee: If the free trial period is not enough, users can further test AVG Secure VPN for a month with no charges, after which they need to decide whether to pay for a subscription.
As for the negatives, AVG Secure VPN doesn't have too many protocols, it isn't compatible with routers or TOR, for that matter. Netflix compatibility is severely limited as well, as just a handful servers work.
Encryption
AVG Secure VPN implements the military-grade AES 256-bit encryption over OpenVPN, which means a secure channel to protect your data and traffic from hackers, cybercriminals, spying and surveillance agencies, and more.
However, there aren't many protocols to choose from. The brand offers OpenVPN and UDP for Windows and IPSec for Mac. It doesn't use the PPTP protocol or other options such as SSL or L2TP.
Customer Support
AVG Secure customer support department is not elite, but very good, nonetheless. It has phone support, with lines in the UK, the United States, and Australia.
It also has a live chat service available in the "Contact Us" section. The agents are quick and helpful, but if the question is too complicated, you may be redirected to another, a more specialized department that may make the process slower.
AVG Secure VPN also has a FAQ section for more straightforward requirements and questions, and it has a Community Support that may take an hour or two to answer, but always delivers timely responses.
Money-back guarantee
AVG Secure VPN comes with a very convenient 30-day money-back guarantee, which is the number that some of the best companies in the industry usually meet. The process for asking a refund isn't tricky or complicated: you just need to contact sale support and let the agent know about your intentions.
Of course, they will ask you why you are canceling the service. After your reply, the agent will notify you that your requirement will be processed by the team and, after the next three business days, you will get your money back.
Speed and Performance
AVG Secure VPN is not particularly fast. Random tests showed slow download times and very high ping in nearly all locations, most notably the United States and the United Kingdom (two of the most sought-after locations).
In fact, the widespread opinion is that AVG Secure VPN slows down the user's Internet connection by, at least, 50 percent, with the number reaching 90 percent in some specific locations.
Compatibility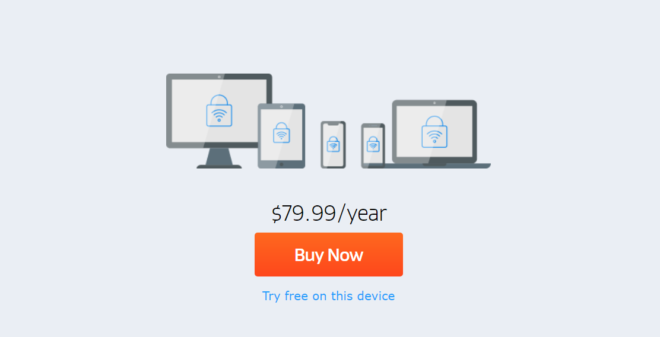 AVG Secure VPN is compatible with Windows, Mac, Android, and iOS. It can't run, however, in routers, and it doesn't work with the TOR browser.
Conclusion
In conclusion, AVG Secure VPN is not as good as the brand's antivirus software, which is among the best in its field. The VPN product? Not so much.
Despite seemingly having the infrastructure and resources to have a much broader server park, AVG Secure only covers a handful of countries and struggles to surpass 50 total servers, which is disappointing.
The management of privacy is also a letdown, but at the very least, the company is transparent about it. Among the positives are the Czech jurisdiction, P2P optimized servers, a good customer service department, and AES 256-bit encryption.
In the end, it depends on how much you can tolerate. The prices aren't too shabby if you are willing to pay for a full year (or 2-3), but one can't help but feel that AVG Secure VPN has lots of room to improve.