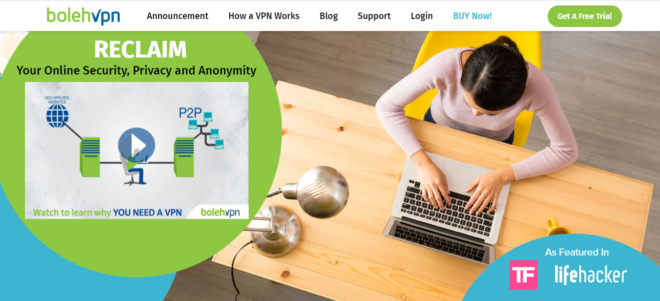 Many Internet users want to browse the Internet while protecting their privacy. They also want a secure browsing experience, moreover, they might want to unblock streaming and P2P/torrenting services.
"Virtual Private Networks" (VPNs) offer these facilities, therefore, many Internet users want to use such services. Consequently, many companies have entered the VPN market, which is now a highly competitive one.
BolehVPN is one such VPN provider. It's owned by BV Internet Services, a Malaysia-based company. BolehVPN is in operations since 2007. It provides impressive privacy and security features, moreover, it unblocks streaming services. BolehVPN also allows P2P/torrenting, and the company has reasonable pricing plans.
While these sound impressive, does BolehVPN meet your requirements? We have reviewed BolehVPN using all key yardsticks so that you can decide whether to buy this VPN service. Read on, as we explain our findings.
Pricing
Pricing is likely a key aspect for you to consider when you are looking around for VPN providers, and we find that BolehVPN is priced reasonably. It has various pricing plans that vary based on duration. These plans are as follows:
7 days: $3.70
30 days: $9.99
60 days: $16.99
180 days: $44.99
365 days: $79.99
BolehVPN has a 1-day free trial period.
You can pay using traditional payment options like a credit card, PayPal, etc. BolehVPN accepts payments using cryptocurrencies like Bitcoin, Dash, Monero, Zcash, and Zcoin. If you decide to pay using Bitcoin, then you can do so through BitPay. Alternatively, you can send Bitcoin to an address that BolehVPN has published on its website.
On the other hand, if you plan to use the privacy-focused cryptocurrencies like Dash, Monero, Zcash, and Zcoin, then you can avail 10% discount. You can pay using Coinpayments or you can send cryptocurrencies directly to the address published on the BolehVPN website.
Interface And Ease Of Use
You will certainly want a VPN provider that offers ease of use. BolehVPN is user-friendly, and you can see that as soon as you visit its website. The website is easy to navigate, and you can easily locate key menu options like "Buy now", account login, free trial, and support.
The process to buy is simple, and the company assures security for your purchase transactions. You can easily install the Windows and Mac clients using the BolehVPN guides, moreover, both are easy to use.
BolehVPN offers detailed instructions for installing its Android and Linux apps. If you follow the instructions carefully, you will be able to use these apps easily.
While BolehVPN doesn't offer a custom iOS app, it provides a detailed guide to install OpenVPN Connect, a 3rd party app. The process to install and use it isn't as simple as the BolehVPN Windows and Mac apps, therefore, you need to follow the instructions carefully.
Privacy
Privacy is one of the most important criteria for most people looking around for a VPN service. In our review, we found that BolehVPN fares well here.
BolehVPN is very open about its logging policy. The company claims to follow a "no-logs" policy, however, it explains the circumstances where it collects logs. These scenarios are as follows:
• BolehVPN maintains logs of general traffic throughput of its servers, however, this doesn't have personally identifiable data.
• When BolehVPN suspects abuse or criminal activities, they turn on logging for concerned users. Once BolehVPN becomes sure that the concerned user is abusing its services, then the company terminates the account of the user and notifies him/her. Subsequently, BolehVPN stops logging. The company makes it clear that it will not allow anyone to use its services for criminal activities.
• BolehVPN turns on logging for troubleshooting only as a 'last resort' and turns off logging after troubleshooting.
All VPN providers have the capability to log your Internet usage data, however, many of them aren't forthcoming about how they use this capability. Given this, the transparency on the part of BolehVPN is welcome!
You can buy a BolehVPN account with only an email address, which provides a fair degree of anonymity.
The jurisdiction of a VPN provider influences its policies and practices concerning logging. Although BolehVPN is a Malaysian company, Seychelles is its jurisdiction. That's good news for the users of BolehVPN since Seychelles isn't one of the "14 Eyes" countries that conduct mass surveillance. BolehVPN isn't required to keep logs of users' activities. The company publishes a "Warrant Canary", which states that no warrants have ever been served to BolehVPN or its employees.
Features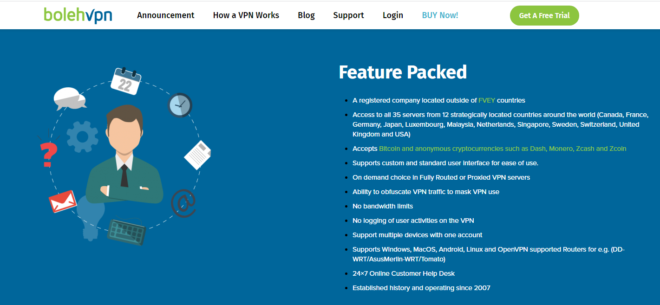 When you shop around for a VPN, you will surely focus on its features. The good news with BolehVPN is that it provides valuable features, which are as follows:
Security
Security is likely high on your priority when you shop around for a VPN service. BolehVPN has strong security credentials, thanks to its comprehensive solutions!
The company uses the OpenVPN protocol, which has the reputation of being the most secure VPN protocol. OpenVPN has no known vulnerabilities. While BolehVPN also supports the less-secure L2TP protocol, you don't need to use that.
BolehVPN uses SHA-2 encryption, which utilizes AES-256 encryption algorithms. This is military-grade encryption and it can withstand brute-force attacks. BolehVPN also employs a robust "Public Key Infrastructure" (PKI) with RSA-4096 keys, and this ensures excellent security.
The comprehensive security solution of BolehVPN guards against any DNS, IP, and WebRTC leaks. If you use BolehVPN, your ISP will not be able to find your identity.
BolehVPN offers a "kill switch" feature. In the event that the VPN connection drops while you are still connected to the Internet, a "kill switch" will disconnect the Internet connection immediately. This secures your personal information from cyber-attackers.
Unblocking streaming services
Many people use a VPN since they want to unblock streaming services like Netflix, Hulu, BBC iPlayer, etc. BolehVPN claims that it unblocks USA-only PlayStation, Netflix, Hulu, and iTunes.
It largely delivers what it promises, however, there are times when it can't unblock Netflix. Netflix has acquired high capabilities to detect traffic coming via VPN and the company is successfully blocking a good part of VPN traffic. Several VPN providers find it hard to unblock Netflix consistently. BolehVPN encounters the same challenge, and it's sometimes unable to unblock Netflix. Having said that, BolehVPN offers specific guides to unblock Netflix USA, and that's helpful!
Allowing P2P/torrenting
Often, Internet users shop around for VPNs since they want to access P2P/torrenting services. BolehVPN offers good news to such Internet users since it allows P2P/torrenting.
There are no bandwidth restrictions for P2P/torrenting if you use BolehVPN. Some of its servers are for traffic other than P2P/torrenting, e.g., servers marked for streaming or BolehGEO servers. However, BolehVPN has servers optimized specifically for P2P/torrenting.
Hiding the use of VPN
Users of BolehVPN can hide the fact that they are using a VPN. BolehVPN provides xCloak connections, which obfuscates the traffic to make it look like normal Internet traffic and not one via a VPN.
Speed
BolehVPN doesn't offer the best speed when compared with several other VPN providers, however, its speed is reasonable.
Money-Back Guarantee
BolehVPN has a 14-days refund policy, however, it's available to new users only. The company doesn't issue refunds to customers that renew their plans.
The refund process works fine if you have bought a BolehVPN plan using a traditional payment method like credit card or PayPal. However, if you use a privacy-focused cryptocurrency like Dash or Monero to make an anonymous payment, then the refund process will not work.
Customer Support
BolehVPN already has good documentation available on its website including an informative FAQ section. Its VPN apps are easy to use, therefore, you might not need to reach out to its customer support team too often. If you do need to contact its customer support, then you will feel satisfied with your experience.
You can contact the BolehVPN customer support using its ticket-based system. The company has a 24×7 online customer support help desk, and its support staff is knowledgeable and helpful.
Jurisdiction
Many VPN users opted for VPN for the sake of privacy, therefore, they want their VPN provider to follow a strict "no-logs" policy. Whether a VPN provider can do that depends greatly on its jurisdiction.
The "14 Eyes" countries like the USA, the UK, etc. have institutionalized mass surveillance, and VPN providers with jurisdiction in those countries must abide by the local data retention laws. That compromises the ability of a VPN provider to implement a "no-logs" policy. Such companies may receive warrants from the governments that will compel them to share users' data.
With its jurisdiction in Seychelles, BolehVPN doesn't face such challenges. The company doesn't need to comply with data retention laws, moreover, it has received no warrants so far.
Server locations
BolehVPN has 35 servers in 12 countries around the world. It has a presence in Canada, France, Germany, Japan, Luxembourg, Malaysia, Netherlands, Singapore, Sweden, Switzerland, the UK, and the USA.
The number of servers is lower than several other VPN providers, however, it offers different options for each country. E.g., the company has BolehFlix and BolehGEO servers for unblocking Netflix from specific regions.
BolehVPN has "proxied" servers. You can use them to specify which traffic you will route through the VPN connection. This VPN provider also offers "surfing streaming" servers, which won't work for streaming services like Netflix, however, it unblocks other generic content.
Logs
As a matter of fact, all VPN providers have the capability to log their users' Internet activities. When a VPN provider proclaims that it has a "no-logs" policy, users can't really assess whether they genuinely follow such a policy. There's hardly any transparency concerning this, and users need to trust the VPN provider.
BolehVPN is different. While it claims to uphold a "no-logs" policy, it also clearly states that it will not allow anyone to conduct illegal and criminal activities using its VPN infrastructure. The company is clear that it will log the Internet activities if they suspect that a user is indulging in unlawful activities. BolehVPN also states that it will terminate the account of such users and will stop logging their activities after that.
This VPN provider also makes it clear that it will need to log the Internet activities of a user as a "last resort" for troubleshooting. BolehVPN clarifies that it will only log the activities in the affected server, moreover, it will stop logging as soon as it's no longer needed for troubleshooting. Such transparency is welcome!
The Pros And Cons of BolehVPN
The advantages of BolehVPN are as follows:
• Good privacy features, accompanied by transparency in its "no-logs" policy
• Strong security features including the OpenVPN protocol, robust encryption, "kill switches", and prevention against IP/DNS/WebRTC leaks
• Sufficient number of servers in key locations
• Supports for all key platforms like Windows, Mac, Linux, Android, iOS
• Supports routers like ASUS-WRT Merlin, DD-WRT, and TOR
• Unblocks streaming services like Netflix
• Allows P2P/torrenting
• Hides the fact of VPN usage
• Easy to use
• Privacy-friendly jurisdiction
• Robust customer support
• Reasonable pricing
There are a few disadvantages of BolehVPN, which are as follows:
• The lack of a custom iOS app
• Using it on iOS requires a bit more effort
• Not among the fastest VPN services
• Free-trial for 1 day only
Conclusion
A reliable VPN service can help you to browse the Internet with privacy and security, moreover, you can access streaming and P2P services. There are several VPN providers in the market, and BolehVPN is a credible service.
BolehVPN has robust privacy and security features, and it lets you access streaming and P2P services. It supports all key platforms and routers. BolehVPN doesn't offer the best speed and it has no custom iOS app.
However, BolehVPN maintains transparency concerning its "no-logs" policy, and its jurisdiction is suitable for maintaining privacy. The company has a reasonable pricing plan and offers robust customer support. BolehVPN is certainly a good choice!