There's no scarcity in VPN services, but that doesn't mean they're all worth paying for. Some companies do a far better job than others. And in 2017, Estonia-based cybersecurity company Nixworks OU released BulletVPN, a service designed with maximum security and privacy in mind.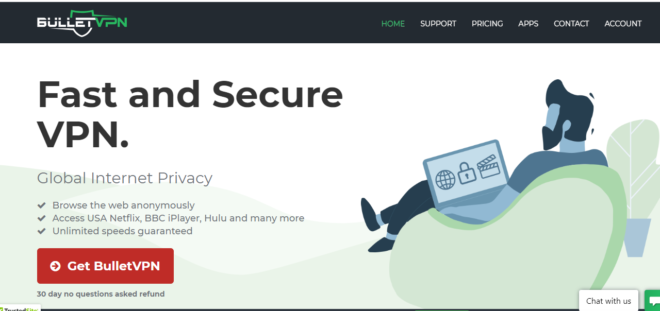 As a relatively young service, BulletVPN had to set itself apart from the competition. But how? Older and more popular services had tons of features — not to mention multiple servers all around the world. If Nixworks OU wanted a slice of the market, they needed to do things right and offer something new.
Thankfully, it seems that the company knew what they were doing right from the start. Its primary vision was to realize a genuinely liberated internet. And from here, BulletVPN was built to ensure that anyone anywhere could browse online without compromising their identity and safety.
But the question remains: How good is BulletVPN? Likewise, who can benefit the most from its features? If you're on the fence about this promising VPN service, check out our detailed BulletVPN review below.
Pricing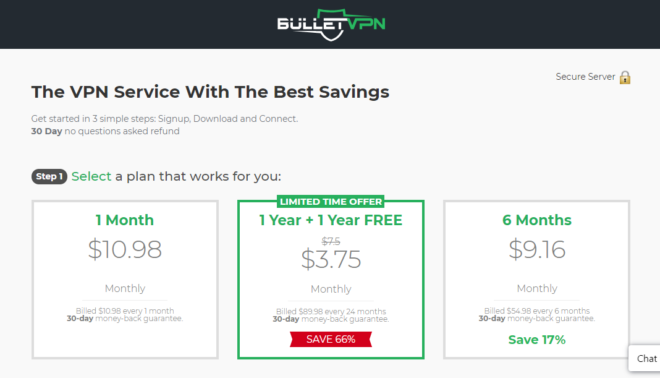 In 2020, BulletVPN expanded its pricing plans from three to five: monthly, six months, yearly, bi-annually, and lifetime. The shortest subscription is the monthly plan, which costs $10.98. This is quite a high price for a VPN service. Still, it's a sensible option for anyone who wants to test BulletVPN for a short while.
6-Month and 12-Month Offers
Admittedly, the six-month plan won't save you a lot of money compared to the monthly plan. Costing a total of $54.98, this one-time payment is equivalent to $9.16 monthly. Thus, you're only saving $1.82 a month.
If you want more substantial savings, go for the annual subscription plan. This will cost you $90 a year or just $7.50 a month. Still, this isn't the cheapest yearly plan in the market. For comparison, NordVPN's one-year plan costs just $83.88 — that's just $6.99 a month.
24-Month and Lifetime Plans
Here's the thing: It will cost you less to subscribe for 24 months than to subscribe for a single year. With how the two-year plan is priced right now, you're better off skipping the yearly plan. As of writing, the bi-annual plan costs only $89.98. In other words, you're paying just $3.75 a month.
But that's not the craziest thing about BulletVPN's subscription plans. If you want to use it for as long as you want, get the lifetime plan. Surely this will cost you the most, right? Nope. In reality, the lifetime plan costs less than half the annual plan: $39. This alone effectively sets BulletVPN apart from others.
Free Trial
They recently added a 1-day free trial available for Android app users. Worry not, though, because if you are not an Android user and still want to check their product before subscribing to their plan, you may contact Customer Support Department to request the free-trial.
Payment Methods
As expected, it accepts PayPal, which is the standard method for many stores around the world. Thus, you don't even need a credit card to get BulletVPN. But if you have a credit card, you can use it as well. The company utilizes Cardinity, Paddle, and Paymentwall for credit card transactions.
But what if you have cryptocurrency? Well, BulletVPN also accepts Bitcoin through Bitpay. And that's not all — it has three alternative payment options. Aside from e-wallets, you can pay using prepaid or bank transfer. With all these options, the VPN provider becomes a more feasible pick for many more people.
Payment Security
Even with all the payment options, they won't matter if your financial details are compromised. The good thing is that BulletVPN didn't forget about securing transactions. The payment page has a "Credit Card Safe" label from SecurityMetrics. This serves as proof that it passed their Vulnerability Assessment.
However, the certification doesn't mean that BulletVPN is completely protected from all cyber threats. At the least, the official website has no typical weakness or vulnerability. Plus, BulletVPN has a McAfee SECURE certification — proving it has an SSL certification and no malware or phishing activities.
Features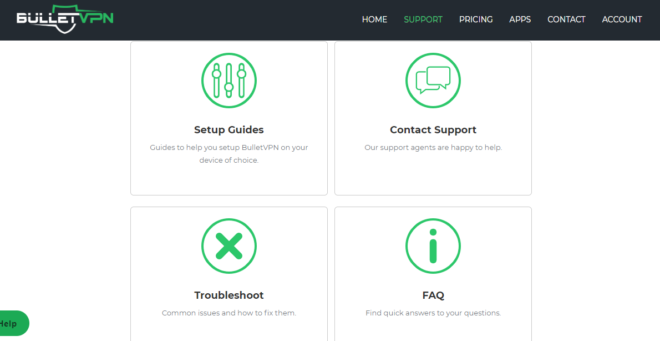 Free DNS: Your subscription comes with a smart DNS. It's not an add-on you have to pay extra money for. With it, you can stream content with ease — including on devices that don't allow VPNs. The platforms include Apple TV, Chromecast, PlayStation 3 and 4, Xbox One and 360, and smart TVs.
Kill Switch: BulletVPN has a kill switch to keep you secure at all times. If your device loses connection to the server without notice, this feature will stop it from connecting to the Internet. Thus, your internet is never exposed even when the VPN stops.
Bulletshield: This is designed to keep your device as secure as possible. If you are disconnected from the VPN, the kill switch immediately cuts the Internet connection. With the Bulletshield, you can't browse online until you're connected to one of the VPN servers again.
Multiple Devices: You can use your BulletVPN account on six devices at the same time. But while there is a limit to simultaneous use, you can install it on an unlimited number of devices.
Server Locations
As of writing, BulletVPN has 116 servers in seven regions. It's sure to grow in number — and the company isn't lying when it said that the service is spread around the world. Still, there is a lot to be desired. Other VPN providers have thousands of servers, which ensures all users have more than enough choices.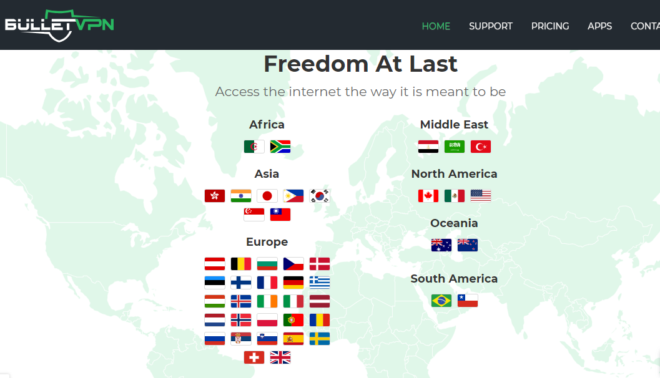 Then again, we commend the company for choosing the right initial locations. BulletVPN has servers in key areas around the globe. For example, there are only three servers so far in the Middle East. But they are located in the biggest and most popular cities: Cairo, Egypt; Riyadh, Saudi Arabia; and Bursa, Turkey.
Moreover, BulletVPN has most of its servers in two strategic regions: Europe and North America. As you might know, many countries in Europe offer high degrees of internet freedom. On a similar note, many users want access to geo-restricted content that's only available to those in Canada or the United States.
Check out the full list of the current servers in each region:
Africa: Algeria, South Africa
Asia: Hong Kong, India, Japan, Philippines, Republic of Korea, Singapore, Taiwan
Europe: Austria, Belgium, Bulgaria, Czech Republic, Denmark, Estonia, Finland, France, Germany, Greece, Hungary, Iceland, Ireland, Italy, Latvia, Netherlands, Norway, Poland, Portugal, Romania, Russian Federation, Serbia, Slovenia, Spain, Sweden, Switzerland, United Kingdom
Middle East: Egypt, Saudi Arabia, Turkey
North America: Canada, Mexico, United States
Oceania: Australia, New Zealand
South America: Brazil
Privacy
BulletVPN doesn't record which websites you browse while connected to their servers. The service does have logs, but only ones related to connections. Thus, it will only keep logs on bandwidth usage, starting and ending time, and the total time.
Encryption
BulletVPn uses 256-bit encryption, which is quite standard for the best VPN services. As its name implies, 256-bit encryption is far better and more complex than 128-bit and 192-bit encryption. Without it, data transmissions aren't secure enough. Even governments and military organizations use it for their data.
Customer Support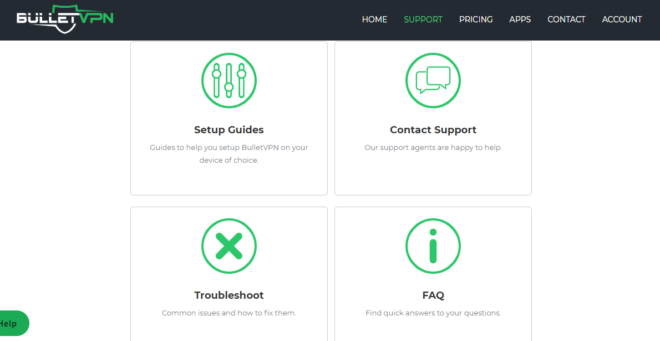 Setup Guides
Installing BulletVPN on your device may seem difficult without prior experience, but you don't have to go for it without guidance. The official website has a dedicated section for its many setup guides. There are over 100 articles covering everything from Android to iOS, macOS, routers, Windows, Linux, and Kodi.
The articles are well-written — there are numbered steps and there is no fluff. The instructions should be more than enough on most occasions, but on top of that, they have detailed photos and screenshots do completely guide users step-by-step through installing. There are also guide articles for other devices such as Linux, Kodi, and Roku.
Contact Support
If you need to contact the support team, you can go to the website and submit an online form. Here, you type in your email address, add attachments, and describe the issue. You can choose the priority level of your problem: low, normal, high, and urgent. Likewise, you can select other departments to contact.
Likewise, you can use the 24/7 live chat option if you don't want contact by email. Plus, the BulletVPN support team does communicate in languages other than English. You can ask in German, French, and Danish to get answers or to ask for remote support in installing the VPN.
Troubleshooting
BulletVPN has a page that provides answers to the most common connection issues. Sadly, there are just five issues such as "my internet drops when I am using VPN", "the website I am trying to access is blocked", and "I am unable to send emails when connected to VPN". There should be more content here.
FAQ
In contrast to the troubleshooting page, the FAQ page offers much more content. The content is made up of five categories: general VPN questions, VPN setup, Smart DNS, billing, and about BulletVPN. Thus, people who have no prior experience to VPNs and those that want to know the features benefit here.
Money-Back Guarantee
Like other VPN services, BulletVPN comes with a money-back guarantee. If you've already paid but you don't like the service, you can ask for a full refund. Nixworks OU won't ask any questions regarding your request if you do it within 30 days of getting the service. It's a typical duration, but it's not bad at all.
Speed and Performance
BulletVPN prioritizes privacy and security, but that doesn't mean they've ignored speed. To complement its industry-standard encryption measures, the company uses premium-grade carrier lines on its servers. These carrier lines help deliver the best speeds for all users.
BulletVPN has high-speed servers that maintain the best possible speed and are available in some countries including US, Netherlands, France, Germany and UK.
Despite the relatively low number of servers available as of writing, BulletVPN doesn't let them overload. Thus, users don't have to suffer any drastic downturns in speed while they're playing or streaming. Also, BulletVPN supports ultra-HD streaming and offers unlimited bandwidth no matter the subscription plan.
Compatibility
BulletVPN goes far beyond the usual platforms. While it does have apps for macOS, Windows, iOS, and Android, there's also a native client app for Amazon Fire TV. Moreover, users can use the service on Kodi, Linux, routers, and any other native VPN clients through manual configuration.
Conclusion
BulletVPN isn't one of the first VPN providers, but it's already made a good impression since its entry in 2017. One amazing thing worth noting is its competitive pricing. The monthly and six-month plans are far from ideal. But the yearly, two-year, and especially the lifetime subscription plans are worth the price.
To be fair, BulletVPN doesn't have a ton of servers. Still, most available servers are in-demand regions such as Europe and North America. Also, the servers are optimized for speed — the company ensures that servers never overload. And as for compatibility, BulletVPN excels with so many viable platforms.
Customer support is decent, but the troubleshooting articles are scarce. Still, from the kill switch and the no-logs policy to the innovative BulletShield, its features prove that Nixworks OU has its sights set on one goal: safe, anonymous Internet use. There's still a lot of room for improvement, but it's on the right path.