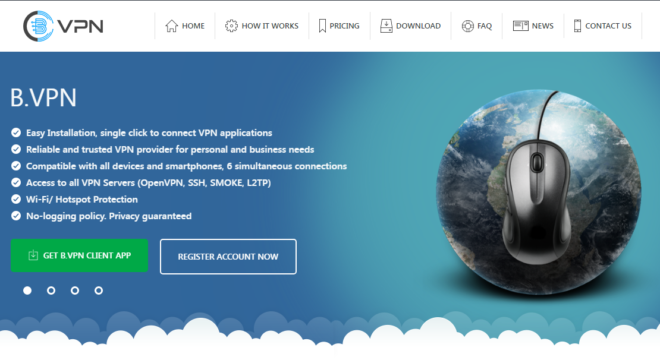 The VPN demand has seen a serious surge in the last several years, causing many of the existing companies to grow into huge providers, while new ones started emerging left and right. In that cluster of new VPNs, it can be difficult to spot the good ones, as there are so many bad options.
Because of that, we have decided to review as many of them as possible and find hidden gems of the VPN industry that are outshone by massive VPN providers with millions of users.
With that in mind, the one we would focus on today is a VPN called b.VPN, a Netherlands-based provider that has been around for a few years now, perfecting its technology and apps.
So, let's examine this provider thoroughly, and see all that a VPN user needs to know about it in order to assess whether or not this is a good provider for them. This includes things such as the plans and prices, servers, privacy, speed and performance, compatibility, other features, and more.
With that in mind, let's begin.
Pricing
Prices are an important aspect of a VPN, especially when you are looking into a relatively unknown provider. The top VPNs will be costly, often because they are worth it, but sometimes also because of their name.
This is why lesser-known VPNs can be relatively cheap, even though they can still be pretty good. When it comes to b.VPN, the service offers three different plans. They are pretty good for businesses and personal use alike.
What three plans does b.VPN offer?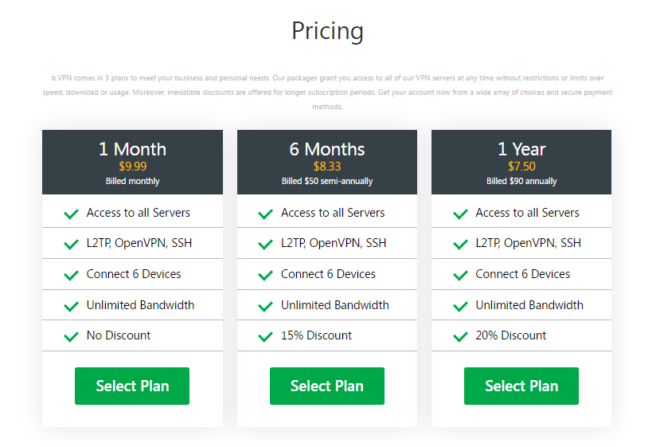 Of course, all three plans provide the same features, and you should not expect greater benefits with larger plans. However, the longer the plan you choose, the bigger the discount on the VPN's monthly price. Meanwhile, you will have peace of mind and not having to worry about setting money aside for each monthly payment.
The plans are as follows:
1-month plan — $9.99 per month
6-month plan — $8.33 per month, billed $50 once per 6 months (15% discount)
1-year plan — $7.50 per month, or $90 once per year (20% discount)
As you can see, it might pay off to purchase a long-term plan and pay less than $100 for full yearly coverage. In return, you gain quite a few excellent features, which we will mention and explain shortly.
For now, however, let's focus on one of the most important aspects of each VPN, which is:
Server Locations
As mentioned, server locations are a big part of a VPN, as its usefulness revolves around where in the world you can connect to the internet. This determines which areas you can unblock, whether or not you can break geo-restrictions and censorship, and alike.
Also, the physical proximity of the servers can affect your internet speed, as data needs to travel between your device and the server you are connected to. As you can imagine, this is very important for video streaming, online gaming, and similar activities.
Now, when it comes to b.VPN, its server network is not that large. In fact, the service only has around 26 servers in about 14 locations. Those are as follows:
The US
Canada
The UK
Germany
France
Netherlands
Sweden
Russia
Ukraine
Saudi Arabia
India
Singapore
Japan
Australia
All of the servers will be available the moment you pay for your subscription, and you can see that the servers are located in very popular locations. But, their number remains quite small, and it would be easy for them to get overcrowded.
This might be something that b.VPN should consider working on further, although it is certainly off to a good start.
Privacy
When it comes to privacy, b.VPN once again starts to experience minor problems. Its usefulness to you will mostly depend on what you need it for. Let us explain.
In the grand scheme of things, b.VPN sits somewhere in the middle, between the zero-logs providers and not-exactly-zero-logs providers.
In other words, yes, it keeps some logs, which includes your connection details, such as the time and duration of the connections, the IP address, the amount of bandwidth that you used, and alike. Fortunately, it doesn't keep any usage logs, but the amount of other data that it stores does not make it look particularly privacy-friendly.
Add the fact that it is based in the Netherlands — which is far from being a privacy haven since it is a member of the 14 Eyes Surveillance Alliance — and you may have an issue.
Once again, it depends on what you need it for. If you simply wish to access some censored sites or geo-restricted streaming services, you should be able to do it without any problems. However, anything more than that, and you might not be as safe as you would prefer.
Features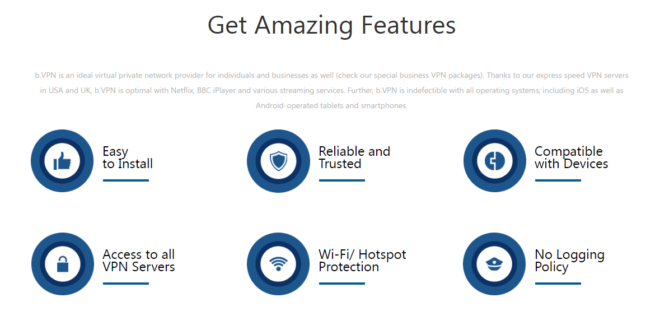 With that out of the way, we can now focus on the positives, as there are quite a few of those that you should consider. For example, b.VPN offers:
Multiple security protocols
Security protocols are another important part of a VPN, as they create a secure tunnel for your online traffic to go through. This tunnel protects it from view and b.VPN offers several of them for you to choose from.
Multiple simultaneous connections
Being able to protect your device with a VPN is great, but being able to protect multiple devices is much better. With b.VPN, you can easily protect up to 6 different devices with each of the three plans we discussed earlier. This is great for those who use multiple devices to connect to the web, and need to ensure the safety of data, especially while on the go.
No limit on the bandwidth
As you may know, some VPN services tend to introduce a bandwidth limit, where you need to pay extra to be able to handle larger quantities of data. b.VPN is not one of them, and you will have unlimited bandwidth, no matter which plans you choose. That means that you can stream, download, or upload content as much as you want, and you still won't breach any limits or run into obstacles.
Low prices
b.VPN is aware of the fact that it is not one of the top dogs in the VPN industry, at least not at this time. With that in mind, it does charge for its services quite adequately. Its prices are significantly lower than what the best VPNs are charging, so this might be a great service if you wish to have your device protected from online threats and surveillance, while still not paying a fortune for it.
Support for all popular systems
b.VPN is also compatible with all the popular systems, meaning that it is available to a large majority of the world's internet users.
Good security
While it doesn't shine the brightest from the privacy perspective, b.VPN's security is not bad at all. We have already mentioned multiple security protocols. In addition to that, it also offers the industry's strongest encryption, SMOKE tunnel, and it even accepts Bitcoin. So, you can see that it does all in its power to balance security and deliver as much privacy as possible while still collecting what it needs to for bettering its service. It also needs to be compliant with the Netherlands' laws, so there is that, as well.
Great customer support
The customer support is a big part of a VPN service, which is something that many providers fail to understand. Not b.VPN, however, and we expect that you will be quite pleased with its customer support's performance, should you ever have to contact them and ask for help.
Encry00ption
With the general overview of the b.VPN features behind us, let's focus on some important aspects, such as encryption. As mentioned earlier, b.VPN did very well when it comes to security. It uses 256-bit AES encryption, which is the strongest one in the industry.
It was never broken, and that means that all of your data will be safe, even if someone gets a chance to see it. They will find it unreadable, and they won't have any way to unlock it.
Meanwhile, the data will be protected by security protocols, too. b.VPN uses the industry's best, known as OpenVPN. In addition to that one, it also offers a few others, such as L2TP and SSH.
Customer Support
b.VPN customer support is also quite excellent, as its support team can be reached at any time. You can contact support by:
Sending an email
The b.VPN website offers numerous ways of contacting its support team, one of which is to send an email to [email protected]. This is the support's official email, and it will answer as soon as possible, being available 24/7.
Live chat
Another option is live chat, which is a great choice for those in a hurry. As mentioned, the support is available at all times, so you don't have to wait for them to respond to your email, you can simply chat with the member of the team at any time. Team members are polite and professional and quick to respond.
Giving them a call
Apart from email and live chat, the service also left us a phone number for those who may wish to contact its service that way. The number is also displayed on the website (+31713020219).
Check out the FAQ
If you like understanding the issue on your own, you may want to check out the service's FAQ, rather than contact the support right away. The "How It Works" section also has quite a few explanations, guides, and alike, which may prove useful if you are simply confused by some aspect of the service.
Money-Back Guarantee
Another important thing about VPNs is their money-back guarantee. Most VPNs offer a money-back guarantee that lasts for 30 days, which is something of a typical period in the industry.
Now, b.VPN's money-back guarantee is shorter than that, and it only lasts for 7 days. Some might say that this is quite short and that the VPN doesn't give you enough time to check it out. However, we would disagree.
The customer support is available 24/7, so you can request your money back at any moment during those 7 days. Also, 7 days is probably more than enough for you to try to access the online content that you wish to access, and see if it is possible or not with this VPN.
One more thing to keep in mind is that b.VPN also offers a free trial. While it is limited, it is still good enough for you to use it until you learn how the VPN works. If you purchase a premium plan afterward, you can simply confirm if its full features can satisfy your needs. If they do, great. If they don't, you will likely know it within hours, and you can then decide if this service works well for you or not.
In other words, combining b.VPN's free trial and money-back guarantee should give you plenty of time to test the VPN and develop your own opinion.
Speed And Performance
The next important thing to consider is b.VPN's speed and performance. When it comes to this, the service is not the best, but also not the worst. Speeds are okay, although nothing particularly impressive.
As you probably know, VPNs encrypt all of your traffic, and that takes its toll — your speeds are reduced. Some VPNs do it faster; others do it slower. When it comes to the desktop app for b.VPN, the speed drop was not that unreasonable, although the mobile version of the app slowed them down severely.
Fortunately, the tests have shown that there are no leaks of any kind, so we are still quite satisfied with the security aspect. But, when it comes to speeds, they are okay, at best.
Compatibility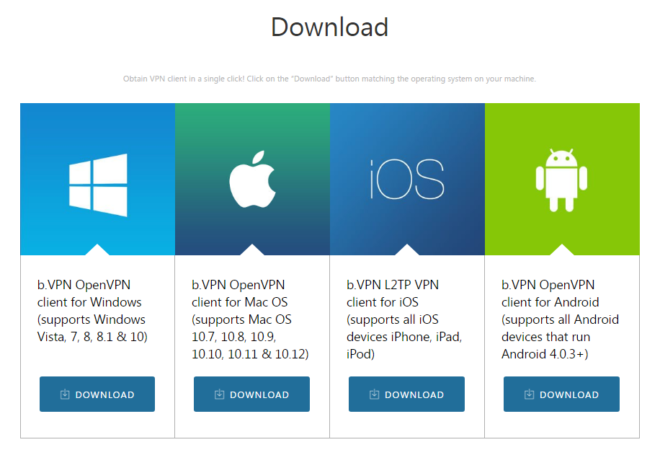 Last but not least — we should discuss compatibility.
b.VPN offers multiple apps for multiple devices and systems. That includes dedicated VPN applications for the four most popular OS' out there:
While there are some VPNs that offer support for Smart TVs, gaming consoles, and alike, b.VPN decided to stick with the basics for now, which is understandable. After all, the devices that run these systems are currently the most popular and the most used in the world, so it makes sense to focus on them.
Support for Linux might be the most noticeable lack, but who knows, maybe the service decides to add that someday, as well.
Conclusion
In the end, should you use b.VPN? Is it a good VPN? The answer is not as simple as yes or no. b.VPN does show a lot of promise, and it also lacks in some areas. Its server network is small, but that can be fixed. The fact that it keeps performance logs and the fact that it is based in a country that's a member of the 14 Eyes surveillance alliance is something you'll have to think of.
Its security and customer support are quite great, and so are the prices, its knowledge base, and alike. It offers apps for the basic set of devices and systems, but that won't be a problem for most users. Of course, having a Chrome or Firefox extension would be useful, as then you would be able to use it on any device that can run those browsers.
So, with all this taken into account, we can only say that it can be a good choice if you are planning to use it for your own online security and potentially for unblocking geo-restricted and censored content. If you need a VPN for privacy or high speeds, you might want to look elsewhere.