CyberGhost VPN has been around for over 15 years, and it's now one of the biggest names in the industry. The VPN has caught lots of attention in the past few years, with vast improvements that they have done to offer a superior product and service. It now boasts sleek custom apps and the biggest server network in the entire industry.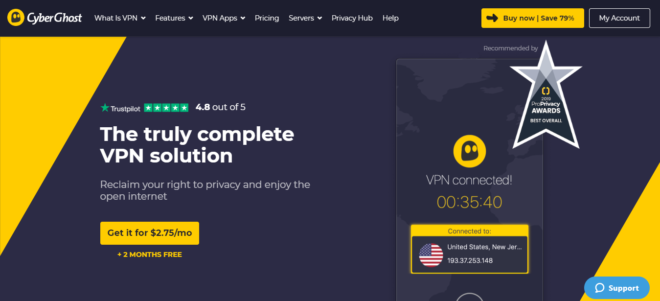 CyberGhost VPN has plenty of dedicated apps, thousands of servers, and a great service delivery. This, combined with the VPN's excellent functionality, has seen CyberGhost VPN make it to our top 3 best VPN providers. In this review, we'll look at the VPN in more detail to help you determine if it's the right choice for you.
CyberGhost VPN Features
Device compatibility
CyberGhost VPN has custom VPN clients for almost all popular platforms and devices. These include:
Windows
MacOS
Linux
Android
iOS
Android TV
Amazon Fire Stick & Fire TV
Chrome & Firefox

The Chrome and Firefox extension are free versions of the VPN, and you can connect up to 8 servers in 4 different countries. You can also configure the VPN manually on an OpenVPN-capable router to secure the whole network.
Streaming And Torrenting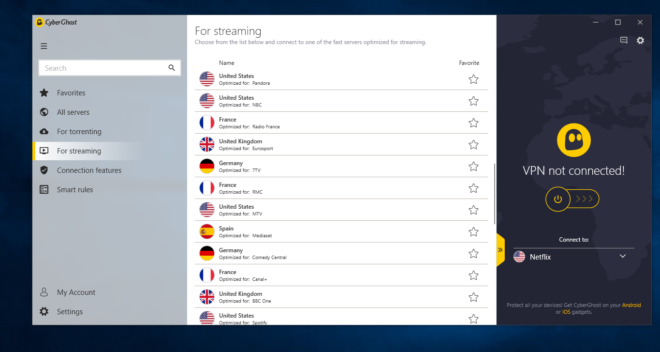 CyberGhost VPN offers specific support for torrenting and streaming. While most VPNs prefer to hide their torrent-support status, CyberGhost VPN has a section known as "For Torrenting" on their app. This section has several servers based in torrent-friendly countries.
The "For Streaming" section also comes in handy, as you won't have to go through the usual trial and error with servers. All servers there are clearly labeled with the streaming services they support. Amongst them are Netflix (US, UK, FR, and De), Amazon Prime, HBO Now, BBC iPlayer, YouTube, Spotify, and so many other services.
If you want a VPN for streaming, CyberGhost VPN can prove to be a smart choice.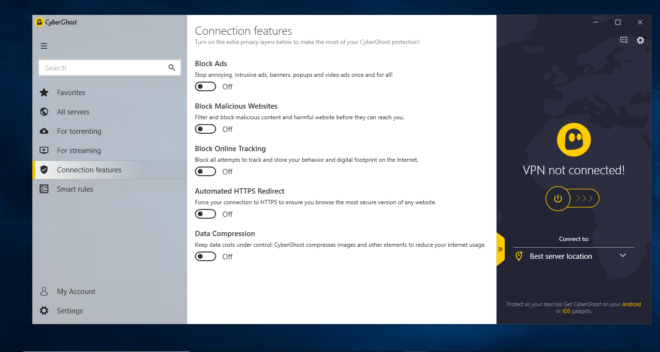 Ad, Tracking, and Malicious Website Blocking
CyberGhost VPN offers complete privacy and security suite by allowing you to:
• Block annoying, intrusive ads, banners, popups, and videos
• Filter and block malicious content and harmful websites
• Block attempts to track and store your behavior and digital footprint
• Force your connection to HTTPS to ensure secure access to websites
All these features can be activated by turning them on using CyberGhost VPN apps.
Split Tunneling
The VPN introduced this feature, and it allows you to choose apps that you wish to encrypt and those that should use unencrypted traffic. This lets you exclude apps that need to remain local, such as the ones you use for work.
Dedicated IP
CyberGhost VPN offers dedicated IP as an addon while purchasing the VPN. Such an IP will be yours every time you connect, and it will not be shared with any other person online. You can, therefore, use it to secure your remote connections to any assets.
The VPN's dedicated IP payment plans are tied to the subscription that you purchase, and it costs $5 for a month. I.e., If you choose the 2-year plan, you will be billed the corresponding amount for the entire period at once.
Automatic Kill Switch
There are times when you can lose your VPN connection due to a change of servers or for whatever other reason. That short duration exposes what you are doing to your ISP, which is not something you'd want. CyberGhost VPN's kill switch disables your internet connection at such times to prevent exposure. This comes in handy, especially when you are doing activities such as downloading or streaming torrents.
Up to 7 simultaneous connections
CyberGhost VPN lets you secure all your devices by allowing up to 7 simultaneous connections using a single account. This number is bigger than that of most VPNs, and so CyberGhost VPN is a good option if you want to share your subscription with family.
Server Locations
Within less than three years, CyberGhost VPN has more than doubled the size of their server fleet. The VPN now boasts an impressive 6,000+ servers spread across 111 locations in 90 countries. This is the largest server network in the industry at the moment, and it seems to be expanding fast.
With such good distribution, you can always get servers near you and others in almost every region to circumvent all geo-restrictions. Currently represented countries in alphabetical order are:
Albania, Algeria, Andorra, Argentina, Armenia, Australia, Austria, Bahamas, Bangladesh, Belarus, Belgium, Bosnia and Herzegovina, Brazil, Bulgaria, Cambodia, Canada, Chile, China, Costa Rica, Croatia, Cyprus, Czech Republic, Denmark, Egypt, Estonia, Finland, France, Georgia, Germany, Greece, Greenland, Hong Kong SAR China, Hungary, Iceland, India, Indonesia, Iran, Ireland, Isle of Man, Israel, Italy, Japan, Kazakhstan, Kenya, Latvia, Liechtenstein, Lithuania, Luxembourg, Macau SAR China, Macedonia, Malaysia, Malta, Mexico, Moldova, Monaco, Mongolia, Montenegro, Morocco, Netherlands, New Zealand, Nigeria, Norway, Pakistan, Panama, Philippines, Poland, Portugal, Qatar, Romania, Russia, Saudi Arabia, Serbia, Singapore, Slovakia, Slovenia, South Africa, South Korea, Spain, Sri Lanka, Sweden, Switzerland, Taiwan, Thailand, Ukraine, United Arab Emirates, United Kingdom, United States, Venezuela, and Vietnam.
Privacy & Security
Privacy
Being based in Romania, CyberGhost VPN is outside the jurisdiction of the Five Eyes, Nine Eyes, and 14 Eyes surveillance alliances. The country has no mandatory data retention laws, and this gives CyberGhost VPN a good opportunity to offer maximum privacy.
The VPN clearly states that "we are NOT storing connection logs, meaning that we DON'T have any logs tied to your IP address, connection timestamp, or session duration." They also do not have information about the payment details you submitted to their payment processor, and so you will always be private with CyberGhost VPN.
There were some concerns 2 years ago when the VPN was acquired by a London-based digital product company. Subscribers feared that Crossrider (now Kape Technologies) would impose keeping logs or compromise privacy policies since it's based in the UK, a region known for invasive privacy laws.
However, these concerns were quickly addressed by Robert Knapp, CyberGhost VPN co-founder. To the relief of users, the VPN retained its operations in Romania. The privacy of users wasn't affected whatsoever.
Security
When it comes to VPNs, the security of a VPN is determined by the encryption standards that the VPN uses, and the security protocols available. CyberGhost VPN uses the industry-standard AES 256-bit encryption, which is super secure and combines this with a 2048-bit RSA key and HMAC SHA-2 authentication. Generally, this is top-notch security that can't be breached.
As for the protocols, the VPN gives users a chance to choose a protocol depending on their network and online activities. Available protocols are:
• OpenVPN (UDP & TCP)
• IKev2
• WireGuard IPsec
CyberGhost VPN recently stopped supporting PPTP and L2TP, which are outdated protocols with some flaws.
Apart from the encryption and protocols, CyberGhost VPN also has a kill switch to protect privacy in case of a disconnection, and DNS/ IPv6 leak protection to prevent accidental exposures.
Speed & Performance
When testing CyberGhost VPN, we didn't encounter any issues. The signup process was straightforward, and the VPN apps easy to use. The VPN features also worked extremely well.
In terms of speed, the huge number of CyberGhost VPN servers ensures that you can always get the best speeds, especially when using the streaming or torrenting servers.
However, there were some inconsistencies when using distant servers, especially in unpopular locations. This may be attributed to the distance, and so it's recommended to use servers near you.
For even better speeds, you can change your protocol from the default OpenVPN to IKev2.
Customer Support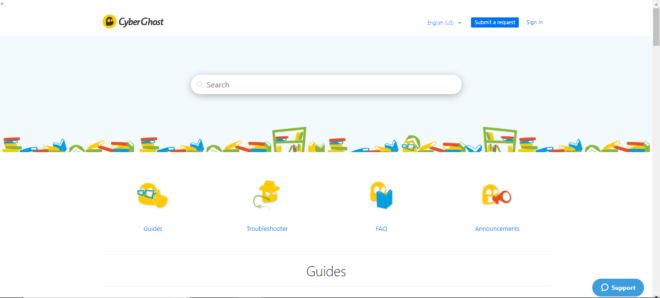 CyberGhost VPN offers several customer support avenues:
• Live Chat
• Email/ Ticket Support
• Knowledge center
The live chat is quite convenient as you can quickly connect with an agent and have your issues sorted. This team is available 24/7, and so you can always get a reply within a short time.
If you are facing technical issues, you might not even have to contact support as CyberGhost VPN has a rich knowledge base. There are many FAQs, setup guides, and troubleshooting guides.
Pricing And Plans
All CyberGhost VPN plans offer the same features. The only difference is the subscription period. The monthly plan goes for $12.99 a month. This is a relatively high price, but the service provided is worth every penny. However, you can also save big with extended CyberGhost VPN plans.
1-Year, 2-Year, and 3-Year Plans
These three plans offer a chance of saving big and therefore provide better value. The yearly plan goes for $71.88, which translates to $5.99 a month, and a saving of almost 54%.
The 2-year plan goes for $88.56. That's $3.69 a month, with a 71.6% saving.
The 3-year plans comes with the biggest savings and costs $99. You'll pay $2.75 a month, saving about 78%. You will also get 2 months added to your subscription for free.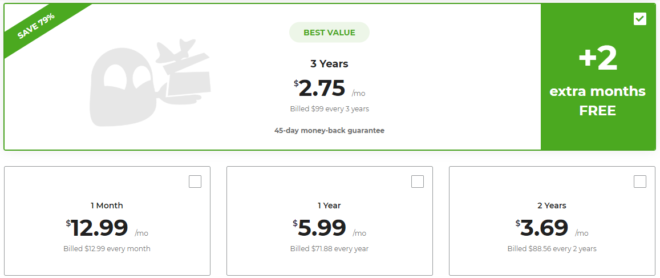 Free Trial
Choosing a VPN can be quite complicated at times, and so you may need to try the product before you commit. Fortunately, CyberGhost VPN provides this opportunity (unlike most top VPNs) through their 1-day trial on PC and 7-day trial on mobile phones. This trial doesn't require you to use a credit card, and therefore you won't have to worry about cancelling.
Further, the trial provides all the features of CyberGhost VPN. Even though it only lasts for 24 hours, this is enough time to test the features, ensure it has servers in the right locations, and generally try out the service.
Payment Methods
CyberGhost VPN makes payments convenient due to the wide range of payment options. These include Visa, MasterCard, American Express, PayPal, and Bitcoin. Bitcoin support is a good option for users who would like to maintain their anonymity when making payments.
Money-back Guarantee
Apart from the free trial, CyberGhost VPN also gives users another chance to test the VPN for longer risk-free. This is through their 100% money-back guarantee that is offered for all their subscription plans. The 1-month subscription plan has a 14-day money-back guarantee. The others come with a 45-day money-back guarantee.
CyberGhost VPN is also one of the few VPNs that offer refunds for customers who use Bitcoin for payment.
If you'd like to get your money back for whatever reason, all you need to do is get in touch with one of their agents through their live chat system or send them an email.
Pros & Cons
CyberGhost VPN Pros
• Super-fast
• Strict no-logs policy
• Solid encryption
• Huge server network
• Supports multiple streaming services
• Optimized for torrents
• Multiple protocols
• Unlimited bandwidth
• Up to 7 simultaneous connections
• Supports Bitcoin payment
• 45-day money-back guarantee
CyberGhost VPN Cons
• Slow speeds on some servers
• High cost for monthly subscriptions
Conclusion
CyberGhost VPN is a solid option as it provides an all-round service. Its privacy policy is among the best, and the fact that it's based outside the grip of surveillance alliances give it quite a boost on privacy. It also does well in terms of streaming since you can unblock almost all popular services, and their vast, fast-growing server network shows the effort and resources being put to ensure quality services. Overall, CyberGhost VPN is a solid VPN service, one that we'd gladly recommend.