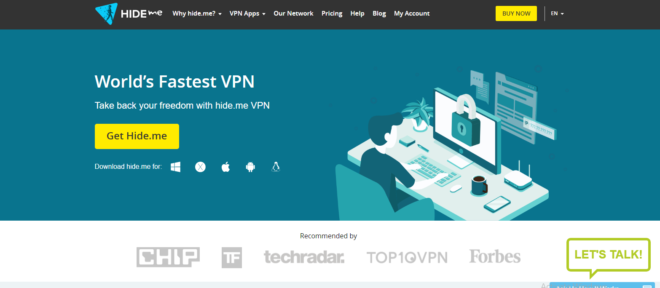 Hide.me VPN is typically not considered to be among the VPN elite, although the service certainly does have some of the elements of the best VPNs on the market. Still, the VPN sector is very competitive these days, and sometimes, even great-quality services end up lost in the sea of others.
Today, as part of our efforts to uncover hidden gems and reveal the bad services, we are going to review Hide.me and see if it has what it takes to be considered one of the top VPNs in the industry.
Pricing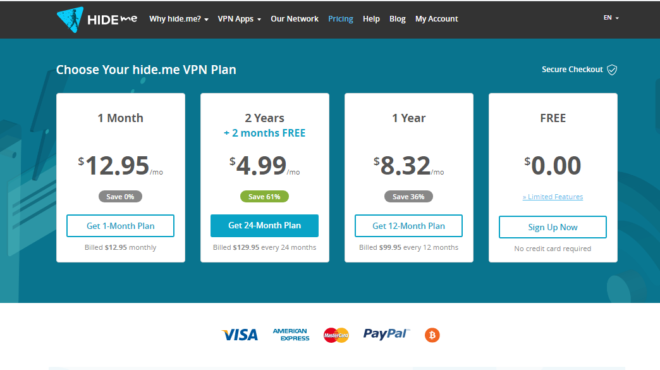 With so many premium services around these days, the spare money is tight, so let's start with this VPN's pricing and see how much would you have to dedicate to it, if you decide to use it.
Already, we can see that Hide.me has an understanding for its users, as well as the will to support those who cannot pay for its premium plans. This is obvious from the fact that the service offers a free plan. Naturally, it is a limited one, but we can talk more about that later on. For now, here are what its plans and prices look like:
Free plan with limited features — $0 per month
1-Month plan — $12.95 per month
1-Year plan — $8.32 per month, save 36% (billed $99.95 once per year)
2-Year plan — $4.99 per month, save 61% (billed $129.95 once per two years)
From here, we can see that Hide.me certainly has the prices of some of the largest services. Let's see what else it has to offer, and whether such a price is worth paying.
Interface And Ease of Use
When it comes to the app's ease of use, it is very straightforward, which makes it perfect for new users, as well as for the experienced ones. Downloading it from the Hide.me website — or the app stores for those who intend to use mobile version — is simple and it only lasts for a few seconds.
The installation itself is extremely quick and easy, and all that remains is to launch the app. Once the app starts, you will get a login screen, where you can type in your login credentials. Immediately, you will be greeted with a simple interface, with the blue background, and a big 'Enable VPN' button right in the middle.
On the bottom-right side, you have information regarding the server to which you are connected. Of course, the default state is disconnected, but you can easily pick a server by clicking on the small 'Change' button in the corner. The left-hand corner on the bottom displays your IP address, and offers further details. Upper-left corner features a small notification bell which you can click to see the latest messages in the Message Center, and finally, the upper-right corner features a familiar cog that opens up the settings.
Clicking on that will immediately show you your account and app information, and on the left side of the app, you can choose between different options, such as:
Information
Settings
Auto Connect
Split Tunnel
Stealth Guard
Kill Switch
VPN Protocol
Support
Browsers
In other words, the interface is pretty straightforward and easy for anyone to navigate, so Hide.me gets a plus for that.
Servers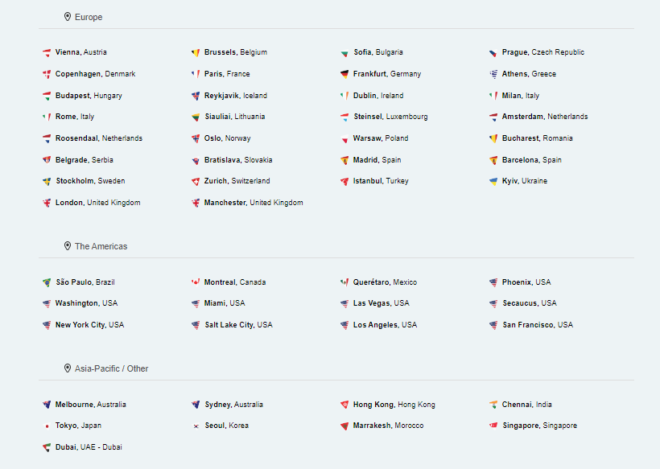 When it comes to its servers and locations, Hide.me has a pretty decent-sized network, with 1560 servers in around 60 locations. It covers:
Europe: Austria, Belgium, Bulgaria, Czech Republic, Denmark, France, Germany, Greece, Hungary, Iceland, Ireland, Italy, Lithuania, Luxembourg, Netherlands, Norway, Poland, Romania, Serbia, Slovakia, Spain, Switzerland, Turkey, Ukraine, United Kingdom
America: Brazil, Canada, Mexico, United States
Asia/Pacific/Other: Australia, Hong Kong, India, Japan, Korea, Morocco, Singapore, UAE
Obviously, the service doesn't have a particularly strong presence in South America or Africa, but the most popular locations are covered, so you will likely be able to unblock most content from those areas.
Privacy
As far as privacy is concerned, Hide.me seems to have a pretty good offer. It has advanced privacy features, such as split tunnelling and kill switch. It claims that it stores zero logs, which is always a desirable trait when it comes to VPNs.
In fact, in its privacy policy, the company continues to claim that its systems are designed with the users' privacy in mind. They further add that they tried their best to make the policy clear and simple for everyone to understand, instead of hiding the truth in complex legal texts.
In other words, the company used clear and direct language to say the following: "We do NOT keep logs of your VPN sessions, browsing behaviour, websites you visit or any activity related to your VPN connection. In addition, we NEVER store VPN connection logs and timestamps that match your incoming and outgoing IP address or session duration." That's good enough for us.
Data that IS collected, on the other hand, includes the users' email addresses, which are stored in an encrypted form. That's pretty much it.
Features
As indicated earlier, Hide.me is quite rich with features. It offers a lot, which includes:
Four different payment plans, one of which is free
Affordable prices
Zero-logs policy
A huge server network
The strongest encryption
Multiple security protocols
Split tunnelling
A kill switch
Auto-connect
Stealth Guard
Great customer support
User-friendly app
Multiple dedicated apps for various devices and systems
The ability to use its app on 10 devices simultaneously
A money-back guarantee
Good speed
The ability to unblock Netflix
So far, so good. This VPN has a lot to offer, and there were zero red flags until now, so let's move on and see how it performs, protects, and supports.
Encryption
Like every other top VPN in the industry, Hide.me uses the most powerful encryption that exists at the moment — a 256-bit AES encryption. With it, it makes all of your data traffic unreadable to anyone but yourself, meaning that even if someone somehow manages to break through security protocols that protect your data flow (OpenVPN, IKEv2, SoftEtherVPN, or SSTP) — your data will still be safe.
This encryption was never broken, and it likely never will be, or at least not without quantum computing.
Customer Support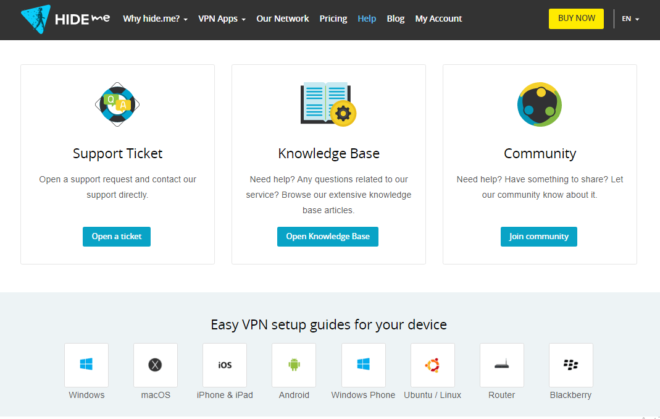 Next, we have customer support, and Hide.me VPN doesn't disappoint in this area, either. Let's start by saying that you get complete customer support even with its free package. You can contact the support via live chat, email or via tickets, and request help.
The support is quite helpful and quick to respond, which once again displays the service's dedication to customer care. We have nothing negative to say about this aspect of the service, either, so let's move on.
Money-Back Guarantee
As do most other VPNs, Hide.me also has a money-back guarantee. Also, it lasts for 30 days, which is pretty much the industry's standard, and an average length of a guarantee of this kind.
Simply put, you can request your money back at any point during the first 30 days from the moment you subscribe to Hide.me VPN's service. Add the fact that there is also a free plan involved, and we believe that you will have more than enough time to check out the service and decide whether or not it is good enough for you and your needs.
Speed and Performance
Now, it is time to talk about the speeds, and see how much this VPN slows you down. Now, it is important to note that every VPN slows down your internet speed, simply due to the fact that it encrypts all of your content. However, not every VPN does it in the same way. In other words, there are those who slow you down more, as well as those who slow you down less.
When we tested our original internet speed, we used speedtest by Ookla, and here are our results.

As you can see, our download speed ended up being at 37.40 Mbps, while the upload speed was at 7.85 Mbps. Now, here are our results after connecting to one of the nearby servers owned by Hide.me VPN:

Our download speed dropped by around 10 Mbps, which is pretty good. The upload speed remained pretty much the same, which is also excellent.
Now, since we did our tests in Europe, here are the results when we connected to a distant server in the US:

As you can see, our download speed is at 21.99 Mbps, which is about 15 Mbps bellow regular speed. However, considering the fact that the server in question is pretty distant, it is still more than acceptable. As for the upload speed, it dropped significantly this time, to 3.91 Mbps, although the distance of the server once again makes it pretty understandable.
Compatibility
With the speed out of the way, let's take a look at this VPN's compatibility — where can you use it? As mentioned already, Hide.me allows you to use it on 10 different devices simultaneously. Meanwhile, the service offers dedicated apps for Windows, Linux, Android, iOS, Mac, Amazon Fire OS, routers, as well as extensions for two browsers — Chrome and Firefox.
In other words, you can use it on most popular devices, and that's without having to do any manual tweaking that would make it compatible with extra devices. Also, since it has browser extensions, you can also easily use it on any device that can run Chrome and Firefox, which means — pretty much everything.
How to get a free trial account?
Finally, let's talk about how you can test Hide.me for yourself by opening a free account. The process is pretty quick and simple, and all you need to do is follow these few steps:
1. Go to hide.me website
2. Click on the big yellow 'Get Hide.me' button
3. Select the Free Account by clicking on the Sign Up Now button.
4. Enter your email address and hit Register
5. Download the VPN app for the device you need
6. Log in
7. Connect to one of the servers, and you're done
Now, it is worth noting that Hide.me has limitations on the free account. For example, you only get 2GB of bandwidth per month, and you only get a few servers to choose from. Also, none of them supports P2P traffic, so they would not be good for torrenting.
However, if you are simply looking to test out this service before you decide whether or not to upgrade to a premium account, then this will be more than enough. Also, remember that there is always that 30-day money-back guarantee, just in case you change your mind after subscribing.
Conclusion
In the end, is Hide.me a good VPN? We believe that it is. The service is extremely dedicated to user privacy and security, with numerous features that will keep you safe. It has a big server network that stretches around the world, and its speeds are more than decent.
It offers a money-back guarantee, a strong and knowledgeable customer service, and you can even use it to unblock and stream US Netflix and other services. On top of all of that, it offers a free account that does have its limits, but it is more than good enough for testing out the service and checking if it is good for you or not.