As the demand for VPN services surges, new users often don't know which provider to choose, which is why we have decided to look into them for you, and today — we will talk about InvozBox.
Using the internet without protection is becoming more and more difficult with each passing year. People recognized issues such as geo-restrictions, censorship, online surveillance, and they started searching for a solution that would allow them to resolve these issues. Naturally, it wasn't long before they found VPNs.
These days, there are hundreds of providers out there, each with its own app and a special deal, trying to attract users.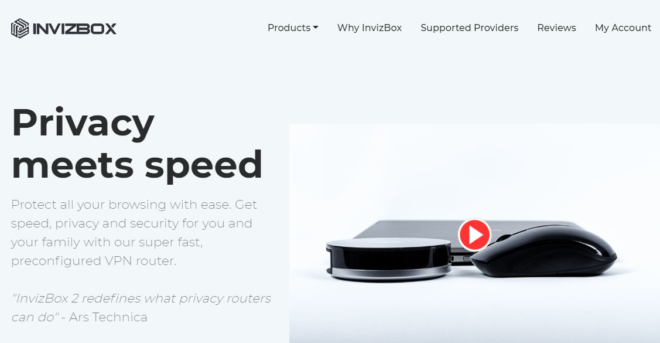 However, the provider that we would talk about today is not your typical VPN that has a standard approach, with an intuitive app that can be downloaded to an individual device and used separately. Instead, Invizbox offers a physical box that you can order and connect to your router directly. Doing so will allow you to protect your entire internet connection instead of having to download and enable an app on each individual device.
So, apart from being more convenient, let's see how InvizBox performs, what it has to offer, how much it costs, and more.
Pricing
For a lot of people, price is the first thing we look at while checking out a product, so let's start with that.
The first thing that you should know is that InvizBox offers two versions of its product — InvizBox 2, and InvizBox Go. InvizBox 2 is a box that you can use at home or at work and easily protect your entire connection by plugging it into your existing router.
InvizBox Go, on the other hand, is a small and discreet portable hardware VPN router that lets you secure your device while traveling around town or around the world. You can easily take it anywhere with you, and use it to protect your phone, laptop, tablet, or any other device in places like hotels, airports, parks, cafes and alike — wherever you have to use public Wi-Fi.
Each of these comes with three different plans, each of which offers different prices.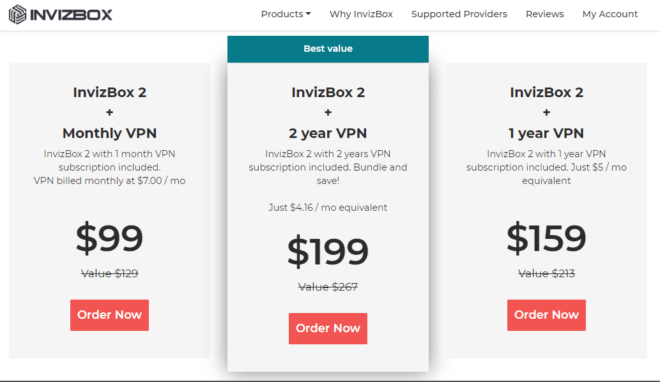 So, if you wish to purchase InvizBox 2, you can choose from:
1. InvizBox 2 + Monthly VPN subscription — $99. ($7 per month for a VPN in following months)
2. InvizBox 2 + 1-year VPN subscription — $152 ($5 per month, billed annually)
3. InvizBox 2 + 2-year VPN subscription — $199 ($4.16 per month, billed once in 2 years)
Meanwhile, InvizBox Go offers three different plans of its own:
1. Bronze Package — InvizBox Go with 1-month subscription — $69 ($7 per month for VPN)
2. Silver Package — InvizBox Go + 1-year subscription — $119 ($5 per month)
3. Gold Package — InvizBox Go + 2-year subscription — $150 ($4.16 per month)
You can pay for any of the plans via credit card, PayPal, or cryptocurrency, and if you choose the crypto option, you also get a 10% discount.
Features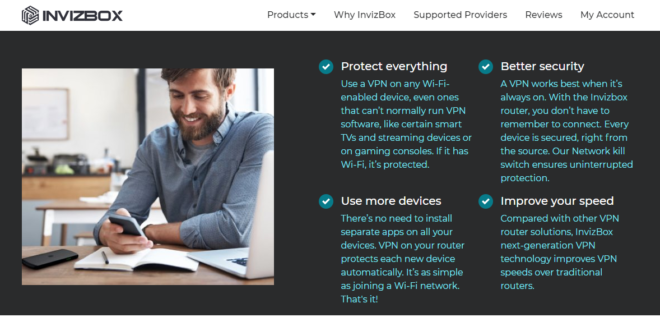 InvizBox is rich with features, as we are about to see. It offers:
● Low VPN subscription price for each plan (with a discount on long-term plans)
● Fast speeds
● 200 servers in 60 different countries
● Doesn't keep logs
● It has the strongest encryption in the industry
● It has a kill switch
● Unlimited devices per license
● It has a standard version and a Go version
● Dual-band 2.4G and 5G with Wi-Fi
● Quad-core processor
● Unblocks Netflix and BBC iPlayer, among others
● Dedicated streaming servers in the UK, US, Japan, and Canada
● and more.
Ease of Use
Next up, we have ease of use. With InvizBox being different from a typical VPN, many might feel intimidated by a different approach, especially if you never worked with crypto-enabled routers before. However, you should not worry.
Getting started with InvizBox is extremely easy. All you need to do is order the box, and once it arrives, connect it to your router via the ethernet cable (that comes with the box), and finish by connecting the box to a power source via the USB cable (also comes in the package).
After that, use your device to find an InvizBox Wi-Fi access point, and use the password that comes printed on the outside of the box. You will be instantly connected to the free server, and that will be it.
Well, almost. You can still make some configuration changes, and of course, that will include changing the server you are connecting to. To do that, you need to access the admin page. This is all pretty easy, although some users reported difficulties when it comes to accessing the admin pages with some browsers, including Chrome or Edge. If you use these browsers and you experience any issues, simply try Firefox, as no one reported problems with that one, as far as it is known.
Servers

Apart from the issues with accessing the admin pages, there were no other problems when it comes to using the device or accessing its servers. In fact, during the testing, we were able to access any server of our choosing, with no connection drops or other problems.
Naturally, the speed of the servers changes depending on the server's distance, but the closest ones provided excellent speeds.
The number of servers is also decent, sitting at 200. It is not as much as what some top providers have to offer, but it is not that bad, either. Especially considering that servers are available in 60 different countries, which is one of the best coverages that you can find across the VPN industry.
Privacy
When it comes to privacy, InvizBox has you covered. The service does not keep logs, which is probably the most important aspect of every VPN.
InvizBox uses the Tor network to offer a secure, stable, and anonymous internet connection. It has no bandwidth limit, and despite the fact that it uses the Tor network, it still has pretty decent speeds — good enough for streaming Netflix.
In addition to that, InvizBox uses the VPN industry's strongest encryption, 256-bit AES. It also has other privacy features, such as a kill switch, that will keep you safe in case something goes wrong and the VPN malfunctions. Kill switch will instantly sever your connection to the internet, thus keeping you safe.
Customer Support
When it comes to InvizBox's customer support, there is one thing that you should be ready for, and that's the fact that it doesn't have a live chat. Usually, that is a bad sign, and it means that you are likely to have long waiting periods before you receive a response, which is something that we expected to be the case with InvizBox, as well.
Surprisingly, this was not true, and the firm's operator responded within two hours. All additional requests for help or information were answered at a similar speed, which is understandable, given the situation.
Money-Back Guarantee
Another thing worth noting is that InvizBox also offers a money-back guarantee that lasts for 30 days. This is pretty much the industry standard for VPN companies, and most other services offer a money-back guarantee of the same length, or shorter, but rarely longer.
Simply put, you have 30 days to check out your newly received InvizBox, test it, and try to do the things you expect to be able to do with a VPN. If everything works well — great, if not, you can request your money back.
One thing to note, however, is that you will have to pay the postage to return the box to the company unless the box itself arrived faulty to your door, so keep that in mind.
Conclusion
So, is InvizBox a good choice? We believe that it is. The service provides a very useful device that conveniently allows you to instantly protect every device in your home, simply by plugging it into your existing router and doing some minor tweaking in its admin pages.
It has pretty great coverage when it comes to the number of countries, although its server count is decent, but not actually impressive. Other than that, security is excellent, privacy also, the speeds are great, and it has all the makings of a great quality VPN service for you to use. Its price is a bit higher, but that is due to the fact that you are receiving the box with it. After that, the subscription will be significantly lower.
In the end, the choice is yours. However, as far as we are concerned, this is definitely a service that deserves a chance.