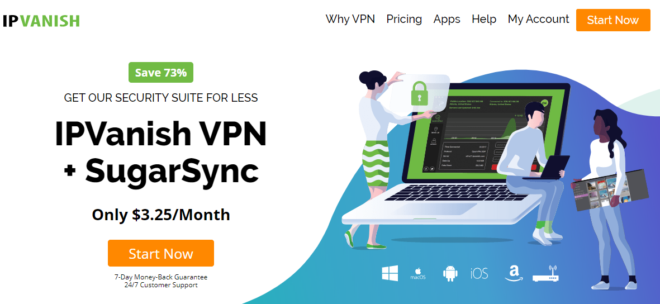 IPVanish is often considered as one of the top VPNs, which is why new VPN users often end up using it.
This is a VPN service based in the US. It started providing its service back in 2012, meaning that it is not too far away from its 10th birthday. It supports all the popular operating systems, it has pretty good security, and its goal is to provide users with good, strong software for surfing the web without leaving a trace and getting around censorship and geo-restrictions.
Today, we wanted to find out if it is as good as everyone believes it to be, which is why we will look into its features in detail, and inspect every aspect of the service.
By the end of this review, you will also know everything there is to know about IPVanish, and you will be able to determine if this is a good VPN service for you.We will take a look at numerous different aspects of IPVanish, as mentioned before. The things we will talk about include:
Pricing
Server Locations
Privacy
Features
Encryption
Customer support
Money-back guarantee
Speed and Performance
Compatibility
With that in mind, let's start with the first thing on the list, which is:
Pricing
Pricing is not something that should impact your decision when choosing a VPN. However, getting an online, yearly, or another subscription is still something that you have to pay for when using a premium VPN such as IPVanish. Since it is a commitment, we understand that it matters to you, the user, which is why we will talk about it first.
Now, fortunately, IPVanish is not one of the most expensive VPNs out there. In fact, its prices are usually slightly below the industry standard. However, it should be noted that IPVanish often allows users to save money through various discounts and promotions, so keep an eye out for those.
Three IPVanish plans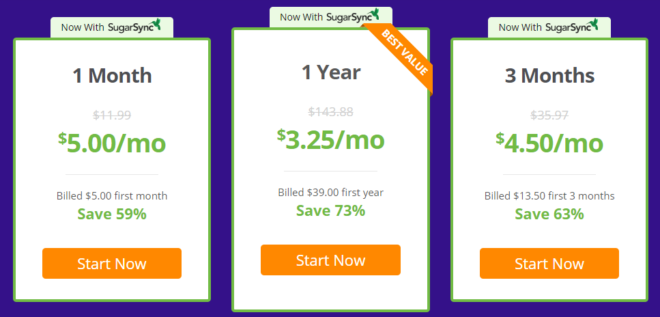 Meanwhile, you are offered three different plans to choose from — a 1-month plan, a 3-month plan, and a 1-year plan. They all offer the same things, but paying for a longer plan will allow you to save up a bit more, as lengthier plans come with a considerable discount.
In addition to that, paying for a long-term plan allows you a certain peace of mind, as you will not have to constantly think about paying for the next monthly subscription, and alike. Now, when it comes to the actual prices, here is what IPVanish has to offer:
1-Month plan — $11.99 per month (currently $5 for the first month, due to 59% discount)
3-Month plan —$4.50 per month, with a 63% discount ($13.50 for the first three months)
1-Year Plan — $3.25 per month, with a 73% discount ($39 for the first year)
As you can see, IPVanish offers very, very affordable prices considering the fact that it is a relatively old and very reputable VPN service. So, if you are considering using it, this is an excellent opportunity for you to subscribe to it and get a yearly coverage for less than $40.
If, however, you wish to know more about what it has to offer, let us continue with our review and take a look at its:
Server Locations
When it comes to servers, IPVanish has a pretty decent server network. It is not the largest out there, but it will certainly serve you well for accessing censored or geo-restricted content.
The service offers over 40,000 IP addresses tied to move than 1,400 different servers. It offers servers in 75 different locations and a total of 50 different countries. The locations and server number are as follows: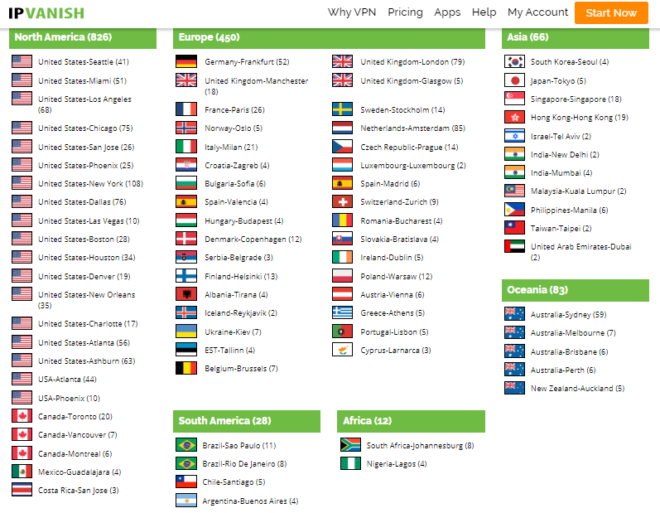 North America (825 servers)
Europe (449 servers)
Asia (66 servers)
Oceania (83 servers)
South America (28 servers)
Africa (12 servers)
As you can see, IPVanish has more than a decent coverage, with servers on pretty much all continents apart from Antarctica. In other words, you will be able to access a much, much larger percentage of the global internet, and only by connecting to these different countries can experiencing their version of the web, can you understand how limited a single country's access to the internet really is.
Privacy
Now, when it comes to privacy, IPVanish offers rather good privacy features, but there is still a problem. That problem lies in the fact that the service is based in the United States, and the country is rather infamous for its online surveillance practices.
The US is so hungry for information that it ended up being one of the founding nations of the 5-Eyes Surveillance Alliance, which eventually evolved into the 14-Eyes Surveillance Alliance. These countries all spy on their citizens, and share the data among them, meaning that none of their citizens are safe.
Now, IPVanish has a strict zero-logs policy, which means that it will never record user activity with its apps, or even take automatic diagnostics. However, since it is in the US, and under the 5-Eyes alliance's jurisdiction, it is theoretically possible that the country's intelligence agencies might show up at its door with a court order to start recording specific users' information.
If that happens, IPVanish might be prevented from notifying the user about the move. The service's privacy policy says that consumers residing in California do have the right to know about information collected, disclosed, or sold under the California Consumer Privacy Act Addendum. With that in mind, we will assume that they would have to notify anyone if they are forced to start collecting their data.
Meanwhile, in the EU, the users have broad privacy rights regarding their personal data under the GDPR Compliance, which is also something that IPVanish recognizes and respects.
In the end, the only data belonging to the user that the site does keep is their email address and payment method, which are the details that the user must provide while making an account.
Its site will also collect details like:
Page requests
User's OS
Browser type
Bounce rate
Average time spent on the site
However, this is pretty much what every other website collects, or less, so we won't take this against the service. Such details are necessary for statistics purposes and similar reasons.
Features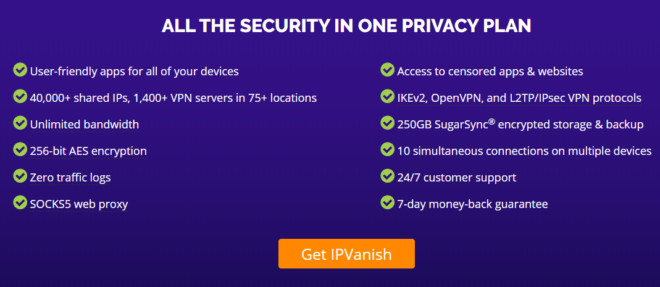 Now, let's talk about features. IPVanish has plenty of them that are worth mentioning, so let's go through some of the biggest ones.
User-friendly app
It is important for a VPN to offer a user-friendly app that will not leave its customers confused and annoyed. On that front, IPVanish does pretty well, with its apps being easy to navigate and understandable even to complete novices.
Unlimited bandwidth
There are some VPNs that may limit the amount of data that you can use per day, week, or even month. IPVanish is, fortunately, not one of them. The service does not put any caps on the bandwidth, and so you can download or upload an infinite amount of data with no penalty.
Strong security measures
IPVanish uses rather strong security features, such as the VPN industry's strongest encryption and security protocols.
Great privacy features
As mentioned, IPVanish is very privacy-focused and aware of the fact that users might have an issue with its location. This is why it made a very detailed and comprehensive privacy policy, and made it understandable to anyone. There are no tricks hidden in the complicated wording, so you can know exactly what you are getting when you subscribe to it.
10 simultaneous connections
Using a VPN on multiple devices is a great feature, especially if you have many of them that you use at the same time. Furthermore, if you wish to protect your entire family, you should also consider IPVanish, as it allows you to use it on 10 different devices at the same time. Of course, you can have it installed on an infinite number of devices, but using it on 10 of them at the same time is pretty unique and generous, even in the VPN world.
A large server network
As mentioned earlier, IPVanish offers a rather large server network, with 1,400+ servers in 75 locations, and 50 different countries. While not the largest network out there, it is still very impressive and useful.
Low prices and a money-back guarantee
We also spoke about the prices a bit, noting that IPVanish offers a rather excellent deal when it comes to this aspect of its service. It also features great discounts, which makes it even better, even though its prices were already below the industry standard.
Not only that, but it also has a 7-day money-back guarantee.
Customer support
Last but not least, IPVanish also has great customer support that is available at all times, just in case you have a problem.
Encryption
We spoke about the privacy element of IPVanish, now let's take a look at what it has to offer in terms of security. As mentioned in our Features section, IPVanish offers very good security features, including the industry's strongest encryption.
The encryption, known as 256-bit AES encryption, was never broken, and even the world's most powerful non-quantum supercomputer, Tianhe-2 (MilkyWay-2), would take millions of years to crack it. So basically, your data will be safe with IPVanish, which will use this encryption to make your traffic completely unreadable.
Of course, that's not all, as the VPN also uses security protocols to protect this encrypted data further by shielding it from view. To do this, IPVanish uses multiple security protocols which you can switch between as much as you like. The offered protocols include IKEv2, L2TP/IPsec, and the industry's strongest, OpenVPN.
Customer Support
IPVanish is a service rich with information, and if you have any problem at all, you can:
Check out its FAQ section
IPVanish has a good FAQ section on its site which covers many important topics that might be of interest, or help, to you. You should definitely give it a look over, especially if you are new in the VPN world, and you don't know what you might expect.
Follow its tutorials
The VPN service also offers useful tutorials and explanations that will definitely be of help to anyone who needs help setting it up and alike.
Send a ticket
Of course, sometimes, you might not be able to solve the problem on your own, which is when you might have to contact IPVanish's customer support. There are a few ways that you can do it, and one of them is to simply send a ticket. Explain your problem and submit the report, and someone from the support team will answer you as soon as they can.
Use Live Chat
Alternatively, if you are in a hurry, the service also offers a live chat feature that allows you to get in direct contact with the support team immediately. The team is professional and helpful, so you should have pretty much any issue resolved rather quickly.
Money-Back Guarantee
As mentioned before, IPVanish also has a money-back guarantee. The guarantee lasts for 7 days from the moment you pay for any of the three mentioned plans. This is useful as it gives you an entire week to test out the VPN and see if it can do what you need it to do. If not, then you can request your money back.
Good news, though is starting May 1, 2020, they decided to make the money-back guarantee to 30 days, which is the standard in the VPN industry. You might have to wait up to 10 business days.
Just make sure that you ask for your money back within 30 days from the moment of purchase. Also, IPVanish stresses that some payment methods are not refundable — not because the service won't return your money, but simply because that's how the mentioned payment methods are. One example is payment by paper check. If you pay via PayPal or your credit card, however, the process is much simpler, as long as your card or PayPal account remains active.
Speed and Performance
In terms of speed and performance, IPVanish is a pretty great choice. It offers excellent speeds, which can even be used for streaming videos online. Of course, VPNs slow down your speed due to the need to encrypt all of your data. Also, when you connect to their servers, the farther the server is, the slower the speeds will be, due to the time needed for information to travel back and forth.
This is why you should use close servers as much as possible, as long as they do what you need them to do. However, with all that said, IPVanish is still very fast, and it performs excellently, so we have nothing to criticize here.
Compatibility
Last but not least, let's talk about apps. IPVanish is compatible with plenty of devices and systems, which include:
Any device running the mentioned systems can use IPVanish, and thanks to its Chrome extension, you can also use it on literally any device that you can install Chrome browser on, which increases the number of supported devices and systems to pretty much all of them.
Conclusion
So, is IPVanish a good VPN? We believe that it is, and many in the VPN industry would agree. While it is not the best of the best, it is easily good enough to rub shoulders with the best of them and be considered one of the top VPNs.
The only issue we have with it is the fact that it is US-based since the US is one of the worst places in the world to be if you want privacy. Its privacy protection laws are often terrible, especially on the federal level. But, IPVanish knows this as well, and it took steps to ensure that your privacy will remain your own.