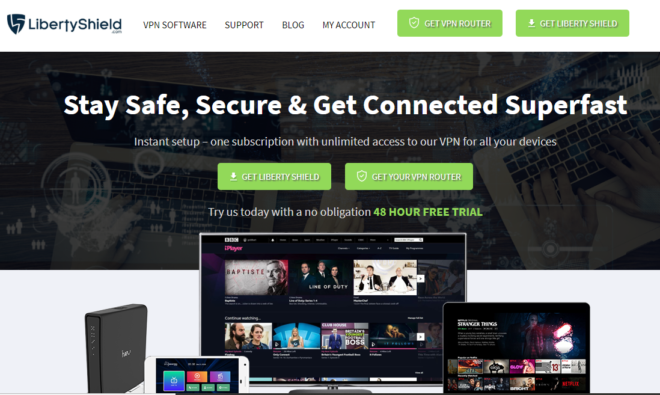 Liberty Shield might seem like a new entry in the growing VPN industry, but the truth is that it's one of the pioneers. Since 2008, the Scothosts Group has owned and operated this VPN and proxy service and garnered excellent results — accumulating new users at a rapid pace while retaining its many customers.
Previously called UK Proxy Server, Liberty Shield has slowly but surely carved its way into the market. So how does Liberty Shield stand out? For one, it offers both VPN servers and pre-configured routers. Thus, both your software needs and hardware needs in ensuring online privacy and security are covered.
Moreover, Liberty Shield VPN is active in its call for net neutrality, aiding entities fighting for the cause. But how reliable is this UK-based VPN provider? Even if its features are great, are its subscription plans competitive enough when so many alternatives abound?
To answer these questions, we've assessed the VPN service and its many promising aspects. Find out the results in our thorough review below.
Pricing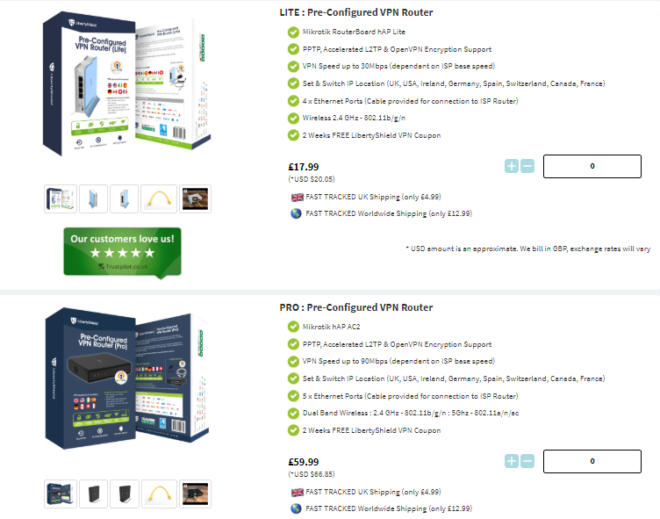 Unlike most VPN companies that divide their subscription plans into different groups such as Personal, Business, and Enterprise, Liberty Shield VPN takes a simpler route: Billing periods.
Thus, the plan you choose depends on how many months you're willing to pay at once. And the longer the billing period, the more you save per month.
Four Billing Periods
You can choose the following plans: 1 month (£6.99/mo), 3 months (£6.66/mo), 6 months (£6.00/mo), and 12 months (£5.83/mo). If you pick the three-month plan, you'll pay £19.99 every 3 months. The six-month plan will charge £35.99 every 6 months while the last plan costs £69.99 each year.
Regardless of your plan, you can enjoy a 48-hour free trial. That's right: Liberty Shield VPN won't bill you for anything unless that period is over. As for the router, you get a two-week free trial, and if you decide to pursue it and have it activated, your first annual billing fee would be £49.99 instead of £69.99, which is a nice discount for router customers.
A Combo Plan
Apart from the four billing periods, you can also opt for a fifth plan — but only if you're okay with a 12-month billing period. If so, you can get a 12-month VPN and a VPN router for just £71.88 plus the shipping fee. Under this plan, the monthly cost equivalent is £5.99, a mere £0.16 increase.
This plan gives you a new set of options. For one, you can get the Pro Model instead of the Lite Model VPN router for an additional £49.99. The Pro Model offers five ethernet ports, dual-band wi-fi, 90Mbps maximum VPN speed, and CPU power that's four times better than the Lite Model.
Then again, nothing's wrong with sticking to the Lite Model. This still gives you encryption support, a decent VPN max speed of 30Mbps, four ethernet ports, and the option to switch servers. Subscribers to this plan must also choose their free power supply: UK, EU, or US version.
Server Locations
Unfortunately, Liberty Shield VPN is fairly limited in its country offerings. As of writing, VPN servers are located in just eight countries:
– United Kingdom
– United States
– Ireland
– Germany
– Canada
– Spain
– France
– Switzerland
On a lighter note, the countries currently available make sense. The company chose the regions depending on possible and actual user demand. For one, we know that users would love the ability to switch from Netflix US to Netflix UK to access geo-restricted content.
Privacy
Liberty Shield VPN doesn't need to know your browsing habits nor what apps you open or messages you send online. It doesn't keep records of your internet activity, which means it can't put your privacy at risk if its many servers get compromised.
Features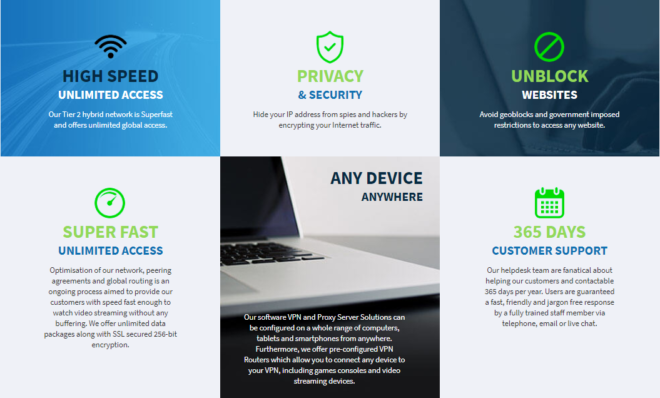 Adware and Spyware Protection: Liberty Shield VPN stops unwanted entities from tracking your every move online — and that includes surveillance by your ISP and third-party companies. You get protection from bandwidth throttling, pesky ads, and information-hacking malware.
Near-Perfect Uptime: Liberty Shield boasts 99.9% network uptime, which is a huge sigh of relief for users who need the many benefits of a VPN all the time. A VPN service that's constantly in downtime due to maintenance or vulnerabilities isn't worth the investment. Thankfully, Liberty Shield is the opposite.
No Server Switch Limit: To offset the relatively meager number of countries where its VPN servers are located, Liberty Shield allows unlimited server switches. If you prefer an Ireland server over one in the US, go ahead. You can go back and forth among countries to access geo-restricted content.
Unlimited Streaming: Some VPN providers set limits to user data allowance. This defeats one of the primary purposes of using a VPN: To freely stream tons of content. Liberty Shield VPN gives you an unlimited data allowance so you can watch to your heart's content.
Multi-Device Login: You don't have to choose between securing your online habits on your laptop or smartphone. Users can connect multiple devices to Liberty Shield VPN or their VPN router at the same time.
Encryption
All VPN servers utilize 256-bit encryption, which is more than enough to secure your online connection. This is the industry standard trusted not only by regular users but by financial and political organizations as well. Even the most skilled hackers will find it impossible to break into this level of encryption.
Three Protocols Available
Moreover, users who get the VPN router as well can choose among three secure tunneling protocols anytime: PPTP, L2TP, and OpenVPN.
Users who aren't on macOS or iOS platforms and want the fastest speeds may choose PPTP. Still, this speed advantage is provided at the expense of only having 128-bit encryption keys. To be fair, this is good enough, but it's not the best.
On the other hand, L2TP can provide up to 256-bit encryption keys. It's a good option for professionals who need more security and for users who'll use their smartphone or tablet to arrange their VPN connection. Lastly, OpenVPN has 256-bit encryption keys too and has the most cutting-edge features.
Customer Support
Year-Round Support
A huge selling point for Liberty Shield VPN is its consistent technical support, which is available for 365 days. Users with immediate concerns or even just simple queries can get a response whether it's Sunday or Thanksgiving.
No Bots, Just Real People
One thing that irks us is when companies claim to have 24/7 chat support, but they only have bots. In worst cases, these chatbots do nothing substantial — simply taking users on a loop of responses.
The chat support for Liberty Shield, in contrast, is made up of real people. They aren't available 24/7, but they're around from 9 AM to 9 PM (UK Time). Expect a swift reply, with the latest response taking about 30 minutes. This is still much better than chatbots pointing you to incorrect guides and links.
Phone and Email
Aside from live chat support, Liberty Shield can assist you by phone or email. They may be swamped by user calls from time to time, which is understandable. For the most part, you'll be in contact in minutes. What's important is you have these two options throughout the year as well.
FAQ Section
You don't always have to look for chat support or submit a ticket to address your VPN issues. Sometimes, the answer is already in the FAQ section. The articles are written in a beginner-friendly manner, and the spacing between lines and paragraphs ensures they're not hard to read either.
Questions are divided into three sections: Subscription questions, general questions, and speed issues. And you won't only see text. Whenever possible, Liberty Shield provides screenshots and concise videos.
Setup Guides
Earlier, we mentioned that you can get the official Liberty Shield VPN apps for platforms like Windows, iOS, and Android. But you can also do a manual VPN installation — and the website has all the guides.
Currently, the setup guide section has over 30 articles. It covers everything from Windows, Apple, and Android to media streaming boxes. The guide for VPN routers is quite extensive. You'll learn how to change from PPTP to OpenVPN tunneling protocols in no time.
Money-Back Guarantee
Liberty Shield offers a money-back guarantee like other VPN companies, but its validity period could be improved. As of writing, the company only has a 24-hour money-back guarantee.
If you want a refund more than 24 hours after starting your subscription, you won't get it. An exception is if Liberty Shield commits an error. The company will likely offer a refund, although this may come with a surcharge. Yet this isn't a guarantee — Liberty Shield may still be unable to give a refund in some cases.
On the other hand, you can cancel subscription plans anytime. Just go to your account and look for the Cancel subscription option.
Speed and Performance
For the most part, users won't notice any significant reductions to their internet speed — and the VPN has a 99.99% uptime. Even if you use the router to change to security protocols with 256-bit encryption keys, your Netflix streaming won't buffer. Still, this depends on your connection speed in the first place.
Yet Liberty Shield is transparent about one thing: Its France and Canada servers may pose a problem in terms of speed. This is because both countries belong to the legacy network — not the Tier-2 network. This impedes their servers from achieving the faster speeds of those in Spain, for example.
Neither country can help you access Netflix France and Netflix Canada. Why? The streaming platform has found a way to counter servers in the legacy network. Picking these server locations may lead to issues that require manual changes by the Liberty Shield support team. Use them only when necessary.
Compatibility
Liberty Shield VPN has dedicated apps for the two biggest computer operating systems: Windows and macOS. Do note that your Windows OS should at least be Windows Vista. If you don't want to install additional software, you can manually add the VPN.
We wish it was compatible with Linux too, but covering Windows and macOS already satisfies a major portion of the user base. Besides, mobile apps and manual VPN options are available for both Android and iOS users.
Moreover, you can use Liberty Shield VPN on many media streaming boxes. Apps are available for the Amazon FireTV and Android TV. If you have the VPN router, you can also use a VPN on a Samsung Smart TV, Zgemma box, and NowTV Box.
Conclusion
Liberty Shield VPN is a genuinely unique service, combining both VPN software and hardware at a price that's hard to beat. For just £71.88 a year plus the shipping fee, you get access to multiple VPN servers along with your own router. Never has it been easier to secure and improve media streaming boxes.
To be fair, you don't have to go for the plan that includes a pre-configured router. From our experience, the VPN software is well-equipped to safeguard your Internet habits. It's just that the VPN router gives you more control and flexibility in terms of speed and platforms. Simply put, all plans are worthwhile.
Liberty Shield VPN may not have the widest coverage when it comes to server locations, and it doesn't have a free plan, but you could take advantage of its 48hr free trial to have an idea if the VPN is perfect for your needs. We can't fault it for what it does have: 99.9% network uptime, live chat support all year round, well-written guide articles with videos and screenshots, and an upholding of user privacy.