In our quest to examine and review as many VPNs as possible to determine which ones are good and which ones should be avoided, we came across monVPN, a lesser-known service that seemingly has quite a lot to offer, and for a decent price, too.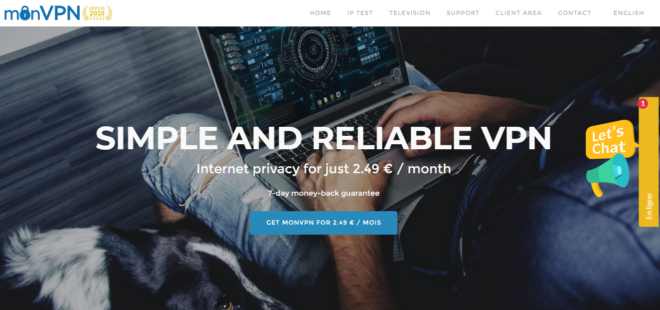 The service certainly seems to look promising right now, being one of the pioneers with more than 10 years in the VPN industry,  but in order to see if it is really as good as it claims to be, we will have to take a deeper look. Once again, let's start with something that matters to everyone who is considering getting a VPN service, and that is:
Pricing
When it comes to monVPN and pricing, the service is pretty straightforward. It has four different plans, each of which offers the same features. The only difference — apart from the price — is for how long it is going to last, and naturally, how big of a discount you get for longer plans. The plans are as follows: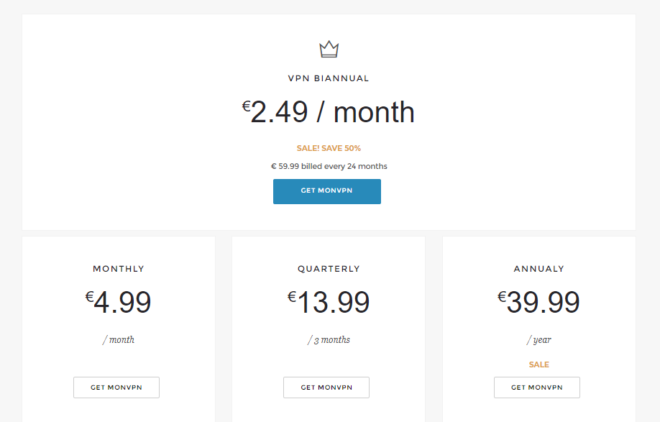 Monthly plan — €4.99
Quarterly plan — €13.99 per three months
Annual plan — €39.99 per year
Biannual plan — €59.99 per 2 years
Even at first glance, it is immediately obvious that this VPN service is significantly cheaper than some of the industry's leading services. To a suspicious user, this might mean a poorer service at first, but let's take a look at the rest of its aspects before we start forming any conclusions.
As always, our next step will be:
Interface And Ease of Use
Interface and ease of use are important, as not everyone is tech-savvy, and every good service that hopes to attract as many users as possible needs to be user-friendly, meaning easy to use, intuitive, and simple to navigate.
Fortunately, the app is indeed pretty simple to use, and as soon as you open it, you will see several areas, the first of which is the server you are connected to. After that, there are two fields, one to show your original IP address, and the other that displays the IP address that you received by connecting to the server.
Below that, there are two more fields, one of which is displaying the protocol currently in use, and another that shows the encryption that the app uses to encrypt your data.
At the very bottom, there are three buttons — Connect, Jump, and Settings.
Connect and Settings are fairly obvious — one lets you connect or disconnect from the selected server, and the Settings allows you to change different aspects of the app, such as the protocol in use and alike.
The Jump button may be a bit less clear, but its function is rather simple to understand — it simply lets you change the server once you click it.
The app is very clean and simple to use, so we do not expect you would have any problems with understanding it, so monVPN gets another plus here.
Servers
Servers are extremely important for any VPN service these days, as VPNs are mostly used for unblocking censored or geo-restricted content. Originally, they were simply used to mask your real IP address, and replace it with another. While this is still how they work, it has become very important to VPN users to have servers in as many locations as possible, and for said locations to include the right regions.
So, how does monVPN perform here?
This is where many people might start to understand the lower price, as monVPN only features 30 servers. While it does cover around 20 countries, the fact that it has only 30 servers might mean that they can be a bit overcrowded. However, the fact is that this is not such a well-known service as of yet, which also implies that it doesn't have as many users as, let's say, ExpressVPN, or another leading service.
So far, this VPN has done everything in its power to make it easy for people to use it, but also to properly protect them, as we are about to see. This indicates that 30 servers are likely enough for its existing user-base, and as the clients continue to grow, the network might as well, according to need. In other words, we are willing to give it a pass here, especially due to the low monthly price, although it is something to keep an eye on in the future.
Privacy
MonVPN goes a long way to ensure its users that it is doing everything in its power to keep their data safe and confidential when browsing the web. To that extent, it uses strong encryption to encrypt any traveling information, as well as numerous security protocols to hide it from view and send it through secure tunnels.
More importantly, it claims to keep no logs, and it offers a kill switch, which is a feature that cuts off your internet connection instantly, should the VPN app malfunction for any reason.
The company also accepts payments in Bitcoin, which is great for those who are after additional privacy, and do not want for anyone to know that they even have a connection to a VPN service.
Furthermore, the company is located in Seychelles, which is a privacy-friendly region. In other words, it is outside of the jurisdiction of all intrusive governments and alliances that might try to force it to collect your data otherwise.
MonVPN claims not to collect logs of user activities, and it seems to be sticking to its word, as the only data it collects, according to its privacy policy, includes the information that the user provides during registration. This includes the name, email, and country of residence. Apart from that, the VPN also collects data through correspondence with its clients (live chat, email), its own website's cookies, and third-party cookies.
Features
When it comes to features, monVPN has quite a few to offer, as we are about to list. From what we are about to see, it seemingly has everything it needs to be considered a very good VPN service. The features include:
● No activity logs
● Strong encryption
● Multiple security protocols
● 30 servers in 20 countries
● Money-back guarantee
● Kill switch
● Discounts on long-term plans
● Dedicated apps for multiple systems and devices
● 10 simultaneous connections
● Free trial
● P2P support
● Works in China
● Strong customer support
● Unlimited server switches
● Multiple payment options, including Bitcoin
● Social media presence
● Ability to unblock UK services
As you can see, there is no shortage of features and benefits to using this VPN service.
Encryption
Every VPN offers encryption as part of its security arsenal, but that doesn't mean that every VPN features the strongest encryption out there. While most top VPNs use 256-bit AES encryption, monVPN uses 4096-bit, and it pairs it with numerous security protocols, including PPTP, L2TP, SSTP, OpenVPN, OpenVPN+XOR, OpenVPN+TOR, SoftEther, SOCKS5.
Customer Support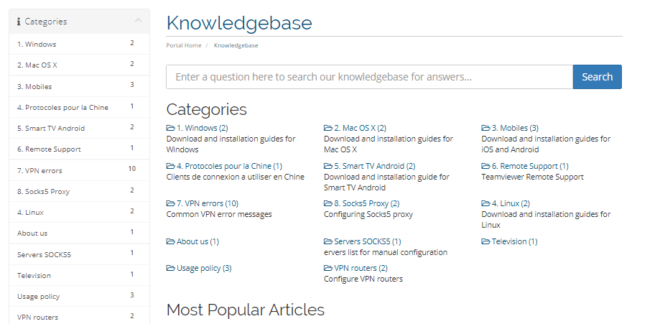 If you ever had an issue with a piece of software, you know that customer support is a crucial aspect of any service, as they are the ones you will go to when it comes to fixing such issues. We are glad to see that monVPN has pretty competent and strong technical assistance, which is available through live chat, and can handle any issue.
They are also there to guide you through setup installation if you require assistance. Apart from that, you can also find a very detailed and user-friendly setup guide that will take you through all the steps of configuring your devices and systems to work with this VPN's network.
Money-Back Guarantee
Money-back guarantee is also a big part of the VPN world, and while that doesn't mean that all VPNs have it — most of the ones that are to be recommended do. That includes monVPN, although its money-back guarantee is shorter than the industry standard, and it only lasts for 7 days. Still, when combined with a free trial, that is more than enough time for you to test it out and see if it works well for you or not.
Speed And Performance
When it comes to speed and performance, we have no issues with this VPN. While it does have a few servers which usually means that they would be overcrowded, monVPN still provides maximum speeds, and pretty great service.
Its website says that "monVPN uses dedicated top of the range servers located in reliable data centers on a high-speed network (+1Gbps)," which should be good enough for most people.
Compatibility
In terms of compatibility, this VPN works with numerous devices and systems, and you can find dedicated apps on its website or in the appropriate app stores. It is compatible with:
● Windows
● Mac
● iOS
● Android
● Linux
While it doesn't have dedicated apps for other platforms, it does support all the most popular ones, which is, once again, likely not going to be a problem for most people.
Conclusion
In the end, is monVPN a good choice? We believe that it is. It is located in privacy-friendly Seychelles, if you need a VPN for the purpose of protecting yourself and unblocking the UK and some other foreign content, monVPN has your back.
Its privacy and security features are quite strong and reliable, while its speeds still remain more than decent, despite the low number of servers.