What sets a VPN service from the multitudes saturating the industry? For one, a company could think of innovative ideas. But the problem sometimes lies in the execution: These cutting-edge features become more like gimmicks that either don't work as intended or have barely any practical value to most users.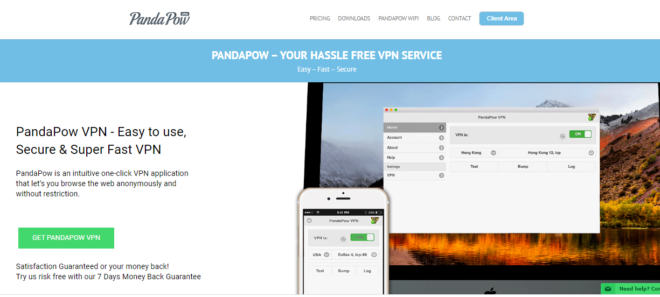 On the other hand, PandaPow VPN took a different route: Simplicity. Instead of adding clutter to its VPN service, this Hong Kong-based company focused on keeping things fast and easy. Its goal was to ensure a one-click VPN experience — ensuring an encrypted connection within seconds regardless of platforms.
But how does PandaPow VPN perform regularly? Does it work as seamlessly as intended for all devices? Likewise, we must gauge its features vis-a-vis its pricing plans. Users are always on the lookout for value. Plus, people can't test the efficiency of a VPN if it's hard to subscribe to in the first place.
With this in mind, we've thoroughly assessed PandaPow VPN from its cost to its features and customer support. Check out our detailed PandaPow VPN review below.
Pricing
PandaPow VPN offers three simple subscription plans: one month, three months, and 12 months. There's nothing new to these options — you can find the same offers in all other VPN companies. Still, that's the point: PandaPow VPN forgoes introducing too many options.
We've seen other VPN providers with over 10 subscription plans and an endless array of customization options. That doesn't help new users who just want good and immediate service. Thankfully, PandaPow VPN sticks to the essential and to what works.
Same Features, Possible Savings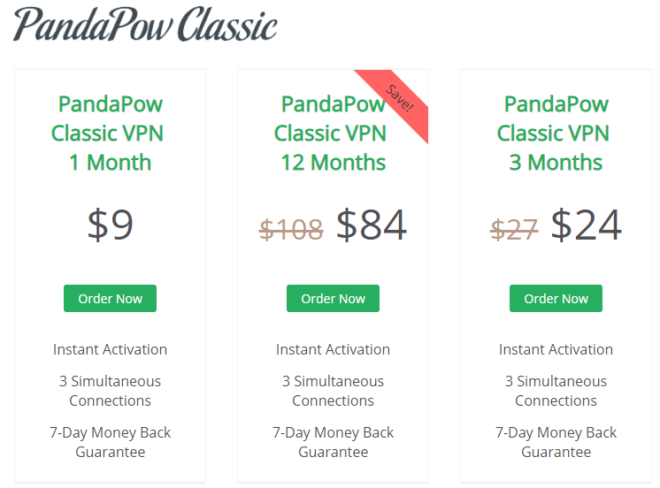 PandaPow VPN's three subscription offers include all the features and reassuring payment mechanisms. Thus, you can expect quick activation of your VPN service whether you chose the monthly or 12-month option. Likewise, they all allow you to simultaneously connect up to three devices or platforms.
And here's what better: You can save more money if you choose a longer period. This is a practical choice if you already like the service and see yourself using it for more than a month. Instead of paying $27 for three monthly payments, you can just pay $24 with the three-month plan.
But if you want maximum savings, we suggest going for the annual option. If you pay for 12 months all at once, you're only charged $84 — that's a $24 difference from $108 if you paid monthly.
Numerous Payment Options
A typical VPN company accepts only a couple of payment methods, which are credit cards and PayPal — but PandaPow isn't your average service provider. It seeks to cater to a wider market beyond the usual American and European markets.
PandaPow not only accepts those two options but also WeChat Pay, Alipay, UnionPay, and Tenpay, all of which are gaining traction around the world and in Asia, particularly. Don't worry about typing in your payment details: We've already had several transactions and had no security problems whatsoever.
And yet PandaPow didn't stop there: Users can also contact the company if they'd like to use an unlisted payment option. This is a definite plus in our eyes — it's a reflection of how much business values users.
Server Locations
PandaPow VPN has over 120 servers in 16 countries — and the company's not stopping there. Expect to have more country options soon. For now, you shouldn't worry about the server locations: The chosen countries are strategic. That is, they are the most preferred locations among VPN users.
Once again, this is a smart move. PandaPow VPN maximized its resources to ensure that the servers they can acquire right now will be utilized. Here's the current list of server locations:
United States
Canada
Australia
United Kingdom
Netherlands
Sweden
Russia
German
France
Italy
Hong Kong
India
Japan
Singapore
South Korea
Thailand
PandaPow VPN doesn't have thousands of servers right now unlike the biggest service providers, but that didn't stop them from having worldwide coverage, having situated servers in Asia, Europe, North America, and Australia.
You can choose and switch servers whenever you like. Here's one tip: If you just want to securely browse the Internet, choose a location that's nearest to you. But if you want to access geo-blocked content or check the regional versions of some websites or apps, pick other server locations.
Privacy
PandaPow VPN respects the privacy and safety of its users — and that extends to how and which data they collect. For one, the company doesn't collect sensitive user information such as your emails, chat conversations, your browsing history, and any VoIP calls.
And the company is completely transparent with everyone. You can just visit the official website to read the well-detailed privacy policy. There, you'll see that PandaPow VPN will only consider storing small bits of data that will keep the app working as intended for users. These types of data include:
IP address
connection time
data transfer amount
transfer speed
As you can see above, PandaPow VPN will only possibly gather data that it needs to ensure you have a smooth experience with the service. And don't worry: None of the data is given to third parties unless it's required for compliance, other legal reasons, or if it can benefit users.
Moreover, PandaPow VPN has advanced cybersecurity mechanisms to protect any data they gathered. It has strategies not only for data loss but also for data modification and misuse. Also, the company won't ever store bank or credit card details.
Features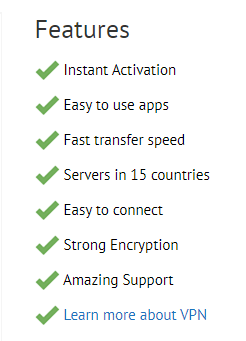 High-Level Encryption: PandaPow VPN encrypts your internet connection to ensure that ill-intentioned third parties can't just snoop into your activities — and this also applies to ISPs and governments. Thus, your emails, payment details, and basically all your browsing activity are kept safe.
Multi-Platform Compatibility: It's available on a ton of platforms including multiple versions of Windows, macOS, iOS, and Android. Also, it works on Chromebook, Blackberry OS, and Linux (Ubuntu).
Global Server Coverage: PandaPow VPN has more than 120 servers in 16 key countries covering four continents, and it will keep growing in due time.
Simultaneous Use: You don't have to choose which device to encrypt — you can choose up to three. If you have a laptop, a desktop, and a phone, you can use PandaPow VPN on all devices simultaneously.
Instant Activation: You don't need to wait a week or even a day to start using PandaPow VPN. Once you've paid for a subscription, just download the app on your device and use it. The activation takes mere minutes.
Affiliate Program: PandaPow VPN has an affiliate program that everyone can join. If you have a website, just sign up for the program. You'll earn commissions with little effort involved. Plus, you can use your affiliate account for as many websites as you'd like.
Customer Support
You can reach the PandaPow VPN customer support via email and live chat anytime — not just during the usual business hours. This is a welcome surprise since we're used to VPN companies only having support for eight hours on weekdays. Plus, you can even request for remote control support.
FAQ Section
Before you ask a question to the support team, go to the FAQ section first. This covers common queries ranging from what a VPN is to where VPN servers are located and how you can cancel your subscription.
Troubleshooting Guides
If you're already subscribed to PandaPow VPN and the service doesn't seem to be working properly, go to the troubleshooting section. It gives you several possible reasons along with proposed solutions.
Guides for Each Platform
If you're unsure how to use or activate the VPN on your specific platform, check out the many articles on getting started. You'll find specific articles for using the app on old and new versions of Windows, macOS, Android, and other devices.
How-To Section
One of the most comprehensive pages on the official website is the how-to section, which offers over 100 articles. It's divided into eight categories:
General
Windows
PandaPow WiFi
Mac
Android
iOS
Linux
Uncategorized
We commend the effort PandaPow VPN put into these articles. Aside from being well-written, they have proper formatting: They're easing to read and have bullet points and numbers when necessary. Many of them have screenshots to serve as visual guides as well.
Money-Back Guarantee
If you decide not to continue using the service any longer, PandaPow VPN has a seven-day money-back guarantee — and this is applicable no matter which subscription option you chose. Thus, you can get a full refund for your 12-month subscription as long as you request one within a week of purchase.
Also, you don't have to prepare any serious or convincing reasons. PandaPow will accept your request no matter what. The only caveat is that you must have made your purchase on the official website. It can't handle refunds for purchases in the Apple App Store because of possibly differing refund policies.
Speed and Performance
Upon testing PandaPow VPN for regular use over a long period, we noticed one significant aspect: Speed was never compromised. We've witnessed otherwise well-performing VPNs reducing overall connection speeds, but we didn't experience that with PandaPow VPN. If there was, it was pretty much negligible.
Likewise, bandwidth throttling is non-existent in PandaPow VPN. This means that you can stream all the music and movies you want while connected to a VPN. It won't reduce your bandwidth no matter how many downloads you have — the only limit to speed is your actual internet connection. It's great.
Compatibility
We were surprised by just how many devices and platforms PandaPow VPN is compatible with. In all honesty, we only considered it working on the most popular platforms such as Windows, Android, iOS, and macOS. Yet, even there, PandaPow VPN showed how much it wanted to cater to a wide market.
Instead of being compatible with only the most recent versions of operating systems, PandaPow VPN maintained compatibility with much older versions. For example, PandaPow VPN is on Windows 10, 8.1, 8, 7, Vista, XP — and even on the Microsoft Surface.
iOS and macOS
Similarly, the VPN caters to macOS users whether they have OS X 10.11 or OS X 10.10. And while the iOS 8 (or even older version) and iOS 9 (and later versions) will require different setup procedures, PandaPow VPN will work as intended on both.
The current Android is version 10, which was released in September 2019. But you don't need the latest Android OS to use PandaPow VPN. It works with versions as old as Android 2.3 (Gingerbread). Likewise, the VPN works on Chromebooks, Blackberry OS, and Linux (Ubuntu).
Conclusion
All in all, PandaPow VPN doesn't intend to reinvent the wheel — it doesn't have to. The company's goal was always to streamline the VPN experience for all users. You don't have to be familiar with encryption or security protocols to install and activate PandaPow VPN, you simply subscribe and install the app.
Likewise, we commend the straightforward nature of its pricing plans. Other companies have "flexible" plans that either turned out to be costly or too impractical relative to the time-tested monthly plans. In the case of PandaPow VPN, you enjoy all its premium features no matter how many months you pay for.
From its strategically-located VPN servers to its comprehensive user support articles, we can attest that PandaPow VPN knows what it's doing. The company is resource-efficient, and it has always prioritized customer needs and their safety. Try it out, we think it's a solid and reliable choice.