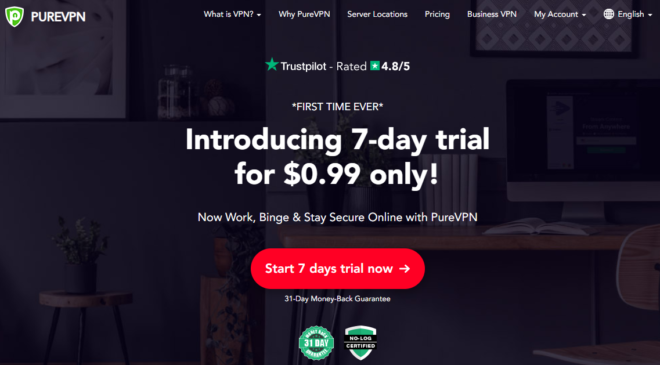 Using the internet without a VPN is becoming riskier by the day, and if you want to have true security, a Virtual Private Network is a must-have. However, if you are making a move to get one, why not get a good and fast service right away, instead of going through the process of trial and error?
We have already reviewed many different VPN services, and today, we are focusing on PureVPN. If this service sounds interesting to you, and you wish to see if what it has to offer is good or not, you have come to the right place. Let us start right away.
Pricing
Of course, we all think that being safe is more important than money, and it is. But, the fact is that an affordable service is always more attractive than an expensive one, especially if they provide the same quality of service.
PureVPN has three different plans which are extremely cheap in comparison with the competitors. Those include: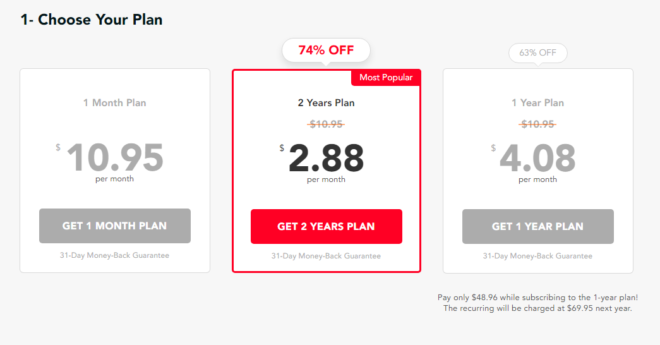 1-month plan for $10.95
1 year plan for $4.08 per month (with 63% discount)
2 Years plan for $2.88 monthly (74% discount)
Great Deals
From time to time, PureVPN also has some great deals! One example of a deal that is on going is the B1G12. This deal will allow users send out 12 free gift accounts to whoever they like as long as they don't have a PureVPN account yet.
As you can see, PureVPN has great prices and it is  they have good deals every now and then, so it might be worth your consideration from this perspective.
Server Locations
When it comes to servers, PureVPN has over 2,000 servers and 300,000 IP addresses. Its servers are located in over 180 different locations, spread throughout 140 different countries around the world.
It has a strong presence on every continent. There are:
● 667 servers in North America
● 84 servers in South America
● 12 servers in Central America
● 93 servers in Oceania
● 807 servers in Europe
● 150 servers in Africa
● 321 servers in Asia
So, if you need a VPN that can unblock a huge number of countries and give you access to the open internet, PureVPN can definitely do that for you.
Privacy
VPNs that offer good features and low prices often lack in other areas, and most of the time, one such area is privacy. However, with PureVPN, this is, surprisingly, not the case.
PureVPN is based in Hong Kong, which, unlike the rest of China, got to keep its regional autonomy when it comes to most internal matters. That also includes data retention laws that would obligate ISPs. Simply put, there are no laws that obligate ISPs to collect user data, and the same goes for VPNs.
In other words, PureVPN doesn't keep logs, and it even has a certificate to prove it. It was audited by the leading US-based independent auditor, and the confirmation is good enough for us. At the same time, it offers great privacy features that will keep you safe and protected.
Features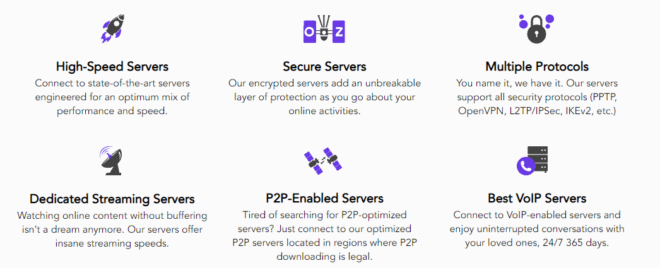 As mentioned, PureVPN offers a lot of features, and it is very privacy-friendly. Those features include:
● Internet kill switch that will sever your connection if the app malfunctions
● Split tunneling which allows you to decide which apps' traffic will go through a VPN and which ones will not.
● 10 simultaneous connections, meaning that you can use it on 10 different devices at the same time
● 24/7 customer support, which is professional, polite, and always ready to help
● A large server network, with thousands of servers in around 140 countries around the world
● Extremely fast speeds, which allow you to browse the web, stream videos, and more, without experiencing buffering or any delays
● It is located in privacy-friendly Hong Kong, and out of the 14 Eyes Surveillance Alliance's jurisdiction
● PureVPN is available on multiple popular platforms, which means that anyone can use it
● It also has a lengthy money-back guarantee, so that you can get your funds back if you ever change your mind about using it within a certain period
● It is very user-friendly, and as such, it is available for new and experienced users alike.
● It also uses military-grade encryption and the industry's best security protocols to ensure that no one will be able to collect your traffic
● PureVPN can unblock Netflix in multiple countries (US, UK, AU, CA, FR, DE, JP, GR, CZ)
● There is an extensive knowledge base that will help you if you run into any problems and you wish to try and fix them yourself
Encryption
As mentioned in the previous segment, PureVPN uses military-grade encryption to make sure that all of your data will be protected. As you know, when you use a VPN, your traffic flows through a secure tunnel created by a security protocol, which is the first line of defense.
However, while the tunnel shields the traffic from view, the encryption makes it unreadable for anyone other than yourself. That means that you are completely surveillance-proof, as no one would be able to tell what you were doing, even if they managed to collect some of your data.
Customer Support
As for customer support, PureVPN is excellent in this regard, as well. Customer support is available at all times, and you can access it via a ticket or live chat. It will respond within minutes with helpful advice, links to common issues, and alike.
Meanwhile, you can also try to use the PureVPN website, which offers Setup Guides, Troubleshoot, Account and Billing, VPN Use Cases, and FAQ sections. It is likely that one of these sections in PureVPN's rich knowledge base will have what you need, and that it will be able to answer any question or problem you may be facing.
Money-Back Guarantee
Some VPN services do not understand how important it is for their customer to have the option for a money-back in case they change their mind or they end up not liking the product.
PureVPN is not one of them, fortunately, and it provides you with a nice and lengthy money-back guarantee that lasts for 31 days. That means that no matter which of its plans you decide to use, you will have 31 days from the moment of purchase to request your money back.
Speed And Performance
Speed is another area where PureVPN performs excellently, which is important for those who are looking for a VPN in order to stream videos and unblock foreign streaming services. With PureVPN, you will not experience buffering or similar issues.
This VPN has a huge number of servers, and in plenty of different locations, so even your chances of running into overcrowded servers are slim to non-existent. In other words, speed is not something that you should be concerned about, and neither is performance.
The VPN is easy to install, even easier to use, and anyone can do it, be they a first-time user or an experienced one.
Compatibility
Lastly, let's talk about compatibility. With so many different devices that we use to connect to the internet these days, it is important for your VPN to cover as many of them as possible. In that regard, we really feel that PureVPN did a fantastic job.
It covers a plethora of different systems and devices, which will make it extremely useful for pretty much anything you can ever own. With it, you can protect devices that run:
● Windows
● Mac
● Android
● iPhone
● iPad
● Linux
● Chrome
● Firefox
● 50 other devices
In other words, it covers all the most popular platforms, as well as plenty of less popular ones. And not only that but if you wish to use it on any device which it does not support directly, you can still use it as long as that device can run the two mentioned browsers above. And, with Firefox and Chrome having a version for pretty much anything with internet access, that means that PureVPN is equally universally available.
Conclusion
And, that's it for our PureVPN review. We hope that you found your answer as to whether or not this would be a good VPN service for you to use. Our review did not really offer any weak points in PureVPN.
It is from a privacy-oriented country; it offers good security features, a large server network with plenty of servers to choose from, as well as a good customer service. Its speeds are also great, and it can unblock Netflix in multiple countries.
Its app is easy to use and rich with features, so in the end, there really doesn't seem to be any downsides to using PureVPN. Of course, you should still check it out for yourself, test its capabilities, and decide for yourself if it satisfies your needs. However, we do not expect that you will find any flaws that would be severe enough to be a deal-breaker for you.