"Virtual Private Networks" (VPNs) enable Internet users to browse the Internet with privacy and security. As a result, VPNs are quite popular and many VPN providers compete in a happening market. RUSVPN is a VPN service from Atrix Group Ltd., which is based in the Commonwealth of Dominica. This VPN provider is operating since 2017. The letters R, U, and S in its name stand for "Reliable", "Unlimited", and "Secure", respectively.
Apart from privacy and security, VPNs offer several other advantages too like they might be able to bypass the kind of Internet censorship imposed by countries like China. Some VPNs unblock geo-restricted streaming services like Netflix, while many VPNs allow access to P2P/torrenting services.
It can be hard to choose a VPN since they make tall claims about their products and services. The reality often varies, though. RUSVPN claims to offer anonymity, security, and speed while browsing the Internet. Does the reality match its claims? Does RUSVPN work for you and should you buy it? We answer all of these questions in this review.
Pricing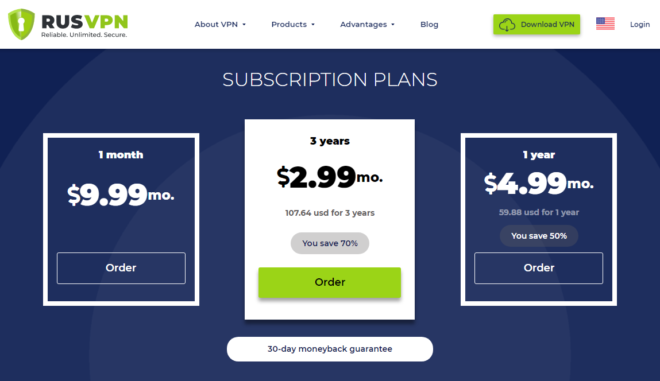 RUSVPN offers 3 pricing plans, which vary by their duration and associated discounts. The 3 pricing plans are as follows:
Monthly: It costs $9.99 per month;
Yearly: You pay $59.88 once in a year, which works out to $4.99 per month;
3-years plan: You pay $107.64 once in 3 years, therefore, your average monthly cost is $2.99.
Note that the yearly plan includes 3 months for free. RUSVPN is very competitive as far as pricing is concerned, and the company offers steep discounts in its 3-years plan.
Free Trial
RUSVPN offers a 7-day free trial only on its Android and iOS apps. You need to contact its customer support team to avail of this trial. It would be great if RUSVPN displays the details of its free trial on its website. At the time of this review, the company only states on its FAQ page that it offers a free trial.
RUSVPN offers free proxy through its Chrome and Firefox browser extensions. Note that a proxy service isn't the same as a VPN. Therefore, you can't get all the features that a VPN offers if you use the free proxies.
Payment Methods
RUSVPN accepts payments by Visa and MasterCard from the citizens of the USA and Canada. If you aren't a citizen of these two countries, then you can pay using Visa, MasterCard, PayPal, WebMoney, QIWI, and Bitcoin. We find that RUSVPN offers enough flexibility in terms of payment methods.
Payment Security
RUSVPN provides a secure payment method on its website. Its website is secure, and the company protects your payment-related personal information.
Features
We now evaluate the features offered by RUSVPN, which are as follows:
Support for secure protocols: We prefer VPNs that support the OpenVPN protocol, and we are happy to see that RUSVPN does that. OpenVPN is the most secure VPN protocol, which has no known security vulnerabilities. RUSVPN also supports L2TP, another secure VPN protocol. While this provider supports the PPTP protocol, we don't recommend you to use it. PPTP isn't a secure protocol.
Up to 5 simultaneous connections: You can use RUSVPN on 5 devices simultaneously.
Bypassing Internet censorship: Countries like China impose Internet censorship, moreover, they aggressively identify and block VPNs. RUSVPN uses obfuscation technology so that its users can hide the fact they are using a VPN. Thanks to this technology, you can use RUSVPN in China.
Preventing IP, DNS, and WebRTC leaks: RUSVPN has a robust security solution, and it prevents IP, DNS, and WebRTC leaks.
"Kill Switch": RUSVPN offers a "kill switch" feature, which makes it a very secure VPN. If the VPN connection drops unexpectedly, the "kill switch" automatically blocks the Internet. As a result, your personal information is safe even when the VPN connection terminates unexpectedly.
Unblocking geo-restricted streaming services: RUSVPN claims to unblock geo-restricted streaming services. It also claims to unblock geo-restricted YouTube content and live sports broadcasts. We have found that RUSVPN can unblock Netflix, BBC iPlayer, etc. You will need to manually change to another server if one doesn't work.
Allowing P2P/torrenting: You can access P2P/torrenting services using RUSVPN, and this provider doesn't impose any bandwidth restriction. Unlike some other VPNs though, RUSVPN doesn't provide servers specifically earmarked for P2P/torrenting. RUSVPN categorically states that it won't allow any illegal activities using its infrastructure. In its "Terms of Service", the company states the following: "This service is NOT intended to assist in the commission of unlawful acts. It is a service that provides anonymity and privacy. You agree not to violate any laws of your country or the one where you are currently."
Note: We would like RUSVPN to offer the "Perfect Forward Secrecy" (PFS) feature. It changes the encryption key regularly. Even if a cyber-attacker gets hold of your encryption key, he/she can't use it for any significant period. PFS will soon change the encryption key. Market-leading VPNs offer this advanced security feature.
Server Locations
Having a sufficient number of servers across the globe would help a VPN provider to offer a good speed to its users. RUSVPN has 362 servers in 38 countries across 5 continents, and it offers good speed.
Asia: RUSVPN has its servers in Japan, China, Singapore, Indonesia, Israel, and UAE.
Europe: RUSVPN has a presence in many European countries. It has servers in Russia, Albania, Belarus, Belgium, Bulgaria, Cyprus, Czech Republic, Denmark, Estonia, Finland, France, Germany, Greece, Italy, Latvia, Lithuania, Moldova, Netherlands, Norway, Poland, Spain, Sweden, Switzerland, Turkey, Ukraine, and the United Kingdom.
North America: RUSVPN has its servers in the USA and Canada.
Oceania: RUSVPN is present in Australia.
Africa: RUSVPN has its server infrastructure in South Africa and Egypt.
RUSVPN doesn't have servers in Latin America. While it has a good number of servers in Europe and North America, its presence is a bit thin in some of the other continents. Depending on where you connect from, you could see a bit of latency due to this reason.
Privacy
When it comes to your privacy, RUSVPN has implemented an effective "no logs" policy, which is good for privacy-focused VPN users. On its "Privacy Policy" page, RUSVPN explains its "no logs" policy.
This VPN provider collects a temporary connection log, however, it does that only for troubleshooting. RUSVPN removes this log every 5 seconds.
RUSVPN doesn't track or log any other Internet activities of its users. If you use RUSVPN, then your activities online can't be tied to your real IP address. We are satisfied with how RUSVPN has implemented its "no logs" policy.
When you buy its products and services, RUSVPN collects only your valid email address. This provider doesn't collect your name, address, etc. Your payment transaction goes through a secure payment gateway, and RUSVPN doesn't store your payment transaction-related information on its servers. We are happy to see how RUSVPN collects only bare minimum personal information when users buy its products and services.
The jurisdiction of RUSVPN is the commonwealth of Dominica. This country isn't a part of the "14 Eyes" coalition, therefore, RUSVPN isn't subject to any data retention law.
If RUSVPN receives an order from a competent court to turn over the information of its users, then the company will need to comply with it. The company states the following in its privacy policy: "Our company is registered in Commonwealth of Dominica. If we receive a court order from an authorized person whose jurisdiction extends to rusvpn.com, our company is obliged to comply with this order.".
However, this provider doesn't log the online activities of its users. As a result, it can't turn over any such log. RUSVPN explains on its privacy policy page how its legal team declines requests for data about its users. This VPN states the following on its privacy policy: "Since our customers are anonymous during the use of the service, such notification will be sent to rusvpn.com, and our legal department will send an appropriate response. Since we do not store logs (records) of the connection, we can not link the request to the client's identity, even if we are legally forced to do this.".
When you visit the RUSVPN website, the company collects aggregated information about users. This information consists of language, screen resolution, etc., and we don't see any threat to users' privacy due to this. If a user doesn't want this tracking, he/she can bypass it using browser add-ons.
RUSVPN processes all personal information it collects per applicable laws and it doesn't sell or rent your personal information.
Encryption
RUSVPN uses 2048-bit SSL encryption, which is military-grade. Your personal information is safe with RUSVPN, thanks to its robust encryption.
Interface And Ease of Use
Most of the VPN users prefer an easy-to-use VPN with a user-friendly UI. RUSVPN is an easy-to-use VPN.
When you visit its website, you will find that it's easy to navigate. You can easily locate the "Download VPN" button, and the company prominently displays key information like pricing and support.
You can buy RUSVPN easily with a few intuitive steps. The "download" page on the RUSVPN website makes it easy to find the VPN clients and guides.
Its custom apps are easy to install and use. While RUSVPN doesn't offer a custom client for Linux, it provides an easy-to-use guide to configure its VPN on your Linux device. If the ease of use is your priority, then RUSVPN is a great choice!
Customer Support
Setup Guides
RUSVPN provides easy-to-use setup guides on its "download" page. You can install and use its custom apps with just a few clicks, and you might not need guides for them. However, if you want to set up a RUSVPN connection on your Linux device, then you need to follow a guide. Thankfully, RUSVPN offers an excellent guide for this.
Also, if you want to set up a RUSVPN connection on your device using the OpenVPN client, then you need guides. RUSVPN provides excellent guides for this. This provider has detailed guides for setting up its VPN on your router.
Contact Support
You can contact the customer support team of RUSVPN using live chat, contact form, or email. The live chat isn't available 24×7, however, RUSVPN responds quickly enough if you send a question using it. The customer support team of RUSVPN is prompt and responsive.
Troubleshooting
The customer support team of RUSVPN is knowledgable and it provides helpful information if you have a question. RUSVPN has a professional customer support team.
FAQ
RUSVPN offers an FAQ section on its "Order" page, however, it covers questions related to refund, logs, services, etc. It doesn't cover any technical troubleshooting-related questions.
We would like RUSVPN to offers a FAQ section for technical questions. RUSVPN should also provide a searchable knowledgebase. Having said that, the company provides excellent guides and robust customer support. We are happy with its customer support capabilities.
Money-Back Guarantee
RUSVPN offers a 30-days money-back guarantee and provides details about it on its "Refund policy" page. You need to email your refund request to [email protected] within 30 days of your purchase. Note that you can't get a refund if you have used over 500 MB of data. We find that the refund policy of RUSVPN is reasonable.
Speed and Performance
RUSVPN offers good speed. This VPN manages to balance the load on its servers. It has a robust infrastructure and technical solutions, therefore, the company offers stable connections.
Compatibility
We prefer VPNs that support all key platforms, and RUSVPN does that. Among desktops, it supports Windows, Mac, and Linux. Among mobile platforms, it supports Android and iOS.
An advantage of RUSVPN is that it offers easy-to-use custom apps for Windows, Mac, Android, and iOS. While it doesn't offer a custom client for Linux, it provides configuration files and guides to set up the OpenVPN client on your Linux device.
You can choose to use the OpenVPN app for the other platforms too. RUSVPN offers its configuration files and guides to set up this app with its VPN connection on your device.
RUSVPN has browser extensions for Chrome and Firefox. We were impressed by the number of routers that RUSVPN supports! It supports popular routers like DD-WRT, Asus, D-link, Sabai, and Tomato. This isn't an exhaustive list, moreover, this provider offers guides for you set up its VPN on routers.
Conclusion
While several VPNs don't quite deliver what they promise, RUSVPN does deliver what it claims to do. This VPN provider has implemented an effective "no logs" policy, and it values its users' privacy. RUSVPN has a robust security solution that includes secure protocols, strong encryption, and a "kill switch".
This VPN provider offers good speed, thanks to its 367 servers in 37 countries. It can unblock geo-restricted streaming services like Netflix. RUSVPN offers access to P2P/torrenting services within the boundaries of the law.
You can use this VPN with all key platforms, and RUSVPN offers custom apps for most of the platforms it supports. This VPN is easy to use, moreover, the company offers excellent guides. RUSVPN has robust customer support capabilities. Its pricing is highly competitive, and it offers steep discounts in its 3-years plan. We consider RUSVPN to be an excellent buy. You can avail of its free trial on your Android or iOS device and see if RUSVPN works for you.