We've updated the review so you don't have to read through it.

Don't buy this VPN: No support for Netflix, horrible customer service, high prices, questionable privacy policy, company based in Slovakia(EU).
Interface and Ease of Use
Let's start with the first thing we notice while visiting TigerVPN's website: its colorful background and fresh design, highlighted by the use of a tiger as a "mascot," definitely catches one's eye.
The art and the illustrations are amazing, and the purple color is not commonly used in the VPN industry but does have an attractive aura. TigerVPN does its work when it comes to visual engagement.
The website, in general, is easy to navigate and browse because all the menus are visible, and there aren't a lot of options that might make the process slow or complicated. Overall, the page is neat, and the design is simple.
"One click and you are good to go — no need to set up anything manually or being an IT nerd. TigerVPN is for everyone," the company states on its page.
Downloading the client or app for your operating system is easy. The VPN will run in the taskbar, for more efficiencies. To open the service, click the TigerVPN icon that will appear there, and you will see the available servers. Connect and disconnect as you please, and that's all. Easy peasy.
Pricing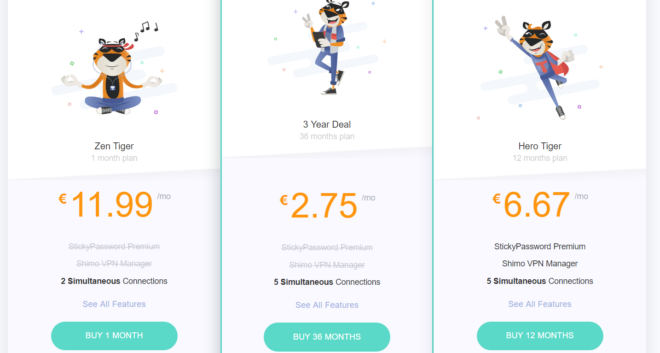 If we are going to judge it by the price of the standard monthly plan, then Tiger VPN is one of the most expensive VPN service providers in the market, at €11.99. That's nearly as much, if not more, than the cost of some of the best brands in the field, the elite ones, a status that we are sure Tiger VPN hasn't yet reached.
However, as the majority of VPNs do, Tiger VPN offers attractive discounts for long-term commitments. The one-year package, which requires one annual payment, costs €79.99, or the equivalent of €6.67 per month. Much better than the monthly plan, right?
The best deal is the three-year plan. Sure, it is a very long commitment, but at €2.75 per month (one payment of €99.00 made once every 36 months,) it may be worth it if you are convinced that Tiger VPN can fulfill your needs in the long-term.
All purchases come backed with 7-days money back guarantee, as we will explain later. Payment methods include the two major credit cards, which are Visa and Master Card; PayPal, Bitcoin, and Paymentwall.
Server locations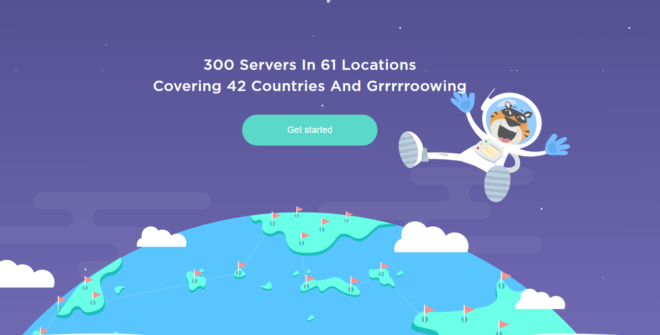 TigerVPN states in its website that it manages 300 Servers in 61 locations around the world.
There are servers in Asia, Africa, North America, South America, and Oceania, so all continents are covered by TigerVPN.
Here is the complete list of cities and countries with servers:
South Africa (Johannesburg,) Turkey (Ankara, Istanbul,) Thailand (Bangkok,) India (Delhi, Mumbai, Chennai) United Arab Emirates (Dubai,) Vietnam (Hanoi,) Hong Kong (Hong Kong,) Japan (Osaka, Tokio,) South Korea (Seoul,) Singapore (Singapore,) Taiwan (Taipei,) the Netherlands (Amsterdam,) Serbia (Belgrade,) Slovakia (Bratislava,) Romania (Bucharest,) Hungary (Budapest,) Germany (Cologne, Frankfurt, Munich) Denmark (Copenhagen,) Ireland (Dublin,) Ukraine (Kiev,) Portugal (Lisbon,) Slovenia (Ljubljana,) the United Kingdom (London, Manchester,) Luxembourg (Luxembourg,) Spain (Madrid,) Italy (Milan, Palermo) Russia (Moscow, Saint Petersburg,) Norway (Oslo,) Czech Republic (Prague,) France (Paris,) Bulgaria (Sofia,) Sweden (Stockholm,) Austria (Vienna, Klagenfurt) Poland (Warsaw,) Switzerland (Zurich,) the United States (Atlanta, Chicago, Denver, Los Angeles, Miami, New York, Seattle,) Mexico (Mexico City,) Canada (Montreal, Toronto, Vancouver) Australia (Sydney,) Argentina (Buenos Aires,) Brazil (Rio de Janeiro, Sao Paulo,) Chile (Santiago.)
Privacy
The first thing we notice is that TigerVPN is located in Slovakia.
Slovakia is relatively free of censorship, but there is a lack of a legal framework for websites to be completely private or free to express views that may challenge the government. One could argue that this could affect a privacy based company.
TigerVPN's privacy policy states that it collects specific things about the user and its connection. Check this paragraph:
"This is a categorized breakdown of the data we collect:
Account Data (email address, password)
Financial Payment Data (credit card, PayPal, etc ….)
TAX & VAT Data (Geo location & time stamp)
Fraud & abuse prevention (Anonymized financial data + geo location)
All information related to providing the VPN service namely:
VPN protocol and version
Operating system
app version
traffic statistic
connection session (server location)
favorite servers [optional]
debug information [optional]
Usage & Tracking Data (includes information we or others collect information about how from cookies and similar tracking technologies, such as web beacons, affiliate links, pixels, and app identifiers about how you use our website and apps)."
The policy does state that "at no time, we store, read, analyze or in any other way process the traffic exchanged between you, our servers and the public internet. In other words, we do not save, read, or have technical access to any DNS queries, websites you visit, data you transferred or communications. TigerVPN sells a subscription to pay for its service and never has and will never sell, share, or give away any data."
That's reassuring… Well, not really. We just learned that the Slovaki government could use a company like TigerVPN to gain access to data about people opposing the government, as there is no legal framework in place that would stop such interventions.
Features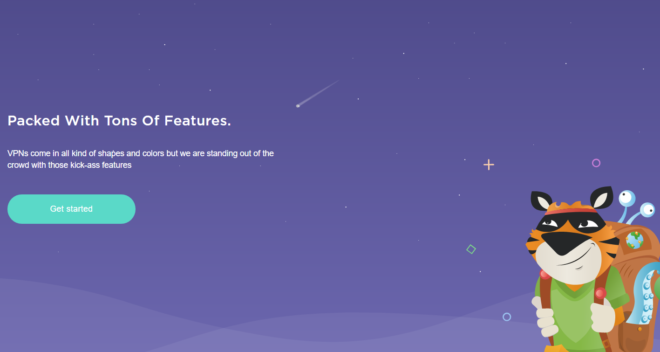 Kill-switch: TigerVPN comes with a kill switch, which is a mechanism that, once enabled, allows the system to deactivate the Internet connection if the VPN one is lost. The process is made to avoid the interchange of unencrypted data. However, it is only present in the Windows client.
P2P allowance: Despite the sharing of P2P files not being encouraged by TigerVPN, it is indeed allowed, so torrenters can take advantage of that.
Servers in 42 countries: While other VPN brands can offer 50, 60, or even more than 100 nations, TigerVPN servers are present in 42 nations, more than a respectable number.
2 to 5 Simultaneous Connections: Depending on the plan that the user chooses, TigerVPN allows two to five simultaneous connections under one account.
Apps for mobile and desktop: TigerVPN has dedicated apps for the four most widely used operating systems: Windows and MacOS (for desktop computers,) and Android and iOS (for mobile devices.)
Several protocols available: In addition to offering the secure OpenVPN, TigerVPN also has IPSec – L2TP, as well as PPTP (the industry's first protocol.)
Unlimited data and speed: There are no limits when it comes to bandwidth usage, and there is no throttling on TigerVPN's servers.
NAT Firewall: This feature provides shielding from other VPN users when a person is connected to a VPN server, thanks to a hardware firewall. It functions like your own driving car on a super fast highway, according to the page.
Proprietary infrastructure: TigerVPN owns and administrates all of its servers and other infrastructure elements, to ensure top-notch quality and 24/7 monitoring.
Full DNS Control: The company operates its own DNS servers, to help you avoid third-party services and, therefore, increase your privacy.
SLA Monitoring: This tool allows you to check TigerVPN's network status round the clock, with the intention of ensuring performance stability.
Karma Rewards Program: It is essentially a customer loyalty program. The company issues challenge that the user can complete within minutes and as a return, it rewards customers with Karma Points. They are redeemable for additional stuff added to the service, such as free extra connections.
Meshed IPs: To achieve enhanced privacy, TigerVPN puts together a set of customers per IP.
Stable contributions to society: TigerVPN gives 2% of their profits to NGO's that take care of animals. Among the projects that receive the contributions are animal shelters, fund sterilization programs and more.
As a negative, Netflix compatibility is severely limited, as most of the servers are blocked by the online streaming giants.
Encryption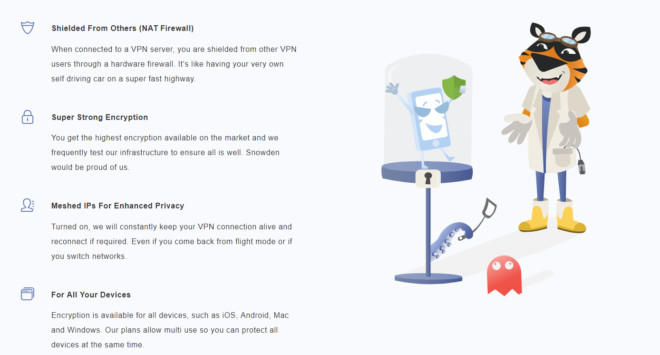 TigerVPN takes care of users' traffic with the military grade 256-bit encryption, which is arguably the most secure that there is today.
As for the protocols available, users can work with the best of the industry, OpenVPN, as well as IPSec L2TP and PPTP.
Customer Support
Absolutely non-existing.
We tried emailing and using their chatbot 5 times each, with no response at all.
Money-back guarantee
We did not get in contact with support – so it was not possible to ask for our money back.
Speed and Performance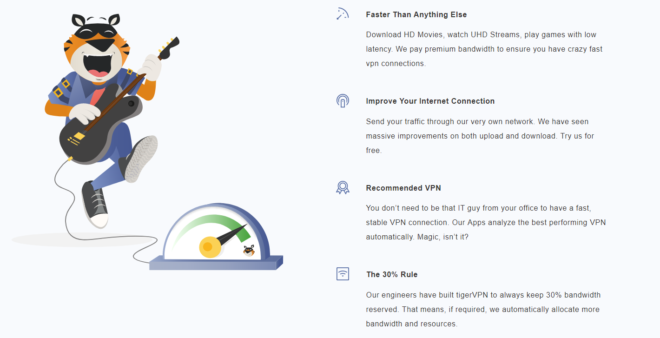 As it happens with all VPN brands, the speeds will depend on several variables, such as connection, the distance between the server and the user, and more. For close servers, the rates are good enough.
However, long-distance connections showed high ping and low download and upload speeds, making us conclude that TigerVPN is not the fastest brand out there.
When it comes to privacy however, tests showed no DNS or WebRTC leaks.
Compatibility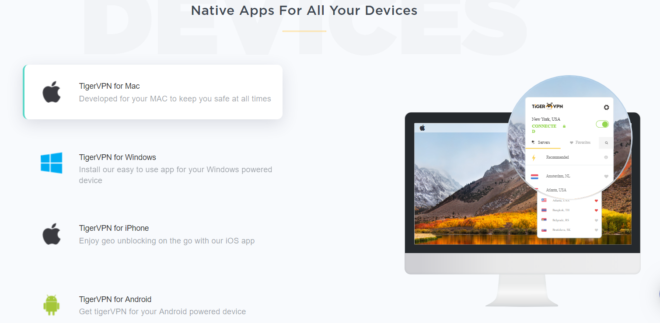 TigerVPN's VPN service supports the most commonly used operating systems: Windows and MacOS for desktop computers, and iOS and Android for mobile devices. Depending on the plan, users can connect between two to five devices at the same time.
Essentially, the monthly plan offers two simultaneous devices, and the figure will go up to five if the users choose the annual payment mode.
You can also connect TigerVPN to the following kinds of routers: Linksys e2000 (Tomato by Shippy version 1.28,) and DD-WRT.
Conclusion
So.. No support for Netflix, horrible customer service, high prices, questionable privacy policy, company based in Slovakia(EU).
The conclusion is crystal clear: Stay away from this VPN service. 
If you are looking for high-end speeds or a true no-logging VPN, we recommend checking out our top choices for the best VPNs for all-around internet privacy and security.