Finding a VPN provider that stays true to their word these days can be tedious. More often than not, you get a barrage of online ads about popular VPN providers — but many aren't worth the subscription. A lot of companies are more focused on maximizing profit instead of ensuring user privacy and security.

Thankfully, Trust.Zone is one of the select few VPN companies that still puts customer satisfaction at the forefront. Its company location alone is indicative of its dedication toward cybersecurity: Trust.Zone VPN is in Seychelles. Thus, it has no legal obligation to share customer data with any Fourteen Eyes members.
Yet company location isn't the greatest factor in VPN reliability, which is why Trust.Zone also dedicates its resources to many more aspects — and we've assessed every single one. Are its server locations enough or severely lacking? What about device compatibility and VPN protocols?
Before you skip this VPN service for a bigger brand, check out what we've uncovered in our Trust.Zone review below. Chances are you'll find this VPN provider to be the better option.
Pricing
Trial Period
Trust.Zone VPN isn't content with giving people a seven-day free trial, which is the usual period for a ton of digital services. Some VPN providers we've examined don't even have one-week free trials — they're content with offering three-day or 24-hour trials.
In contrast, Trust.Zone gave us a maximum free trial period of 30 days. Granted, users only get 1GB of data transfer, but it's also not impossible to stretch that allocation for a month. For one, you may use it only when accessing work documents, or when you need to view geo-restricted content. No need to provide your credit card information when signing up for the free trial.
Users can only use the VPN on one device during the trial, but that's understandable. Plus, we noticed that we still get access to at least 143 locations — that's way higher than what you'd expect from a free offer.
Paid Plans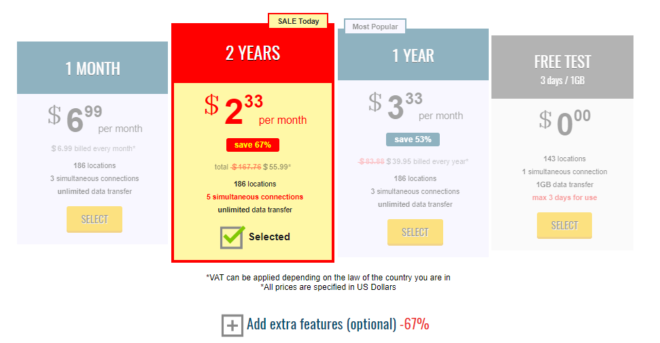 Trust.Zone offers three simple premium plans: monthly, yearly, and every two years. All plans come with all 178 VPN server locations and unlimited data transfer. Likewise, both monthly and yearly plans allow three simultaneous connections, while the two-year plan allows up to five.
Some prefer "flexible" options that instead rely on total bandwidth or data transfer. However, it's better to pay for VPN services with unlimited data transfer if the cost is reasonable — and that's the case here.
For example, the monthly plan only costs $6.99 when other VPN providers price theirs between $9 and $12. It's already a relatively good deal, especially when you consider it's the regular price. The favorite plan among all three, the annual plan, is just $39.95. That means you're paying only $3.33/mo.
Still, you'll save the most with the two-year plan, which is priced at $69.15. To be fair, users won't exactly save money if they pay that amount but stop using Trust.Zone VPN after just a few months or even a year. But if you liked the service on a monthly plan (or during the trial), then this is a steal.
Extra Features
While Trust.Zone VPN doesn't offer premium plans that charge per GB of data transfer, it certainly still provides flexibility. The company has two helpful features that users may pay for on top of their chosen plan: personal dedicated static IP address and three additional simultaneous connections.
The first add-on feature lets users pick up to nine IP addresses, which are located in  countries:
– Australia (1)
– France (2)
– Germany (1)
– United Kingdom (3)
– United States (2)
The price for each dedicated IP address varies — and this applies to countries with more than one IP address. Thus, we recommend carefully checking which box to tick. Otherwise, you may end up paying $6.99/mo instead of $4.99/mo for a dedicated IP in France, for example.
For the second feature, users should only avail it if they're in dire need of secure connections across more than three (or five, for two-year plan subscribers) devices or platforms. We doubt many people need it, but it's highly considerate for Trust.Zone VPN to include this option.
The prices of these two add-on features are dependent on your VPN premium plan. Expect the regular cost if you have a monthly VPN plan. On the other hand, an annual VPN plan will save you 53% off while the two-year plan provides up to 59% in add-on feature discounts.
Payment Methods
Trust.Zone VPN is well aware that even paying for its VPN services may lead to privacy concerns, which is why it offers more than the usual options like PayPal, credit cards, and PayPro Global.
If you want to stay as anonymous as possible, pay using Bitcoin or other cryptocurrencies like Emercoin, Verge, Cloakcoin. Trust.Zone VPN encourages these — providing a 10% discount for such transactions.
Server Locations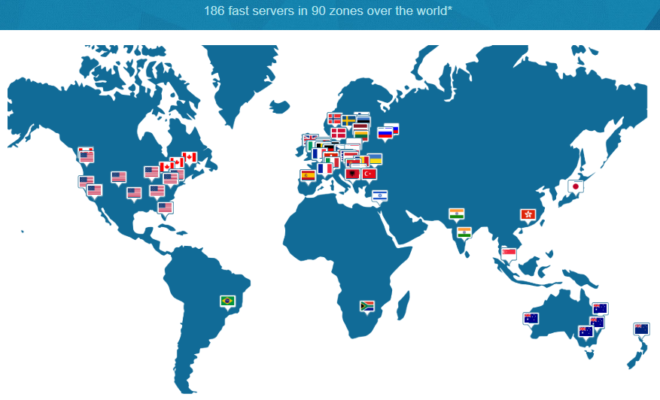 As of writing, Trust.Zone VPN has 186 servers in 90 zones. Otherwise known as geo-zones, these VPN zones serve as clusters for proximate VPN servers — and they serve a big purpose.
If your preferred server is unavailable, the app will select a nearby server in the same geo-zone. Second, these zones ensure that users connect to the closest servers vis-a-vis the chosen location for maximum reliability and stability.
Trust.Zone VPN covers six continents:
– Africa
– Asia
– Europe
– North America
– Oceania
– South America
South Africa is the only available location in Africa, but this is the best possible area Trust.Zone could've gotten first. We're impressed with how the VPN provider managed to provide a server in Turkey, which is having its fair share of internet censorship over the last few years.
Expectedly, the regions with the most servers are Europe and North America, which should allow open up a ton of geo-restricted content for users outside these regions. The US even has its own section in the server location page of the Trust.Zone VPN website to highlight which states are covered.
Privacy
We've earlier mentioned that even registering for a VPN service can affect your privacy online. Some VPN companies don't only require just PayPal or credit cards as payment options, but they also ask for your full name and other contact details. In contrast, Trust.Zone VPN only needs an email address.
No-Logs Policy
A crucial element of any genuinely secure VPN is its privacy policy. And while many companies boast of their no-logs policy, not all actually follow their own rules. Upon close examination, we determined that nothing indicates policy violations — it doesn't keep any traffic logs, timestamps, or bandwidth logs.
Moreover, Trust.Zone doesn't record how many times you connected to the app or for how long you used it. Even if you used your real IP address to use the VPN, the company database itself won't store your IP address.
The only data it keeps is the amount of data transferred — not the kind of data itself. Trust.Zone stores this to ensure that people using the 30-day trial period won't go over the 1GB data transfer limit. That data won't help ISPs, governments, or hackers identify any specific VPN user.
Features

Multiple Devices: While it depends on the VPN plan you're paying for, you can use Trust.Zone VPN on more than one device — up to five simultaneous connections if you're on the two-year VPN plan. This way, you only need one premium plan to secure your laptop, smartphone, and smart TV, for example.
Unlimited Bandwidth: Trust.Zone VPN has no limitations when it comes to data transfer and bandwidth. Thus, you can download and upload as much as you want — and you can stream HD geo-restricted video content all day. Granted, your browsing speed will only be as fast as what your actual connection allows.
On a related note, we applaud that Trust.Zone VPN doesn't throttle the bandwidth of users no matter what activities they're doing using the VPN. Not only is this a huge plus for people who participate in P2P file sharing, but it proves that Trust.Zone VPN doesn't monitor user activities.
Kill Switch: This is an essential security feature that serves as one of the last measures against your data and real IP address leaking. If for any reason your device gets disconnected from a VPN server, the kill switch disconnects all other apps from the Internet.
Automatic Reconnection: Working alongside the kill switch is the auto-reconnect feature. While the kill switch prevents your device from connecting to the Internet, Trust.Zone automatically reconnects to a VPN server. Thus, the app won't compromise user security even if connections are unstable.
One-Click Use: User interface and experience matter, especially for people who've never used a VPN app before. Trust.Zone only requires a single tap to connect since it automatically picks the best VPN location for you. Similarly, users can change the VPN port with one click.
DNS Leak Protection: Even if you're connected to a VPN, your real IP address may still be compromised due to a DNS leak. To remedy this, Trust.Zone VPN has its own DNS servers that you can switch to and from your ISP DNS servers. Similarly, Trust.Zone can help you connect to other secure DNS servers.
Encryption
By default, Trust.Zone VPN uses top-tier encryption algorithms. If you're using the OpenVPN protocol, you will have industry-standard 256-bit AES encryption. No single supercomputer can break the code — and research indicates that all computers would take billions of years to decrypt a single 256-bit key.
Likewise, the 256-bit AES encryption is what government institutions (including the military) utilize to protect their files from cybersecurity threats. Moreover, Trust.Zone VPN has both 256-bit and 512-bit SHA (Secure Hash Algorithm) encryption to further secure online connections.
Customer Support
FAQ and Troubleshooting
One thing we noticed concerning customer support is that Trust.Zone knows exactly what users will ask about. We're amazed at just how comprehensive the FAQ and troubleshooting pages are on the website. For one, the FAQ covers everything from common error messages to queries about VPNs in general.
The FAQ, unlike in other VPN providers, is truly detailed and covers what beginners and experienced VPN users alike would want to read about. We didn't get any lousy walls of text. Bullet points, numbers, links, and spacing are utilized.http://tekcompare.com/vpn/best-vpn-mac/
In particular, a huge section is dedicated to troubleshooting — explaining why you may have problems connecting to a VPN server whether on Windows or macOS, among others.
Manuals and Setup Guides
Complementing the FAQ section are the manual and setup sections, both being highly detailed as well. The Trust.Zone VPN manual is divided according to the various compatible devices and platforms. Each version of Android, Windows, and iOS have their own manuals for installing and VPN protocol setup.
Likewise, the manual is where users can see how to use Trust.Zone VPN on their Amazon Fire TV, Asus Merlin, Xbox 360, and other devices. If you need specific instructions starting from installing the app to picking a VPN protocol and connecting to a VPN zone, the Setup VPN is a godsend.
Ticket Submission
If a user does require assistance for a matter that's outside the scope of all the articles available, they can submit a ticket. While the Trust.Zone support team isn't available 24/7, it's open from Monday to Saturday between 2 PM and 12 AM.
Money-Back Guarantee
Trust.Zone VPN understands that some users may want to opt-out of the premium service. In such cases, they provide a 10-day money-back guarantee. You don't have to defend why you're backing out of your plan. You just have to send an email regarding your refund request and wait for confirmation.
One condition, however, is that your total bandwidth usage for the first 10 days shouldn't exceed 1GB. If you used Bitcoin, your refund will be equivalent to the US dollar exchange rate when you asked for your refund.
The usual money-back guarantee is 30 days long, so 10 days for Trust.Zone VPN is significantly short. Still, this is offset by its 30-day free trial period, which is usually just seven days in other VPN companies.
Speed and Performance
A VPN service will affect one's internet connection speed simply because all the data now goes through a secure tunnel. Likewise, the connection slows down when you're connecting to a faraway or overloaded VPN server — this is why Trust.Zone VPN automatically looks for the best VPN server location for you.
Still, the usual speed downgrade is minimal and worth the added security and privacy. Also, your chosen VPN protocol and your type of internet connection matter. If you're using broadband or LTE, the difference is negligible. You'll only notice it if you're using dial-up internet or shoddy 3G mobile data.
We conducted speed tests — and they proved that Trust.Zone VPN doesn't drastically affect speed. Our 180Mbps connection stayed around that level, and this applies to mobile and desktop use. Even upload speeds stayed well above 680Mbps, given that we already had that kind of speed in the first place.
Compatibility
Trust.Zone VPN is available on Windows OS through the client app, which is free to download on the official website. It will work whether your desktop still has Windows XP or you have the most recent version of Windows 10.
Furthermore, the VPN service works on Android, iOS, macOS, and Linux, among many other operating systems — and you can even use it for your router if it supports VPN protocols or has the Linux-based DD-WRT firmware. Likewise, you may try Trust.Zone VPN on your gaming consoles and smart TVs.
Conclusion2
Trust.Zone VPN isn't attempting to reinvent the wheel in the VPN industry. Instead, the Seychelles-based company is doing what it can to show what any competent VPN service should look like today. Instead of empty or even false promises about no-log policies and friendly pricing, Trust.Zone VPN keeps its word.
For one, the pricing is competitive. Interested individuals don't need to wait for promos or introductory prices because even the standard monthly rate is much more affordable than other VPN companies. In addition, you can't beat its add-on features and how Trust.Zone gives discounts for crypto payments.
Furthermore, we've never seen a more user-friendly yet highly detailed setup guide than here. It allows even complete beginners in VPNs to know their way around the app no matter what platform they're in. All in all, Trust.Zone VPN is a solid choice that doesn't skimp on either security or performance.