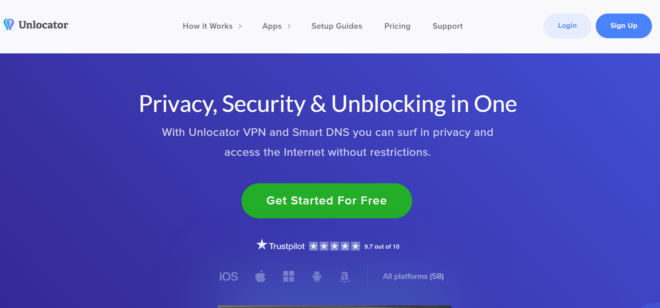 With both Smart DNS and VPN services, Unlocator is a well-known product in the content-unblocking industry. It is a product of Linkwork ApS, which is a fantastic IT firm from Copenhagen, the capital city of Denmark.
Unlocator is basically a DNS service, which means it is mainly designed to help users avoid geographical restrictions that may apply in lots of cases such as online streaming, for example.
But in addition to the Smart DNS service, Unlocator comes with a VPN tool as well. However, the resource is seen more as a method to unblock content rather than a privacy-driven instrument, so expectations need to be tempered on that front.
Pricing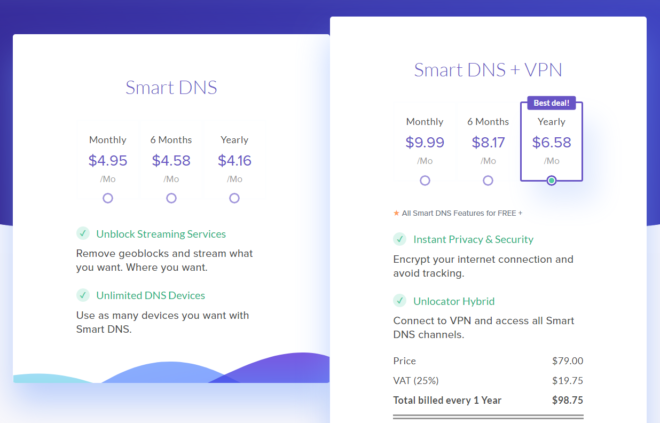 Truth be told,  Unlocator's prices are fairly competitive, given the state of the industry, one in which mediocre brands can cost north of $12 or $13 per month. This company offers, in total, three paid plans and a free trial version to satisfy all budgets.
The free trial is one-week long, more than enough time to test the features, encryption, and other things before deciding whether to pay for the subscription or not. For the paid plans, the user can choose to pay on a monthly basis, for six months, or for the full year. All options come with the same offerings: the right to access all Unlocator servers, Smart VPN, unlimited number of devices, and more.
The price for the monthly plan is $4.95. The six-month version checks in at $27.50, and the yearly one's cost is $49.95. Those figures are for the Smart DNS service. If you want Smart DNS plus VPN, you will pay $9.99 per month. Customers have the option to pay twice a year (the cost would go down to the equivalent of $8.17 per month) and annually ($6.58).
Payment methods include the major credit cards, which are Visa, MasterCard, American Express; Discover, JCB, and even bitcoin.
Interface and Ease of Use
Unlocator isn't necessarily unusable by any means, however, its interface certainly isn't the simplest. Usability can be a concern— for starters, the client takes a while to successfully install on the customer's device, which can be problematic in an era in which people demand quickness and efficiency.
Nevertheless, Unlocator does provide users with detailed instructions to install its software in every device and operating system in which it can be used.
After you have installed the client on your device, the easy part comes, as it has a Windows-like design (and colors, too) while being straightforward to use and navigate. The menus, configurations, and features are all easy to locate.
The user will need its API key to get the app working. Once it is copied in the client, the customer will be able to select its preferred website, region, and the frequency with which it needs/wants the IP address to be modified.
Server locations
In total, there are 50 virtual locations available for Unlocator users, spread around more than 20 countries. All continents, with the exception of Antarctica, are covered in this versatile service.
Some of the countries available are Argentina, South Africa, Saudi Arabia, Belgium, South Korea, Australia, France, Canada, the United States of America, Finland, Norway, Denmark, Netherlands, Brazil, Ireland, Mexico, the United Kingdom, Germany, New Zealand, Sweden, Switzerland and Middle East.
Being a Smart DNS service plus some VPN features, Unlocator comes with some added benefits. for example, the brand doesn't just hide your IP number, it also modifies these IPs with frequency. The best part is that the user can configure the time for them to change: it can be every 15, 30, 60, 90, 120, 180, 240, 300 or 360 minutes.
Privacy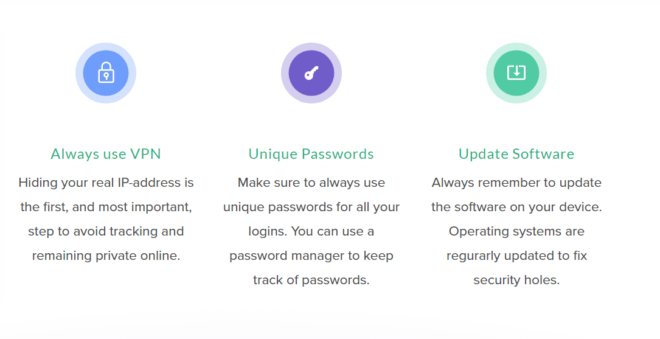 Unlocator is, by trade, a Smart DNS service provider. You can choose to add VPN features for an extra cost, but the company's primary objective is to serve as a content-unblocking and geo-dodging tool, not a privacy-focused one.
That is why customers shouldn't expect Unlocator to protect their privacy as fiercely and with the same robust encryption as a VPN provider. As for logging practices, the company does keep some registers of users' activity, but it is not shared with anyone.
In fact, the website states that these reports only last 24 hours in the system before they are deleted.
Features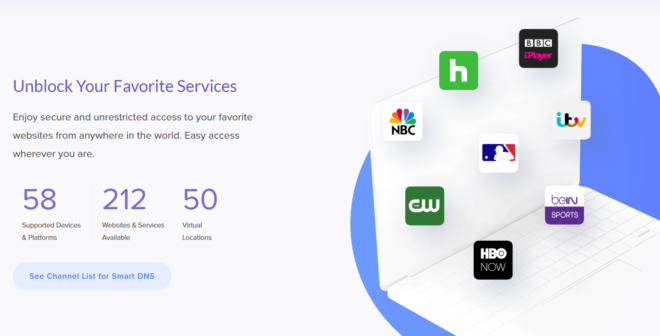 30-day money-back guarantee: Thanks to this feature, users are able to use Unlocator for a full month and, if they are not satisfied with the offerings, they can ask for a refund and part ways.
Free trial: Similar to the 30-day money-back guarantee, but with the free trial, there is no need to ask for your funds to be returned. For a full seven days, you get to test every feature of the service.
58 supported devices and platforms: One of the most impressive things about Unlocator is how many devices, platforms, and operating systems it can support. It means you can use the service almost everywhere.
Unlocator SmartDNS: Thanks to a mediating server, Smart DNS lets users redirect web requests to mask their real location and obtain a new, temporary online identity.
Unlimited devices: By paying one account of Unlocator, users are able to connect the service to an unlimited number of devices simultaneously, which is extremely convenient for home networks and people with lots of gadgets, laptops, tablets, and smartphones.
Unlocator Hybrid: This feature combines the impressive streaming speed of Smart DNS with the privacy prowess of a VPN.
Multiple servers at the same time: to confuse prying eyes and spies on the web, you may configure Unlocator to make you appear to be connected to multiple locations at the same time.
As for the negatives, Unlocator doesn't work very well with Netflix, the world's premier streaming platform. However, it does unblock Sky Go and is a great VPN for Hulu, plus other hubs. Another drawback is the brand's lack of a clear stance regarding torrenting and the sharing of P2P files.
Encryption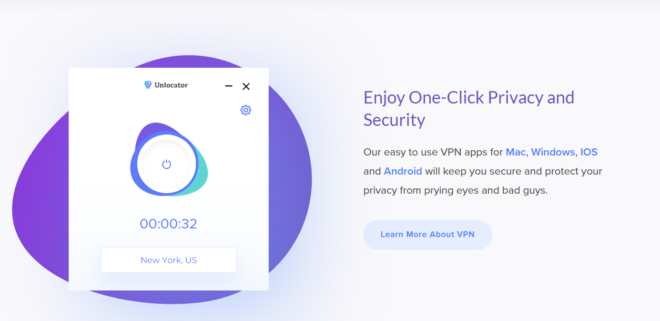 There isn't much information available about the quality of encryption that Unlocator offers. This is where we are reminded that it is, originally, a Smart DNS tool and not a VPN per se.
The support department states that the brand currently offers a couple of encryption protocols: the Peer to Peer Tunneling Protocol (PPTP, the "father" of VPN technology), and Layer 2 Tunneling Protocol (L2TP), a newer and more efficient alternative.
The thing is, unlike OpenVPN, those two are not as reliable when it comes to content and data protection, but they are very good when it comes to unblocking content and bypassing geo-restrictions.
Customer Support
We can classify Unlocator as one of those rare companies that are in a position to offer a reliable and helpful customer support staff without actually having a 24/7 service, such as a live chat feature.
The website, specifically, is a fantastic source of information and helpful articles about the brand, Smart DNS, and VPNs. The page has a built-in search engine to make queries easier for the customer, and there is a dedicated "Support" section that has all kinds of installation guides for the 50+ platforms in which Unlocator can be configured.
If, by any chance, you aren't able to find what you are looking for on Unlocator's knowledge base (after all, there are hundreds of articles subdivided in several sections, such as Tips & Tricks, Unlocator VPN, Smart DNS, Getting Started, Virtual Router Setup, API, Your Account, and Troubleshooting), there is also a contact form you can fill out, and an agent will answer your question.
Still, the lack of a more direct and immediate channel of support somewhat diminishes the impact of its vast knowledge base.
Money-back guarantee
Every Smart DNS and VPN service differs from other options in the industry, so users usually take advantage of the opportunity that some brands provide to test the features before fully embarking on a long-term relationship.
Fortunately, Unlocator offers not only a seven-day free trial, but also, a month-long money-back guarantee. After the payment has been processed, users have the first 30 days as a testing period: if they are not satisfied with the offerings, they can ask for a refund.
The process to be eligible for a refund starts with sending an email to the address [email protected]. The company will soon get back to you with the details of your request.
Speed and Performance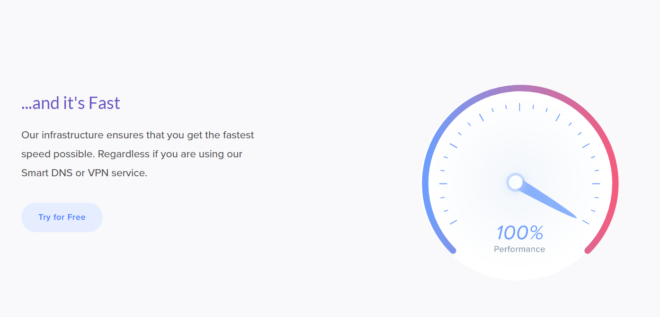 When it comes to speed, the advantages of Unlocator, being a Smart DNS service, are evident: this technology, unlike VPN, doesn't usually affect the customer's connection speed, whereas Virtual Private Network can have a direct impact on it, which is almost always negative.
And, since Unlocator does not use any powerful tunneling protocol or encryption to protect the user against external agents, the speeds are largely unaffected. This isn't an ideal development for privacy but is perfect for streaming, gaming, and more.
Therefore, since Unlocator's main focus is to change your IP address so you can bypass geographical restrictions and bans that have become the norm over the web, you will be able to open websites and navigate the Internet with rates that essentially match those of your connection without a VPN.
Performance and safety wise, after testing for DNS leaks, we can say that we didn't find any issues.
Compatibility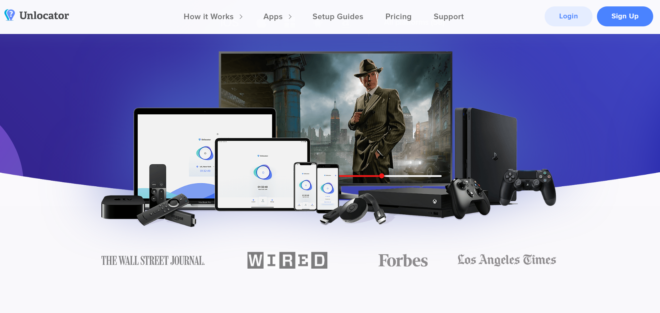 One of the best attributes of Unlocator is its huge compatibility: the app/client can be installed in precisely 58 devices, platforms, and operating systems, which is a mind-boggling figure.
Unlocator is compatible with:
Operating systems: OS X, Ubuntu, Vista, Windows 10, Windows 7, Windows 8, and Windows XP.
Media Players: Amazon Fire TV, Apple TV, Boxee, Chromecast, Nexus Player, NOW TV Box, Nvidia Shield, Roku, Sonos, Western Digital.
Gaming Consoles: Playstation 3, Playstation 4, PS Vita, Wii, Wii U, Xbox 360, Xbox One.
Smart TVs: LG, Panasonic, Phillips, Samsung, Sharp, Sony, Toshiba.
Phones & Tablets: Android, iPad, iPhone, iPod, Kindle Fire, and Win Phone 8.
Routers: 2Wire, Airport Express, Airport Extreme, Asus, BEETEL, Belgacom, Belkin, Bell Alient, Bell Pibe, Buffalo, Cisco, D-Link, DD-WRT, Fritz Box, Huawei, Linksys, Netgear, Siemens, Tomato, TP-link.
Conclusion
In conclusion, Unlocator can offer the best traits of Smart DNS technology and some of VPN's most desirable features, but without the top-end encryption that has made Virtual Private Networks so sought after by online security experts.
The best attributes of Unlocator are its speeds, performance, and especially, its huge compatibility. It is too bad that it isn't Netflix's best friend, or that it doesn't have that many servers around the world.
Still, if you are looking for a tool that can help you unblock international content or bypass geographical restrictions to enter that banned website, then look no further: Unlocator is your choice. However, if you are looking to torrent privately, or securing your traffic from hackers or other web threats, we recommend going with a reliable, trustworthy VPN-only service.
Check out our recommended VPNs here.