The technological development we have experienced in the last few decades has brought some major changes to the world as we know it. The entire world is now connected thanks to the internet, and the development of devices such as smartphones allows us access to all of our collective knowledge almost instantly.
This has led to massive tech advancements, and even to new inventions and entire new industries. New job opportunities became available and possible, including something that didn't exist 20 years ago — the concept of digital nomads.
What are Digital Nomads?
As you may know, digital nomads are people who have found a way to constantly work and travel at the same time. They might even travel for work, depending on their role and responsibilities . Some tend to travel around, visiting hotels, restaurants, and various other places and leave reviews in exchange for payment. Others do different kinds of things, such as freelancing, or simply work remotely for a traditional company.
Whatever they may be doing, digital nomads can move around the world and work at the same time. If you are one, or you are planning to become one, you should know that one of the most important tools in every digital nomad's arsenal is a good, strong VPN. But what is the best VPN for digital nomads?
Why should digital nomads care about using a VPN?
As mentioned, digital nomads are constantly travelling. However, they might run into a number of problems while doing so, and one of the biggest ones is a difficulty accessing necessary services and information in certain places.
Online censorship, geo-restrictions, and other similar problems are known to emerge when you often switch countries and regions, as each of them has its own set of values and laws. Not to mention that some of them let their ISPs (Internet Service Providers) do whatever they want, and ISPs tend to block anything they consider to be inappropriate.
In some cases, the governments introduce their own blocks and restrictions, hoping to limit their users in a certain way. This is especially the case in China, which is known for banning most of the internet originating from the 'outside world.' Instead, the country provides its citizens with its own versions of such websites, and it keeps them isolated from the rest of the world.
A digital nomad travelling to China might find it impossible even to reach out and contact their family, friends, or visit some of their favorite websites while within the country. While China is the most well-known for its restrictions, it's certainly not the only country where digital nomads might encounter this problem.
In other words, digital nomads need a VPN to help bypass these restrictions, keep them safe, provide them with anonymity, and let them enjoy the open internet.
What benefits does a VPN provide for digital nomads?
Just to make sure that everyone is on the same page, let's talk about a VPN itself a bit. VPN, or Virtual Private Network, is an online service that provides an app that grants online privacy, security, and anonymity. There are many different VPN services, and they all offer different combinations of features and different levels of protection.
However, they all have three features in common — a security protocol, encryption, and a server network. These three features are what defines an individual VPN and sets it apart from other similar technologies, such as proxies.
Security protocols are used for hiding online traffic, surrounding it with a secure tunnel that shields it from view, and prevents online surveillance. Encryption makes online traffic unreadable, and acts as a second layer of protection, just in case that security protocol ends up being insufficient.
Then, there are server networks, which consist of servers located all over the world. By connecting to any of them, digital nomads (or anyone else) can hide their real location and appear to be located in the place where the server itself sits. This method allows internet users to easily bypass censorship and geo-restrictions by connecting to the internet from another country. Basically, if you happen to find yourself in China, and want to access Facebook, you must first connect to a server in another country, and then, through this server, reach the internet and unblock Facebook.
VPNs also have a number of other security and privacy features, although those can vary from one service to another. However, what they all have in common is the ability to keep people safe and anonymous online, as well as to let them unblock internet services that would otherwise be out of reach.
This is important, especially for travellers who often find themselves alone in foreign countries, as they need to secure their data, especially while using online bank accounts or other sensitive information. With a VPN, it's easier to contact friends and family back at home, which can be quite difficult depending on the location.. Some regions, for example, do not allow access to FaceTime, Skype, Telegram, WhatsApp, or similar communication apps.
With a good, fast VPN, there's no need to worry about any of that anymore. Digital nomads, travellers, or anyone else can even enjoy all the online content and entertainment accessible back home, including services like Netflix, Hulu, BBC iPlayer, and others. There are even VPNs that specialize in streaming service access.
Simply put, there is a lot that you can do with a VPN, and hopefully, you are starting to understand why every digital nomad needs to have one at their disposal. This technology can help protect your privacy, funds, and grant you numerous other benefits. However, it can also be quite difficult to pick the right one, as hundreds of them emerged in the last few years when VPNs became popular. This is why we would now present you with our list of top 5 VPNs, which are among the best options in the entire industry. Let's begin with the best VPNs for digital nomads.
5 Best VPNs for Digital Nomads
First on the list, we have ExpressVPN. This is largely considered to be one of the best VPN services out there, and perfect for digital nomads. It has thousands of servers in 94 different countries around the world, meaning that it can unblock pretty much anything that you can ever think of. It also features high speeds, which makes it great for streaming videos, movies, shows, and more, or simply enjoying video calls with your family and friends.
ExpressVPN is also known for its security and respect for their customers' privacy. It doesn't log r online traffic, and it uses some of the strongest features in the VPN industry to hide personal data from view and make it unreadable to anyone who might think to collect it and misuse it in any way.
Another important thing about this VPN is that it can be used on pretty much any device or system. It has dedicated apps for Windows, Mac, Linux, Android, iOS, routers, Smart TVs, and more. However, it also has browser extensions for Chrome and Firefox, allows use on any device that supports those browsers. This makes it pretty much universally available, as well as fast, powerful, and overall — extremely useful, especially to those who often experience changes in online laws. Finally, ExpressVPN has excellent customer support that is available 24/7 via live chat or email. And, if you don't like it, you can get your money back at any point within the first 30 days from the moment of purchase.
Tekcompare has scanned and tested this software for malware

All plans are covered with 30-day money back guarantee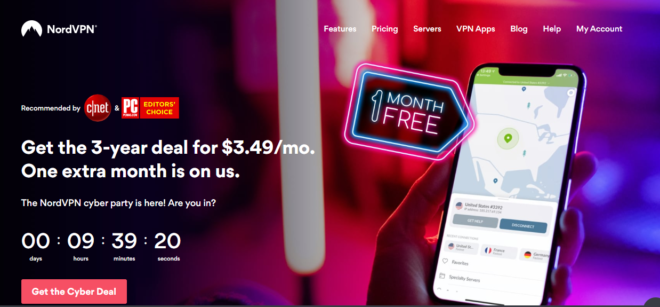 Our second recommendation is NordVPN — another very capable and reliable VPN service that provides access to even more different servers —5300 of them. This service does cover a somewhat lower number of countries than ExpressVPN — around 59 of them — but that is still more than enough to unblock nearly anything you want.
While we are at the topic of unblocking, NordVPN is another VPN that is particularly known for its ability to unblock all kinds of services and enjoy streaming their content at high speeds. In fact, it barely impacts internet speeds, whereas many other VPN often damage the speed severely due to their need to encrypt traffic.
NordVPN can be used on as many as 6 devices at the same time, meaning that you can protect everyone in your group if you happen to be travelling with friends or family. It is also available on numerous apps and devices, such as Linux, Windows, Mac, iOS, Android, Smart TVs, and it even has browser extensions, which makes it as universal as ExpressVPN. Finally, NordVPN also offers a very user-friendly app, and a 30-day money-back guarantee.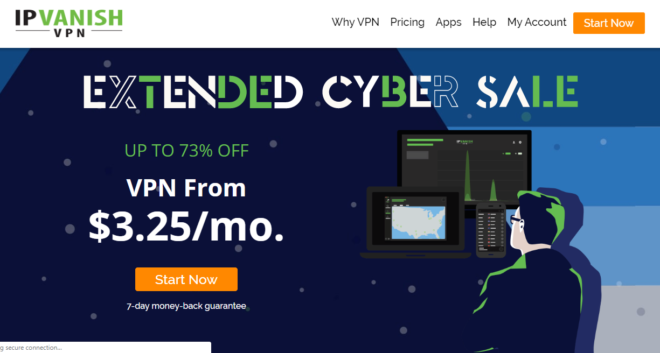 In the third spot, we have IPVanish. As of May 1, 2020, this VPN has a 30-day money-back guarantee, which is the usual for this industry.
IPVanish does exactly as its name suggests — it makes an IP address go away, and prevents storage or tracking of any online action. It doesn't keep logs, and it keeps online behavior completely private — provided that you don't log into your accounts, of course. If you log into an account on Facebook, Facebook will know exactly who you are, no matter what the IP address says.
When it comes to IP addresses and servers, IPVanish has 1300 fast, anonymous VPN servers in 75 different locations. In total, that amounts to around 40,000 shared IPs. IPVanish also features unlimited bandwidth, zero traffic logs, access to several VPN protocols, the strongest existing encryption, and the ability to connect and secure as many as 10 different devices at the same time. As you can see, while the short money-return guarantee is definitely a downside, IPVanish offers more than enough additional features to make up for it.
Up next, we have Atlas VPN: a newcomer on the VPN market. Despite being a newbie, it is slowly gaining traction as one of the best affordable VPN options. It builds a welcoming environment, supplying a free version for those who might not have enough financial resources to purchase premium. Speaking of the Atlas VPN capacities, it offers all the benefits you need. First of all, sophisticated web traffic encryption (AES-256 and IKEv2) prevents data misuse or alteration. This feature is especially relevant: when experiencing a new culture, nomads would not want to have their cybersecurity breached.
Secondly, Atlas VPN supplies more than 500 servers in 20+ locations. It opens full video-streaming libraries and supports 4K streaming. Since high-speed performance is a priority for Atlas VPN, it is also torrenting-friendly. So, it seems that Atlas VPN offers the whole package: everything that a nomad could want. But what about data collection and retention? Atlas VPN appears to follow a strict no-logs policy, refusing to monitor users' activities.
Currently, Atlas VPN is available on Windows, iOS, and Android devices. However, the team seems to be working on improving compatibility: macOS and Chrome versions are on their way. To help users experience anonymity and security, Atlas VPN also has a support system. Anyone can submit questions, and the team will respond as quickly as possible. With such incredible features, anyone looking for a new VPN experience should try Atlas VPN. It also follows a 30-day money-back policy and operates with a highly helpful team, helping you solve issues promptly.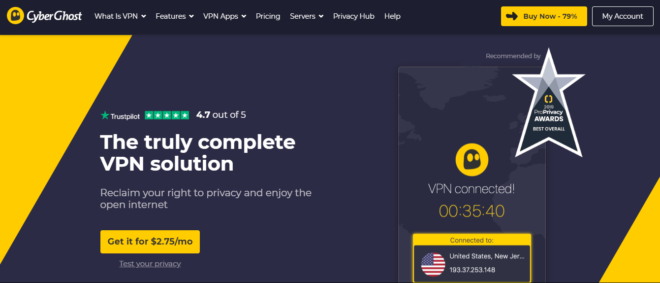 On the opposite end of the ring from IPVanish, we have CyberGhost VPN — another very popular VPN which is actually quite well known for its money-return policy that lasts for the entire 45 days. In other words, you get a month and a half to think about this VPN and decide whether you like it or not.
CyberGhost VPN is an old VPN — one that has been around and developed its technology for a long time. It is fast and secure, and it offers extremely low prices on its long-term plans. It allows access to blocked websites, torrenting, streaming sporting events, shows, movies, and more while enjoying great speeds.
CyberGhost VPN offers protection for 7 devices at the same time, and has 5300 servers in over 80 countries around the world. You also get unlimited bandwidth, protection from throttling, and many other features that will make browsing the web enjoyable from any place around the world. With CyberGhost VPN, you become exactly what its name suggests — a cyber ghost, untraceable, and completely anonymous and private.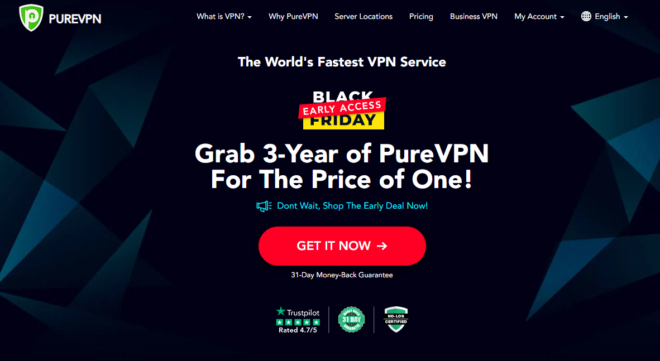 Finally, we have our last pick for this list — PureVPN. This is a service known for its speed, claiming to be the world's fastest VPN. Whether or not that is true, we leave you to decide. However, one thing that we can confirm is that it offers some pretty great features and deals.
For example, PureVPN offers one of the longest VPN plans in the industry — a 5-year long plan, which results in an 85% discount over purchasing PureVPN on a month-to-month basis.. It also has a 30-day money-back guarantee, and it lets you browse the web anonymously, access restricted content, and do much more, all while enjoying blazing fast speeds and a number of other features.
It supports 5 simultaneous logins, it offers over 2,000 servers in over 180 locations, and you can use it on pretty much any device or system thanks to its great app support.
Conclusion
In conclusion, if you are a digital nomad or if you plan to become one — don't forget to prepare yourself properly, and don't deny yourself one of the most important tools that you can carry with you. Without a VPN, you would be at the mercy of all kinds of restrictions and censorship as you travel through the world. With a VPN, however, you can be free whenever you access the web, and do whatever you want. Not to mention that you would also be safe from intrusive governments and other online threats that lurk in the dark corners of the web at all times.