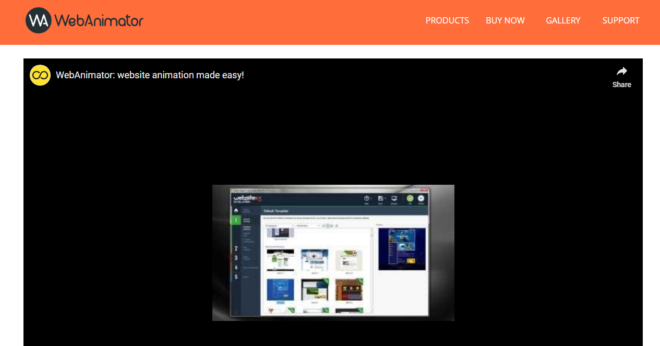 Businesses of all sizes need to create animations on their websites, moreover, they often need to create animations for their various marketing content. Example, they might create animations in slideshows, product presentations, banners, and graphics for site headers and menus.
For a while, Flash was a popular choice for businesses to create these animations since it was easy to use. Designers and advertisers often used Flash to create banners and advertisements with animations, however, it had security vulnerabilities.
Businesses and advertisers also wanted to take advantage of modern technologies like HTML5 and CSS3, however, they don't necessarily have the technical skills for that. WebAnimator now from Incomedia provides them an attractive solution to create animations, and they don't need to have technical skills.
WebAnimator now uses modern technologies like HTML5, CSS3, and JavaScript, therefore, the animations work on PCs, smartphones, and tablets. Should you use WebAnimator now to create animations for your business? Read this review to find that out.
Interface and Ease of Use
A key advantage of WebAnimator now is its interface, which makes it easy to use. Whether you have ever used any software for graphics or video editing or you are a newcomer, you will find WebAnimator quite easy to use.
You can install it easily, and you don't need any technical skills for that. All you need to do is to download the installable file on your computer, and then it's a one-click install. It takes only a few minutes to install WebAnimator now, and you will find the dashboard.
From this point onwards, you will be able to use its intuitive interface, moreover, the navigation is easy too. You can use the wizard-like functions, next and back buttons, etc., alternatively, you can also select the functions from a side menu. WebAnimator supports English, German, Italian, and Japanese languages.
Pricing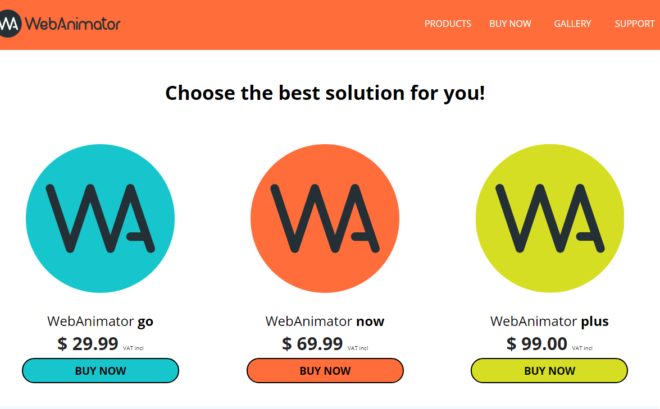 WebAnimator family of products target a wide range of users, e.g., home users, self-employed individuals, and small and medium businesses. Accordingly, they have 3 products, and these are WebAnimator Go, WebAnimator now, and WebAnimator Plus.
WebAnimator Go is suitable for projects where you will create basic to intermediate level animations. It costs $29.99, and the license has lifetime validity. You can get 1 template collection and basic animation features with WebAnimator Go.
WebAnimator now offers a larger set of features, and it has more sets of pre-built templates. The lifetime license for WebAnimator now costs $69.99.
WebAnimator Plus offers more features, such as being able to create animated buttons. You can also embed audios and videos using WebAnimator Plus, and the lifetime license cost for this is $99.
Software online stores like ColorMango sometimes offer discounts on WebAnimator, and you can pay by credit cards, PayPal, etc. when buying from such stores. You need an Internet connection and e-mail account to activate the product after you buy it.
Key Features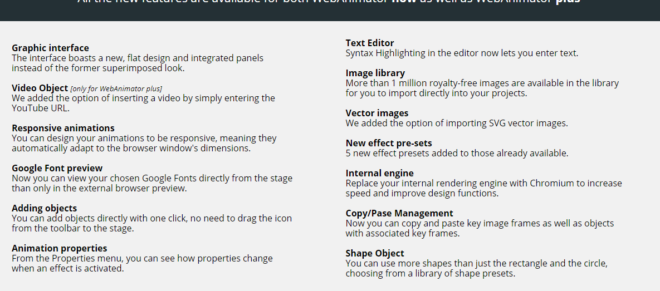 You will surely look for an animation software that provides important features, therefore, let's see what WebAnimator now offers.
Creating animations without coding skills: WebAnimator now allows you to create gifs, motion graphics, and interactive banners without any coding skills, you don't need to learn HTML. It's a do-it-yourself (DIY) tool where no prior experience of creating animations is necessary.
Device and browser compatibility: WebAnimator now uses HTML5, CSS, and JavaScript, therefore, the animations you create with it will work on all browsers. They will look fine whether the viewers use a desktop or a mobile device since these animations are fully responsive.
Intuitive visual interface: When you start working with WebAnimator now, you will first see a black and white dashboard, moreover, you will notice a workspace delineated with dots. The top menu is quite like the popular office software, and you will find its key features like templates, export, etc. right on this menu. When you click any of the menu options, the visual interface offers side menus allowing you to work intuitively.
Template library: WebAnimator now has a built-in template library, and you can navigate to it from the dashboard. You can view templates belonging to various categories, and pick the one you like. This shows a preview, and after you choose a template, you can include it in your project. You can customize it by adding content like texts or a background image.
Scenes: When you create a project in WebAnimator now, the software integrates the project into a scene. Subsequently, you can insert objects onto the stage using the drag-and-drop editor that's part of WebAnimator now. You can then define the properties of these objects and add animation actions, and these are intuitive steps too.
Timelines and keyframes: WebAnimator now enables you to control all details of the animation, such as making the objects move, change their color, or make them disappear. You can record animations and apply transition effects like fade out, etc. There are timelines and keyframes for this purpose, moreover, you can also create complex animations that have different scenes and use multiple timelines.
Graphics: WebAnimator now has graphics features, therefore, you don't need to use another graphics tool. You can draw and edit pictures, moreover, you can add URLs to them since WebAnimator now uses JavaScript. There are royalty-free images and effects, which can help with your graphics design tasks.
Elements like fonts, shapes, etc.: WebAnimator now enables you to create the graphics you need with its range of fonts, shapes, etc. You can modify the relevant aspects like color, rotation, slope, visibility, shadow, font size, reflection, etc.
Filter effects: You can use the filter effects offered by WebAnimator now, and the software offers a list of such effects. Applying a filter effect is easy with the drag-and-drop editor.
Preview: With WebAnimator now, you can preview your animations in real-time. You can choose to preview the scene you are working on, alternatively, you can preview all scenes. The software enables you to preview the animation on various screen sizes, and you can view whether the animation is responsive.
Export: After you have created your animations and viewed them, it's now time to export them so that you can use them on your website or other marketing material. WebAnimator now makes this easy since you can export the animations as HTML5 for use on webpages. You can also export them as animated GIFs, and subsequently, use them in your marketing material. Users that create websites using WebSite X5 from Incomedia can also export animations in formats compatible with it.
Customer Support
WebAnimator now offers support via a forum. The product comes with a comprehensive user manual in PDF, and this reduces the need for technical support. There are also numerous YouTube videos from where a new user can learn how to use WebAnimator now.
Money-back Guarantee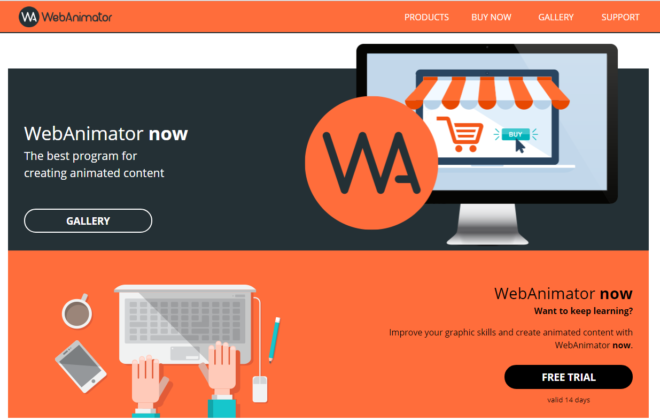 WebAnimator now doesn't offer any refund, therefore, you can't avail any money-back guarantee, but you can avail their free 14-day trial to test it out.
Compatibility
WebAnimator now works with Windows systems, and it is compatible with Windows XP, Vista, 7, 8, and 10. The minimum screen resolution requirement is 1280 x 1024, moreover, the computer needs 32-bit processor and 2 GB RAM at minimum. WebAnimator now doesn't work with Mac.
Conclusion
If you have a business and you are marketing your products and services online, then you have most likely felt the need to create great animations. Animations and gifs add that special touch to your website and marketing contents, and you are more likely to attract the attention of potential customers when you use them.
However, if you are like many business owners that don't have the technical skills to create animations and gifs, then you would look for tools to do so. Since the time the security vulnerabilities of Flash were detected, marketers and advertisers needed a viable alternative.
The alternative needed to be one that's easy to use, moreover, it should help to create animations without technical skills. Animations thus created should look good on all browsers and devices, and they should work seamlessly. Thankfully, WebAnimator now ticks all these checkboxes!
It offers valuable features for creating animations and gifs, and the product is easy to use even for newcomers without any technical skills. Users can easily create responsive animations using WebAnimator now, and the various features like graphics design, filters, timelines, scenes, etc. help to expedite the work.
WebAnimator now helps users to export them in commonly-used formats, and the animations work on all browsers and devices. A comprehensive user manual with forum-based support generally have the users well-covered, and the pricing plans are reasonable for the value they offer.
WebAnimator now doesn't work on Mac, and that's a drawback. However, it works very well on Windows, i.e., the platform it supports. The company offers no money-back, however, even newcomers find the product easy-to-use and helpful for creating responsive animations and gifs. This reduces the need for a money-back guarantee.
Overall, if you are trying to create animations and gifs for your business using a Windows PC, and you don't have the required technical skills, then WebAnimator now is a robust choice. Given that the basic version of the product costs even less, WebAnimator is a good choice for personal use too.