There's so much stuff going on in your Mac's ecosystem. It's rather hard to keep cleaning it regularly, scanning for viruses, or restarting at least once a week. We tend to be enthusiastic about all of that once Mac is brand new or just within the first few months after the long-desired purchase. The longer you use a Mac, the more you realize that you'd need a helper to take care of it daily and remind you of what should be done.
Not enough space is what we most dread. We can't install new apps or download large files. Cleaning the Trash bin and tons of vacation photos doesn't always free up the necessary amount of disk space, which may be taken up by useless files—junks. Their location seems to be uncharted waters, as they are usually hidden in the secluded corners of your Mac. If you decide to go on a hunt chasing those files—arm yourself with patience as this may take extra google search and time.
Updating apps is another thing you do reluctantly. We wished somebody scanned for viruses, adware, or data breaches trying to meddle with your Mac's security. At this point, one would need a universal tool to do all of that.
Such apps do exist. And MacKeeper is one of them. It includes a bundle of utilities covering the main aspects of what a Mac in 2020 would need. So, what does MacKeeper exactly do?
What is MacKeeper?
MacKeeper is a multilayered protection, cleaning, optimization, and security app. Once installed, you get a number of built-in tools designed for freeing up disk space, virus and adware protection, VPN access, id theft monitoring, and much more. Keep reading for a brief review of each of its features in this article.
MacKeeper Prices
What would such a multi-functional app charge for its services? It comes in three options. The most attractive option is the 12-month family plan $11.58 a month for 3 Macs.

However, if you want to try it for a month only or change your mind, you may cancel your subscription at any time. What's convenient is whenever you decide to change a Mac you can easily transfer the license. The good news that updates within its current version come for free.
Features
Buckle up and read through an extensive list of MacKeeper features. They are grouped according to what they do. Let's begin.
Security tools
The built-in Antivirus works in real-time. It hunts down online threats and lets you know before they try to attack.
Adware Cleaner offers a quick scan aimed to detect and delete malicious apps and extensions.
Track My Mac tool works similarly to Find My iPhone. In case a Mac goes missing, it can help map the location and what's more, snap a webcam photo of the thief, if it was stolen.
Privacy tools
With privacy tools, MacKeeper offers an extra layer of protection to your online life. This section includes three features:
StopAd works as an ad- and tracker-blocking extension available for Safari and Google Chrome.
ID Theft Guard scans your email and detects whether it was compromised. It helps to stop your leaked online accounts from being hacked.
VPN Private Connect includes a huge list of servers to connect. It helps to secure any Wi-Fi connection, public or home network allowing you to access geo-blocked websites.
Performance tools
Great performance is what we expect of Macs, but sometimes your Mac might need some extra help with that. Performance tools in MacKeeper come in three as well:
When using memory-intensive apps or browsers you can use Memory Cleaner to free up Mac RAM memory in real-time.
Update Tracker scans and checks for available updates, upgrades, and patches for apps you have installed on your Mac.
With Login Items, you can tune up your Mac's startup time by reducing the number of apps that can slow it down when you turn on your Mac.
Cleaning tools
When running short on disk space, we hectically start to delete files. However, sometimes this can be avoided when you know which ones are really wasting space on your Mac and are not qualified as personal files.
You can run the Safe Cleanup to detect junks, cached files (user and system), or logs using precious GBs. What's unexpected here is that this feature suggests emptying the Trash, which sometimes can come in handy.
A habit of keeping copies of files adds up to the full disk situation. Duplicates Finder offers a fast scan for duplicates so that you can say goodbye to the ones you don't need.
Smart Uninstaller presents you with the list of apps residing in your Mac. Here you can decide which ones are no longer required and delete them by using this tool. And that's not all. Here, you can also get rid of useless or mistakenly installed browsers extensions.
In addition, you can clean your Mac in a few clicks with its secret ingredient—the Find&Fix scan.
How to clean up disk space with MacKeeper
Clean up your Mac and run the all-in-one scan by using the Find & Fix feature. Here's how to use it:
Download MacKeeper from its official website. Follow the installation hints until the process is successfully completed.
Hit the blue Start Full Scan button on the welcome screen.
Wait until the scan is completed. It may take a few minutes. Here you can review each of the four sections with the detected items (for example, the Cleaning section)Note: In case you haven't subscribed and activated MacKeeper before, just click on Activate and Fix button and choose the preferred license.
Click the Fix Items Safely to fix the detected items by MacKeeper.
Type in your admin password if prompted to continue the fix.
Click Done
Customer Service
When your Mac is acting up the first thing that comes to your mind "I should take it to the App Store for someone to take a look at it". With 2020 being all about remote, there's no need to take your Mac anywhere. Claiming themselves as not a typical support helpline, MK Premium Services offers 24/7 remote help.
What can you get with this service? In a few words, they cover multiple Apple devices (iMacs, MacBooks, iPhones, iPads, Apple Watches), Android tablets, and printers. A tech crew's ready to fix any tech problem whenever your device is having difficulties.
You get unlimited requests to give your Mac an advanced system tune-up. Besides, having an extensive list of issues they can fix, MK Premium Services gets great customer reviews. And what's convenient, you can access this service via the MacKeeper app.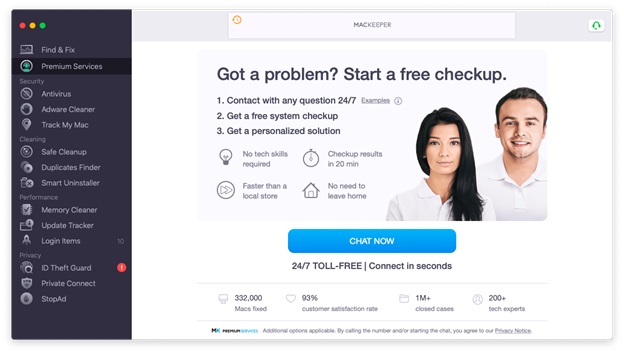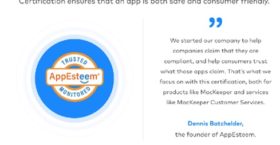 Is MacKeeper safe?
The question could be answered by the fact MacKeeper was certified by AppEsteem. So, what does this certification exactly mean? It indicates that MacKeeper is a safe and legit app providing high-quality and transparent service to its customers. AppEsteem's Certification gives companies a rather demanding review including detailed analyses for consumer protection a vast technical review.
Also, MacKeeper won't delete anything without your permission. So, we recommend reviewing what you are about to delete with MacKeeper.
Pros & Cons
MacKeeper's pros
All-in-one tool—no need to purchase extra features separately
24/7 support with real agents
Find & Fix feature, which lets you scan and fix your Mac with a few clicks
MacKeeper is supported in 18 languages
Frequent updates and software functionality improvements
User friendly interface
MacKeeper's cons
Pricing might be a bit costly
You might not need that many features
No mobile app
Conclusion
From this review, you can see that MacKeeper can win you over with its multi-functionality covering basic Mac needs. So, if you are a devoted Mac user and do need an all-in-one tool for daily use — go for it!